ALBUM REVIEW: Tyler, the Creator wants you to 'Call Me If You Get Lost'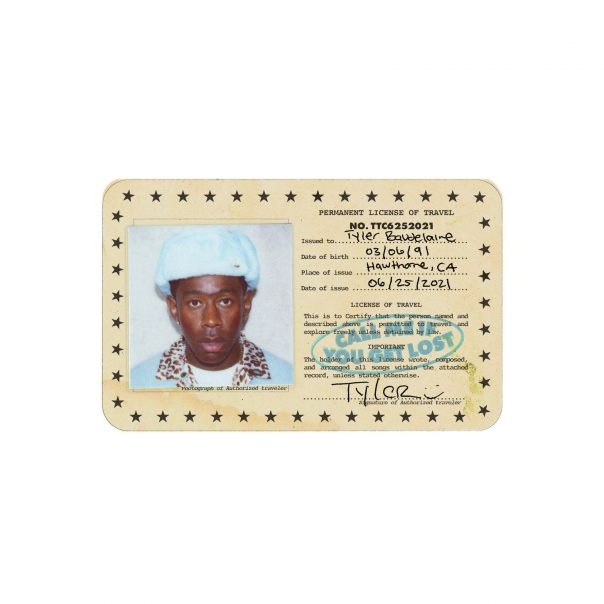 Much to the glee of Odd Future fans, Tyler, the Creator is back with Call Me If You Get Lost. Announced just a week earlier, the album follows 2019's IGOR and maintains the experimental stylings of the rapper teetering back and forth between his more meditative and thoughtful sides while diving back into his earlier aggressive and controversial persona.
Call Me If You Get Lost
Tyler, the Creator
Columbia, June 25
8/10
As with Childish Gambino's STN MTN, this album features DJ Drama providing ad-libs from start to finish. Opener "SIR BAUDELAIRE" sees Tyler introducing listeners to a new persona, a flashy aristocrat. The light guitar melody, paired with backing bass and light brushing snares, evokes a jazzy quality.
The following song, "CORSO," continues with the lighter production of the previous track—at first—before veering hard into an aggressive, bass-driven cut with light piano flair. And here Tyler, the Creator goes nuts on the mic. His delivery is punchy and satisfying, with an energy like that off Cherry Bomb. The horns on "LEMONHEAD" revisit a popular topic Tyler is known for bragging about—his house. "WUSYANAME" sees him falling head over heels for a girl he just met, played over a vibrant synth track, with Ty Dolla $ign on the hook and a solid verse from YoungBoy Never Broke.
"LUMBERJACK" jumps in hard, drawing a sample from Gravediggaz's "2 Cups of Blood," highlighting Tyler's love of classic hip-hop and embracing his horrorcore roots. "Hot Wind Blows" has Tyler jumping back fully into his alter ego Sir Baudelaire, as he and Lil Wayne travel to lavish vacation spots. Its a bit of a dip on the album, but is immediately picked up with the following song, "MASSA." Another fake-out intro with a flute-driven melody is quickly replaced by a simple snare and bass pairing. Here Tyler examines the sharp stylistic contrast between Cherry Bomb and 2017's Flower Boy—citing that he's matured in both his sound and his songwriting.
"MANIFESTO," featuring fellow Odd Future alumnus Domo Genesis, sees Tyler, the Creator respond to the backlash he's received from fans and critics alike who previously demanded he take a more public stance on social issues. He calls out the hypocrisy of those who have simultaneously tried to cancel him for years.
Tyler revels in his status as an icon of controversy. He samples Nas' iconic "Nazareth Savage" as he and Domo eviscerate the instrumental. The album then diverges a bit with the calming and passionate "SWEET/ I THOUGHT YOU WANTED TO DANCE." The song features guest vocals by Brent Faiyaz and Fana Hues. At nearly 10 minutes long, that song switches up about halfway through from an R&B vibe and into a reggae number.
"RISE!" jumps at listeners with synthetic horns and triumphant snare. Tyler demands respect from his peers, establishing that he's a force to be reckoned with. The album lulls again with the relatively forgettable "JUGGERNAUT," which feels incomplete partly due to the overly bass-reliant instrumental. It concludes, however, with the strong coupling of "WILSHIRE" and "SAFARI." The former track in particular stands out when Tyler examines his love for his friend's girlfriend—contrasted by his conscious effort not to get involved as he respects both of them too much to cause problems, even if it's what his heart truly desires. Call this nine-minute track his version of "Jessie's Girl."
Call Me If You Get Lost feels like a solid conclusion to what could be seen as a trilogy of albums from Tyler, the Creator. It's reflexive look over his journey in becoming a layered and complex individual. He's changed but holds no regrets—only a deeper understanding of who he was, who he wants to be and who he truly is.
Follow editor Tim Hoffman at Twitter.com/hipsterp0tamus.