ALBUM REVIEW: Viagra Boys' 'Welfare Jazz' is a blend of inspired hijinks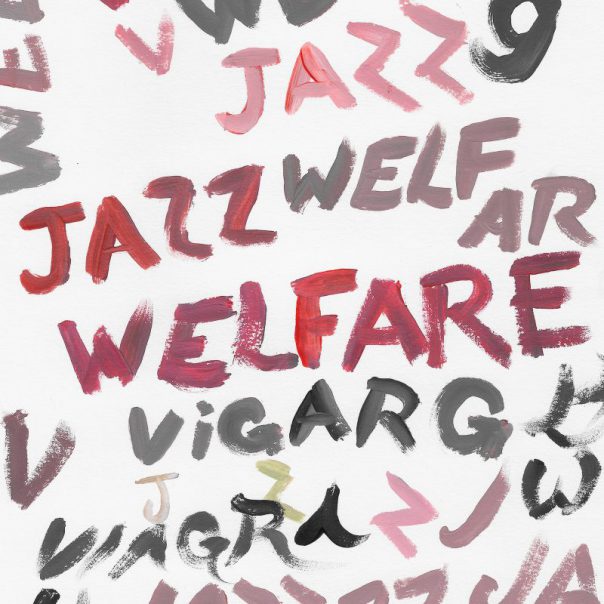 Viagra Boys play off a European stereotype that hardly exists in the U.S.: dirtbag leftist spongers on the social welfare system who live a bohemian life, making self-indulgent art, taking drugs and getting drunk in well-funded public parks. If that sounds utopian by our standards, well it kind of is. Hence, Welfare Jazz is a completely on-brand name for the Stockholm sextet's sophomore release. With a name that sounds like a "Tim & Eric" skit and a similar mixture of faux-naive humor and genuine menace, this is a band that takes fun seriously—too seriously. Aside from the self-mockery evident in the band's name, chemical alteration is a constant theme in the songs.
Welfare Jazz
Viagra Boys
YEAR0001, Jan. 8
7/10
Welfare Jazz is the band's second full-length album, following 2018's Street Worms. Like the first, it's an eclectic mix rooted in the cassette-bin sounds of the '80s, with their own considerable creative spin. Usually labeled post-punk, the band has the irreverent party energy of Iggy Pop's later career, the rawness (and saxophone) of the Stooges, while the often keyboard- and electronic-driven grooves evoke Devo. With six members, the group can generate a lot of sound, and has at its center the vocal stylings and strong stage presence of tattoo-artist-turned-frontman Sebastian Murphy.
The album opens with the catchy and grungy "Ain't Nice," whose video features an incredible long single take of Murphy drunkenly stumbling down a quiet street wreaking mayhem—puking, stealing, stage-diving into a picnic—with disastrous results as he's chased away, lit on fire, and ultimately tasered by a pre-teen, triggering a hallucination of the Swedish past in which he's treated to care at a 17th-century sanitarium.
From there, the album takes a turn into less successful territory after a squonky sax interlude that sets a jokey beatnik mood. Flowing into "Toad," a blues-inflected number that is chock-full of folky midcentury Americanisms ("this ol' hound dog") stuck in a blender with Viagra Boys' usual absurdity. Withstanding genuinely funny lines like, "You made me feel like a hundred bucks last night," the put-on country accent used to deliver lines like, "If you ain't my mama, don't try to be" lays it all on too thick. The same can be said for "This Old Dog," a faux-toothless rant about an aging canine. "Into the Sun" then strikes an introspective—or more accurately, hungover—mood and pokes along in a haze of detuned guitar.
Next up, "Creatures" is doing something more interesting, an apparent anthem to urban squatters who "trade scrap metal and electronics" and "steal your copper," living "at the bottom" who never sleep and only come out at night. How much of the lifestyle described is ironically rendered or meant in earnest isn't clear; it could be read either as a patronizing fantasy about the urban homeless or a tribute to society's most forgotten night-crawlers when Murphy sings, "We don't have jobs/ Yeah we don't bother," and, "We are content with laying on our backs/ We are the creatures/ Down at the bottom." But it's delivered with utter conviction and an infectious, ragged disco-punk sound.
On the instrumental "6 Shooter," Viagra Boys spread out and show their musical chops, with an atmospheric groove that sounds like a chase scene—building from rock riffs to a layered sequence of electronics and saxophone sounds, anthemic chord changes and spacey breakdowns of random samples and horn blurts. "Best in Show II" is a beatnik rant about broken values, while "Secret Canine Agent" is a quick punk number with Murphy doing his best Elvis.
From here, the album's high points have been reached. Where in the past Viagra Boys have made a play of poking fun at stereotypical masculinity (2018's "Sports," which was loaded up with internal contradiction is an example), much here is fairly one-dimensional.
"I Feel Alive" is a sludgy barroom ditty, with bluesy piano and a singer recycling his country accent as he recounts what sounds like a near-death brush with an overdose. "Girls & Boys" is one whose interpretation hinges on how seriously you take Viagra Boys' irony and often-touted feminism, "Girls—they always try to tie me down/ Boys—they want to go out on the town/ Drugs—the only way I can boogie down/ Love—something that I know nothing about."
Album closer "In Spite of Ourselves" takes the jokey Euro-billy we heard earlier and cranks it up to way past maudlin. It's a couple's duet—with Australian singer Amy Taylor—whose satire is at least better legible with the video, which has the two singers green-screened over stock footage of completely random American images from oil derricks to office workers. It's supposed to be bad… but that doesn't mean it isn't actually bad.
As they are with masculinity, Viagra Boys are locked in a strange embrace with Americanness, simultaneously mocking and celebrating it. Sebastian Murphy was actually born in San Francisco, and raised in Sweden. On one hand, Trump-era America (and specifically Trumpist America) has never more deserved to be made fun of—that's at least half of what's going on in a track like "In Spite of Ourselves." The trouble is the other half, which seems to be a ham-fisted tribute. Satire requires more than just cranking up a stereotype, and this one falls flat–maybe because it's just so musically lackluster from a band that can play half a dozen styles of music well.
Viagra Boys are at their best when they're being themselves: weird and Swedish, with a persona that's shaped and warped by American culture, without turning into a sloppy caricature. Their second album lacks some of the spark of their 2018 debut, which had an anarchic fun and introspection that's sparser on this album.
Still, Welfare Jazz has its moments, like the inspired hijinks of "Ain't Nice" and the cryptic anthem "Creatures." This is a group with an admirable determination to take risks, throw paint at the wall and see what sticks.
Follow reporter Justin Allen at Twitter.com/_justinallen_ and justinallen.us.