REVIEW: The talented Mr. Greene grapples with broken hearts on 'Purple Noon'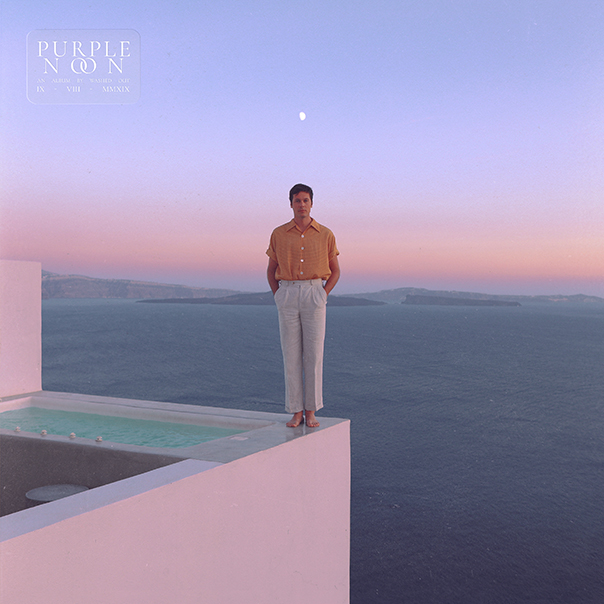 After experimenting with jazzy psychedelia and abstract songwriting on his third record, 2017's Mister Mellow, Georgia producer-songwriter and chillwave artist Ernest Greene, better known as Washed Out, is back to his bread and butter on his return to Sup Pop Records with Purple Noon.
Purple Noon
Washed Out
Sub Pop, Aug. 7
7/10
The new record is sonically light-as-air and thematically as heavy as a bag of bricks. Greene has said he was influenced by the island culture of the Mediterranean, and named it after the 1960 film of the same name (which is also known for the book that inspired it and the 1999 film remake: "The Talented Mr. Ripley.") It also pays homage to smooth music operators like Sade, '80s-era Phil Collins and is heavy on melodramatic balladry that suits the windswept, luscious (and lusty) stories of flings, broken hearts, reconnection and isolation. Eventually, the themes of confusion and heartbreak begin to weigh on the listener, with too little escape built in.
All of Purple Noon is cloaked in gauzy synths and Washed Out's equally gauzy vocals, which evenly coat the rest of the instrumentation most of the time without letting any one instrument other than the percussion stand out tie above. The album is like a weighted blanket that keeps you comfortable as the ocean rocks you back and forth.
From the opening drum fill of "Too Late," which recalls "In The Air Tonight" even while mostly staying under that heavy blanket of synths, Washed Out welcomes listeners into his storybook. "The Talented Mr. Ripley" is, to anyone who's read it or watched the films that it spawned, a sexy thriller. Characters both love and use each other. Greene sings, "I think at first/ You were a little bit shy/ I was a bit reserved/ But I could see in your eyes the time was right/ And our night's not over yet/ Is it too late to fall in love tonight?/ 'Cause I'm falling hard."
Emotions are fleeting in this world, however, because by the next song, Washed Out is asking whether a relationship is over on "Face Up." It's not clear whether the love interest is the same woman. Over woozy, modulated synths, Greene tries to have a serious conversation with a woman about ending a relationship to which she seems more attached than he. "I'm gonna be all right," he repeats to the prospect of calling it off, even though the woman may be trying to make it work.
A few songs on Purple Noon stand out for their bounciness. "Time to Walk Away" follows "Face Up" and delivers a similar message with more conviction: "I just wanna know that/ We tried to make it work/ Before just giving up/ Are we just trying/ Too hard?" The melody is almost Caribbean until a slow harpsichord-like sound comes in and pulls the listener back to the Mediterranean. The album's penultimate track is equally uptempo, but this time it has a distinctively pop-laden groove. Thematically, Greene is still coping with a dulled relationship here, singing, "If the fire's gone out/ Is it time we stop?" Decisions seems hard to come by and he's stuck in analysis paralysis.
But then again, just as eager as Washed Out seems for a relationship to be over, he's just as passionate for one to begin. On "Paralyzed," Greene can't seem to control himself: "I swear I've been counting down the days as soon as you left and went away/ Each time I think about/ You doing those things that drive me wild makes me go crazy at the thought/ My heart is burning up/ Can never get enough/ Think I'm addicted to your love."
And on "Reckless Desires," Greene is the one having his heart torn apart by a cheating lover: "You swore that it was over/ You swore that it was through/ But every time I turn my back/ You find yourself in someone's bed again/ The lies begin to start/ And our story falls apart." Sonically the song mirrors Duran Duran's "Save a Prayer," with an equally depressing aesthetic to match.
Two questions to ponder: Are these songs about one person or several? And are they being told out of order? In "The Talented Mr. Ripley," the main character is, after all, a most untrustworthy person.
"Game of Chance," about a reunion with a previously lost love, stands out as a guitar-driven track. The acoustic strumming with some noodling on top adds an element of wanderlust and temporarily finds a break in the oceans of synths on Purple Noon. Just as quickly as Greene has his reunion, a relationship is officially over and he attempts his way to move on with "Leave You Behind," again making us question either the order of this story or the number of romantic love interests in it. The confusion carries over to "Don't Go." The slow, funereal song has Greene back in the relationship, willing his love to keep him: "I know its dark/ But when the clouds roll back we'll shine on."
By the end of Purple Noon, on "Haunt," Greene appears to be a prisoner of his own mind. He's alone, but the ghost of a former love won't let him be. "Every night/ You're right beside me/ In my mind," he sings. "I can't get past the things I did wrong/ Broke your heart now I can't move on/ What's going on inside?/ Inside my mind?" The ending is both painful and cinematic; picture a pan-out on the artist, alone in bed, his emotional tumult turned into a literal storm outside him window.
The story on Purple Moon begins in pastel hues and ends in shades of gray.
Follow editor Roman Gokhman at Twitter.com/RomiTheWriter.