Whitney combats existential fear with illustrious arrangements on 'Forever Turned Around'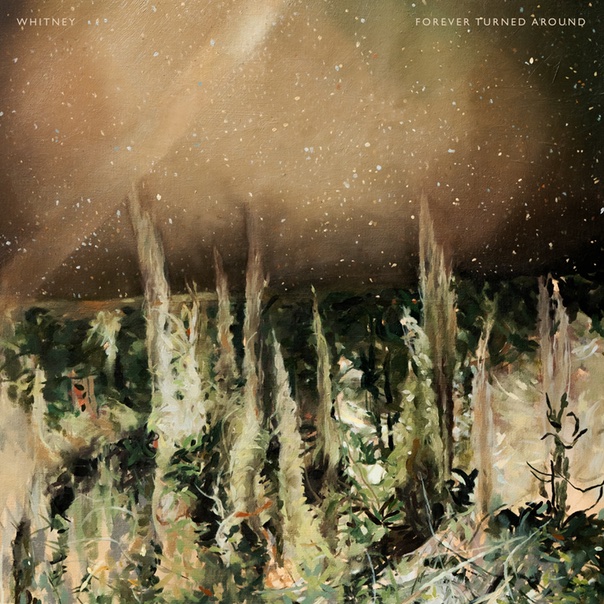 Formed by Julien Ehrlich and Max Kakacek from the ashes of the Smith Westerns, Whitney's lineup and sound has since vastly expanded. String and horn accompaniment elevated the Chicago band's 2016 debut, Light Upon the Lake, but a subsequent demo collection spotlighted the songs' organic core. Ehrlich and Kakacek strengthened their friendship and musical chemistry over the next few years as they each dealt the life's tumult and transient totality. Whitney encapsulates its growth on the musically extended and lyrical potent Forever Turned Around.
Forever Turned Around
Whitney
Secretly Canadian, Aug. 30
Recorded with Brad Cook and Jonathan Rado, the producers for Bon Iver and Father John Misty, this album's immense sound sits head and shoulders above its predecessor. Opener "Giving Up" gradually builds its psych-folk dreamscape via Macie Stewart's violin, Lia Kohl's cello and Whitney Johnson's viola to a rousing solo by trumpeter Will Miller. And yet, the song still breaks down to roomy acoustic guitars and trickling keyboards. Ehrlich and Kakacek have a full spectrum of sound in mind—seeing themselves as more than simply a drummer-singer and a guitarist.
Ehrlich's rich falsetto strikes a balance between the chops of soul and the nonchalant attitude of bedroom folk, providing a robust dynamic range for cuts like "Used To Be Lonely" and "Valleys (My Love)." He guides the former by pushing and pulling his range while maintaining tonal consistency, much like Michael McDonald. He's able to hang back. For the detailed groove of the latter, he supplements the vibe with rhythmic and melodic intuition. Kakacek's guitar functions similarly, serving the whole ensemble with his licks without taking up too much room in the mix.
Forever Turned Around is incredibly accessible. The lyrics of "Before I Know It" only uses six lines, a minimalistic trend throughout the album, but panoramic sonics give its theme of life passing too fast a deeper resonance. The production enhances this symbiotic relationship as Rado provides some organ drones like those that bookend "Song For Ty." This shows his integral part of the music itself as well as its immaculate mix. Each added layer is cohesive and calculated, making it easy to get lost in the soundscapes.
More than anything else, Whitney's music is simply a fun listen. Instrumental track "Rhododendron" provides a sunbath of textured chord progressions and layered melody. Ehrlich's drumming embodies his past work for Unknown Mortal Orchestra, providing a tasteful backbone for a constantly evolving tapestry of horns, strings and standard rock techniques. While not particularly technical, the musicality breaks the mold of most folk albums by avoiding an over-reliance on words. Still, the lyrics are definitely memorable.
The central duo takes a more prominent role on the British soft-rock vibe of "My Life Alone," wearing the song's ode to star-crossed lovers on its sleeve. "Darling I don't mind/ Living my life alone/ 'Til we're back together, dancing slow/ To the sound of the radio," Ehrlich sings over Kakacek's sparkling chord progressions.
Kakacek's dexterous licks play a crucial role on "Day & Night," dancing over the dazzling wall of sound. The balance of size and catchiness reflects the song's simultaneous acknowledgement of mortality with a sense of steadfast peace. Even as "Friend Of Mine" starts off stripped-back with a bouncy one-two acoustic guitar and drum rhythm, it still benefits from synchronized hits akin to big band jazz. The warmness of Whitney's sound permeates its heavy themes, increasing the impact and creating an immersive vibe.
As the concluding title track settles in orchestral rock bliss, Ehrlich and Kakacek display the sense of wonder their journeys have instilled in them. They've redoubled Whitney's vibrantly colorful instrumentation, finding beauty in chaos and finality. Never fully settling and always engaging, Forever Turned Around creates an immersive aura where its contemporaries turn to folktronica.