ALBUM REVIEW: 'Nobody is Listening' to Zayn Malik, but you should be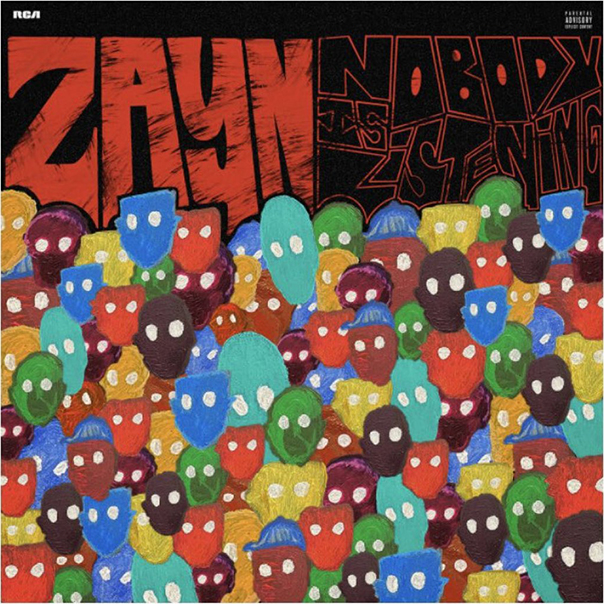 In 2016 he was the American Music Awards' New Artist of the Year and one of Glamour Magazine's Top 100 Sexiest Men. The following he was Billboard's top new artist. Any of these sounds familiar? If a teen-heartthrob-turned-solo-artist came to mind, you're on the right track. No, no, not Harry Styles. But you're close: Zayn Malik, who went solo music almost five years ago, is now on his third full-length album, Nobody Is Listening. Yet, as the 135th most listened-to artist on Spotify, that might not be the most accurate title.
Nobody is Listening
Zayn
RCA, Jan. 15
7/10
At just 35 minutes, Nobody is Listening, made after three years filled with collaborations and singles, is a short album. But its 11 tracks leave very little to be desired and manage to bring out all the best qualities of Zayn's sound while still catering to his own vocal abilities. While this album isn't a vivid jaunt of exciting dance numbers, the mellow, laid-back journey through smooth beats and groovy, relaxing refrains suits the persona of the former "Bradford Bad Boy," who goes simply by "Zayn" these days.
The opener, "Calamity," seems both familiar and surprising. While fans might be used to Malik's inclination to introduce an album with an interlude, this track features Zayn himself rapping over a sparse yet fluid beat. This isn't the last we'll hear of rap influence on this album and on "Windowsill," we get a guest appearance by British rapper Devlin. However, when the album launches with single "Better," the audience becomes fully immersed in the world of Zayn's sound.
With twangy guitar backtracking that's outfitted with plenty of reverb, a bit of minimalistic and echoing twinkling synthesizer, and remixed R&B beats complete with snapping and vibrations, Zayn does it again. The album is a comprehensive snapshot of the sound he's been cultivating since his debut album, Mind of Mine. It's a step up from the generic pop sound of Icarus Falls, but not quite as individual as his less-subtle Pakistani-influenced debut. His roots do get a shoutout, however, not just in the Qawwali-inspired melodies throughout, but specifically on "Tightrope," where we find some wistfully sung Urdu floating in the back of the bridge.
While the production is generally as glossy as one would expect from a former One Direction star, there are a few iffy decisions made by Malik, who was described as having "total creative reign" of the album. There's an awful lot of what sounds like classical guitar. The repetition makes some of the songs sound similar; a couple nearly identical. On "Better" and "Windowsill," the beat is blown-out and fuzzy. While it might be a popular trend now, back in the day we just called that bad audio mixing.
Zayn seems to be in his wheelhouse with singles that imply the audience has just as much of a chance ending up in his bedroom as his supermodel partner, Gigi Hadid. "Vibez" and "Sweat" both hit that mark well, with sparkling production and mellow Marvin-Gaye-esque accompaniment to match those sexy… well… vibes. Unfortunately, the lyrics are very typical Zayn: relatively generic and quite often indecipherable over the many various electronic instruments behind him.
But the running themes, much like his other works, are mostly concerned about love, sex, inner tumult and the daily struggle of being a handsome, wealthy 28-year-old. If there is an attempted spiritual and psychological depth to this album (and there very well may be, as many of the songs seem to have a mournful undertone to their euphonious exterior) it may have gotten lost in the garbled, somewhat superficial lyrics.
Zayn begins to forage through the world of falsetto vocals on "Outside" and "Connexion" with a surprising amount of fervor. While at times the melodies seem a little too complex for his vocal abilities, the production does a good job of giving him a soft net to land in when chasing down those vocal runs gets too overwhelming. He thrives best when singing from his chest, and the album's finale, "River Road," is much more fitting to display some of his jazzier predilections.
While Nobody is Listening doesn't always hit the right notes (metaphorically and literally), it meets the expectations it set: that of a former boy band crooner in his solo peak. But should nobody be listening? Hardly! If you draw a bath, light a few candles, pour a big glass of wine, and press play.