INTERVIEW: Almost Monday eager to make up for lost time after the pandemic
This was going to be a breakout year for San Diego pop trio almost monday. In a way it still is, thanks to the streaming and radio success of runaway hit "broken people." Still, after beginning 2020 by opening for AJR, almost monday were primed to play SXSW, Governor's Ball and BottleRock Napa Valley. They would have had their largest live audiences to date. It didn't work out that way.
"It's been—pretty honestly, being candid—disappointing because we sort of started our band because of how much we love to play live music. Playing shows is a big reason we're even a band," vocalist Dawson Daugherty said. "It's like taking away 50 percent of the goodness of a band. … It's just been an adjustment, figuring out how to keep morale high and being creative in, I guess, our bedroom."
Daugherty (21), guitarist Cole Clisby and bassist Luke Fabry, who released debut EP don't say you're ordinary in October, began playing together in 2015. The singer and bassist were childhood friends. Daugherty met Clisby while surfing. All three grew up surfing. Before that, when he was in high school, the singer tried his hand at reality show success, appearing on "The Voice" when he was 16. He made it past auditions and onto the televised round, where none of the judges swiveled their chairs to mentor him.
"It was like a really cool way to see, not really the music industry, as much as the entertainment industry," he said.
All three friends wanted to be in a band, and Clisby had even had a taste of the backstage lifestyle because the Foo Fighters' Chis Shiflett is a family friend. He was in middle school, or even younger, when he started going to see the Foos play.
"That kind of really sparked my interest in like wanting to do that and go play to people," Clisby said.
The three launched almost monday when they were in college, and began playing shows at a local surf shop. The surfing culture is important to all three, not that it affects their music in traditional sonic ways.
Surfing, skating and snowboarding culture has typically connected in recent years to punk, Clisby said, but that's not the type of music that almost monday plays. Instead, the trio hews closer to modern with synth-pop but with elements of '70s and '80s pop and funk.
"There's, like, surf rock, which is pretty different from what we do," Fabry said. "I think just growing up in San Diego, just being around the water and just being around people—it's a pretty chill vibe; it's a pretty happy vibe.
"I think that's impacted our music. Our music has some pretty high energy for the most part and pretty hooky melodies," he said. "It's great to be able to go surf to take a break from band or just kind of clear your head. So if anything, it's just been a really helpful way to step away from music for a second, come back with a fresh mindset."
The band's first show was in the back of a surf shop in San Diego's North County. Almost monday then began growing a local fanbase. When it came time to record songs, the three started scouring album credits to see who was producing the music they admired, and discovered Mark Needham, who's worked with Fleetwood Mac and The Killers.
They sent the Angeleno an email, inviting him to a show, and he actually made the drive down. When it came time to record the new EP, he introduced them to producer Simon Oscroft, and the two produced it together after almost monday flew to New York and recorded in Brooklyn with Oscroft last winter.
"We played a show at our friend's surf shop called UNIF, and the money we made from that, from selling merch and tickets, we just bought tickets to Brooklyn, just so we could go, again record with Simon," Daughtry said. "It was really cool. A lot of artists talk about how you write different music on different coasts, or something. Maybe it's true, but it was really cool for us … San Diego guys to go out to New York."
Over about 10 days, almost monday wrote and recorded the four songs on the EP. The last of the four was "broken people," which came together in about an hour.
The hit, which has been streamed millions of times, was a result of almost monday wanting to provide encouragement to listeners who didn't feel like they were perfect—a huge chunk of us—and to challenge the meaning of "perfection."
Unlike much of synth-pop these days, which relies on creating a nostalgia for the 1980s, "broken people" has a decidedly '70s disco and funk flair. That wasn't the intention, however, Daughtry said. The band doesn't have a specific sonic game-plan when songwriting.
"It's more, I guess, of a feel thing," he said. "Usually … we have inspiration or artists we've been listening to. For that song, and a lot of the songs off our first EP, inspiration [came] from David Bowie, Justice, Prince. … It makes it interesting and cool to take different pieces of different artists and different generations and trying to make it feel like us."
The band has followed "broken people" with "parking lot view" and "come on come on," both equally energetic earworms.
Q&A: Who signed Dawson Daugherty's shirt?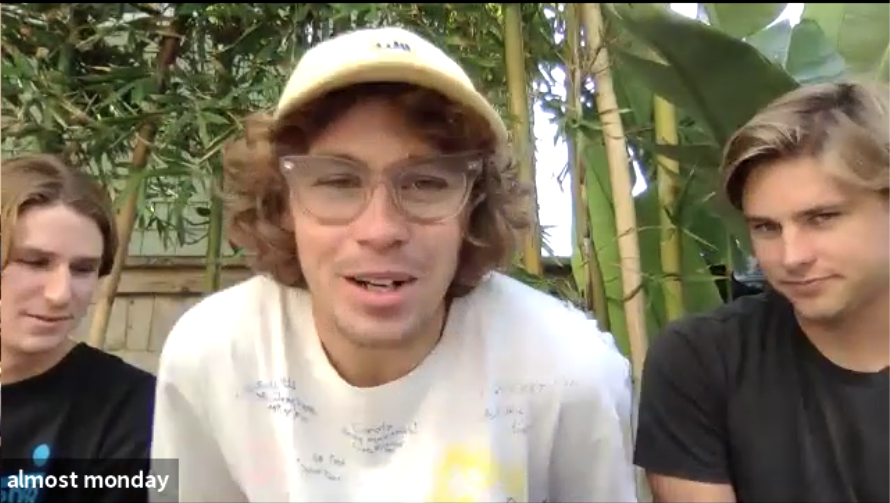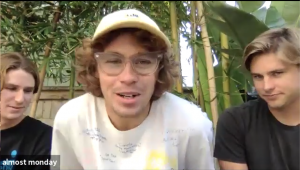 Dawson Daugherty: I bought this at a thrift store, and there's like a bunch of signatures. … I just liked the shirt. It fit really well, and I didn't know at all like what it was for. "Good luck, Darrell and Peggy." So I had no idea what it was. But I found out that it was a NASCAR driver's shirt. … Some of his friends got together and signed a shirt for him.
Since pretty much all of 2020 is canceled, almost monday has been back to writing new music in Clisby's bedroom. Newer songs, written during the pandemic, have been influenced by the musicians the trio has been listening to: primarily, LCD Soundsystem, Daft Punk and a bunch of '70s funk music.
"A lot of the music we've been writing has had some good guitars in it … some pretty fun energetic surf punk parts," Daughtry said.
On his, Clisby's and Fabry's minds are the second and third EP, as well as a full-length album.
"The music's definitely going to come, I'd say, sooner than probably our fans are used to from us," Daughtry said. "We wait[ed] a long time, for at least our first four songs. We're hoping to get it out quick."
Follow editor Roman Gokhman at Twitter.com/RomiTheWriter.