Metal stoners American Sharks work hard, play harder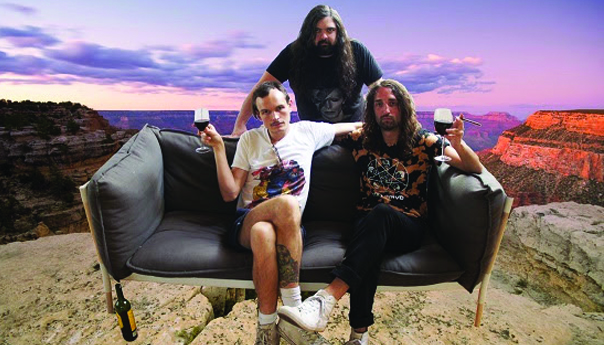 MCDADE, TEXAS — The first time I spotted American Sharks' Mike Hardin, at Austin's Sound on Sound Fest, he worked a giant broom, spreading wood chips over a muddy, potholed path.
"If I was sitting down right here, talking to you, and there was some person scooping shit and I didn't get up, my dad would whoop my ass," Hardin explained. "He would say, 'Get up and fuckin' work.' It's just ingrained in me at this point."
That hard work mentality is something Hardin, along with drummer Nick Cornetti and guitarist Will Ellis, have used to propel American Sharks since forming in 2012. Living in Houston, Hardin and Ellis played in another band, Monster Baby and the American Sharks, but Ellis relocated to Austin. That's where he caught Cornetti playing in a band called Cartright.
"He texted me and [said], 'Dude, you've got to see this fuckin' drummer. He is fuckin' sick,'" Hardin added.
"The feeling was totally mutual. The first time I saw Sharks, I was just like, 'God, I wish I was in this band,'" said Cornetti. "Then when Will asked me to fuckin' play with them, I … had no questions about it."
In 2013, the stoner metal band released their debut, self-titled album, loaded with lively, face-melting riffs. Hardin still lived in Houston, but commuted to Austin to record. That changed after The Sword guitarist Kyle Shutt reached out.
"Nick is hanging out at his house and Kyle shows up one day," Hardin said. "'Dude, I listened to your set and I fucking loved it.' I was, just, like, 'Fuck, man, I got to move back.'"
Cornetti and the others decided the only way they could make the band work is if they were around each other constantly. The move made, the Sharks almost immediately opened for The Sword at a dive bar in Austin. That went according to the Sharks' plan, Cornetti explained. The goal was to get a permanent gig opening for The Sword. If you ask Hardin, he'll credit the other band for the existence of his. Shutts helped American Sharks find a booking agent, and put in a good word for his proteges, landing them opening stints for Gwar, Red Fang and Clutch.
"They all ended up being the best thing that happened to us," Cornetti said. "Kyle, from the start, took us under his wing and became our brother."
The Sharks are now at work on their second LP, Bad News, which they're hoping gets released next spring.
"The first album was full-throttle, 90-miles-an-hour the whole way. It was fast. There is no stopping or slowing down anywhere," Cornetti said. "On the new record, a couple of songs start off with a much slower tempo. There's a lot more to it."
Hardin said he also changed up his vocal delivery, adding more melody.
"We never wanted to be a metal band, so we're kind of working toward getting away from that," he said.
The first taste of the album is available on single "White Witch," the video for which was filmed at Sherwood Forest, which is home to this very festival but is also the home to a large Renaissance festival. In the video, the band members are running away from a growing mob of hipsters. Director Bob Mustachio, Black Angels' projectionist, didn't tell them ahead of time what the script consisted of. Even the extras were exhausted and sighing by the end.
"We ran for four fuckin' hours," Hardin said. "I ain't in the best of shape, but even the people who were in really great shape …weren't prepared. Everybody had a beer, or maybe two, and a slice of pizza. All of a sudden, Bob Mustachio says, 'Run. Dude, do it again, do it again.'"
In Sherwood Forest on the afternoon of American Sharks' performance at Sound On Sound Fest, the band showed a different side. They may work hard when called upon, but on this day Hardin was more than a little inebriated. He said the band camped the previous night. In other words, they didn't have to drive anywhere in the morning. There'd been more partying than sleeping, Hardin implied. By the time of this interview, Hardin is one or two steps beyond jovial.
Their performance, a couple of hours later, was cut short. Hardin forgot lyrics and, at times, the setlist. But the sloppy set appears to be an anomaly for the group, whose shows have been critically lauded for their tightness and energy. The band, which already logged many a-mile on the road, will head back out when the new album comes out this spring. Their hard work has made The Sharks one of the most talked about metal band on the scene.
"You won't get any better if you don't see room to grow," Cornetti said.
Follow journalist Brandi Smith at Twitter.com/BrandNewSmith, Facebook.com/BrandiSmithTV and BrandiSmith.me.