BottleRock: Amy Shark gets revenge against the big fish
For 10 years, Australian Amy Shark toiled away in the bar scene of her small beach town in a remote part of her country, relying mostly on Cyndi Lauper and Alanis Morissette covers. She hated it, wishing for the day she could play her own songs.
Amy Shark at BottleRock Napa Valley
Sunday, May 27
Napa Valley Expo
Tickets: Via fan exchange.
"Even to try and get anywhere in my own country was really hard for a while because you need to go to the big cities," said the 30-year-old, who until a few years ago performed as Amy Billings. "I was always working on my songwriting, and I felt it getting better and better. It took a while to find my sound, as well. I kind of knew what I wanted to do, but it was difficult to try and nail it. I did a lot of stuff myself, at the start. I was producing my own songs."
Despite the improvements she saw in herself, any labels she approached rejected her, and radio airplay seemed unreachable. She nearly called it a day a few times, but her community picked her up, literally delivering what she needed to record what would become her breakout song—"Adore"—which now has her touring the world.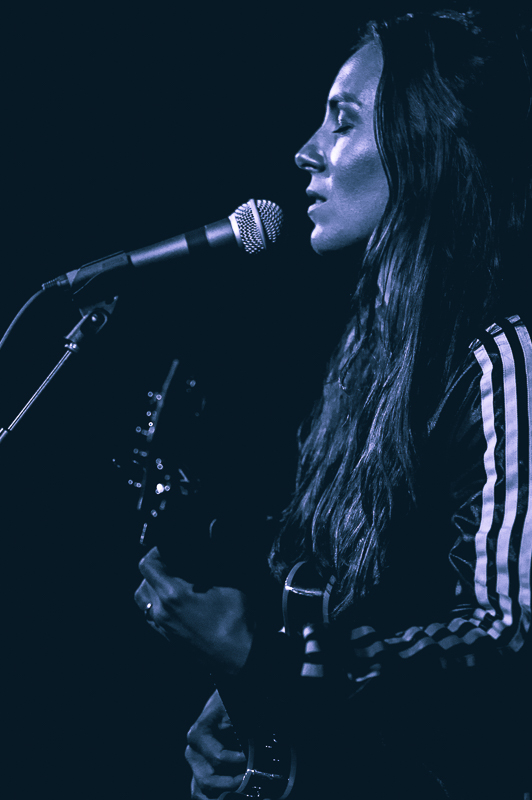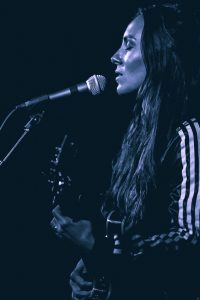 "I was doing little bits here and there, but I wasn't really pushing it. … I was really bummed for a while," Shark said in a call from her home in Australia, with her dog "going mental" behind her. "I had written so many songs and I had had meetings with labels. You get told all these things and promises are just always broken. I was let down a lot, and I wasn't getting any offers for tours. I was always battling this 'swimming against the current' type [of] thing. … To get to the level I'm at now, I had definitely given up on that."
Shark grew up with her parents and brother, listening to their music collection that included Guns N' Roses and Smashing Pumpkins. Her first love wasn't music but acting, and then directing and editing video. She would film slice-of-life videos of herself and her friends; activities as routine as going through the fast food drive-thru, and then editing clips together to music. When her grandparents offered to buy her and her brother guitars if they took lessons, she balked until she saw her brother play a Blink-182 cover; the pop-punk trio was one of her favorites. That convinced her to reconsider. After three formal guitar lessons, she was hooked, quit the lessons and began teaching herself.
"I'd get home from school and play it all night," she said. Her first band, however, is something she hopes is forgotten. She and a classmate started Hansel Kissed Gretel after watching one too many movies about all-female rock bands that beat the odds. "It was really bad. It was really angry girl trashy punk music. … I hope none of that music finds its way to the surface."
She got better over time and began making the rounds throughout Australia's Gold Coast. She met her husband and took a job as a video editor for the local rugby team, The Gold Coast Titans, editing and producing clips for sponsorships, ticket sales and in-game entertainment. It was a job she truly enjoyed, and even though she eventually left following the success of "Adore" and her debut EP, she has not yet surrendered control of her music videos. Her husband, the finance manager for the rugby team, became her manager.
With her own music, she began with her early influences, bands like Guns N' Roses and the Police—her parents' favorites—before getting into pop-punk with bands like Blink-182 and New Found Glory. Over the last handful of years, she became obsessed with more lyrically deep artists like Tegan and Sara, the Shins and Death Cab for Cutie before gravitating to hip-hop and other beat-centric artists like Lauryn Hill, D12 and Eminem.
"I think that's why my music is the way it is; I feel like I've worked out a formula [where] I incorporate all those genres," Shark said.
A personal breakthrough came in 2014 when she wrote and recorded "Spits on Girls," a song on which she incorporated a hip-hop beat for the first time. Australia's national radio, Triple J, briefly picked it up, which was huge for Amy Shark.
"I got a little bit of self-esteem back," she said. In February 2016, she released single "Golden Fleece," which won a regional music award. "That gave me some reassurance that my music was connecting with some people."
For her next move, Shark became convinced that she had to have a well-known producer work on one of two finished songs. Not just any well-known producer, but M-Phazes, also a Gold Coast native who has worked with Kimbra and Eminem. The song was "Adore."
"I like the sort of gritty beats that he made, and I could hear a lot of my songs needing these beats behind them," she said. "It was really hard to sell this idea, because I wanted to use guitar and I had a lot of deep songs. They weren't your regular kind of pop songs."
The problem was that M-Phazes was an established big-name producer, and Shark was a video editor for a rugby club. She couldn't afford him and couldn't even get a few minutes of his time. So she turned to the local government, which was known to support local artists in their endeavors. She applied for a grant, wrote an essay and laid out her "vision for Amy Shark," a name she had taken on one year earlier after hearing too many rejections from record labels and deciding she needed a new persona.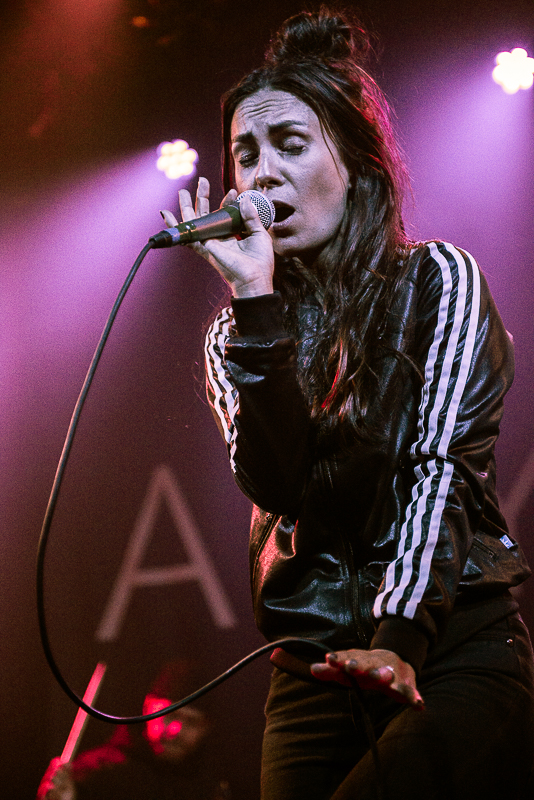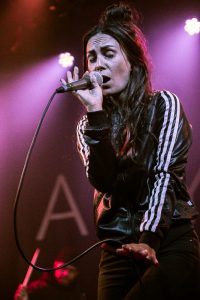 "Everybody who knew me in high school knew that I was the girl that loves sharks and always reads about them," she explained of the updated moniker. Jaws is her favorite film.
Shark finally got the grant, $7,000, which bought her half a day of the producer's time. And apparently, that's all he needed.
The mid-tempo song, with sparse, quivering guitars and earnestly sung lyrics, was released later in 2016, and Amy Shark would go on two win two ARIA Awards, the Australian equivalent of a Grammy. For a songwriter who grew up watching that award show since she was 5 years old, it was the first of several moments that made her understand she was no longer writing just for herself. In her home country, "Adore" reached No. 3 on the singles chart and went platinum.
The accompanying video, which Amy Shark filmed and produced by herself with a choreographer friend, has racked up more than five million views so far. If she knew beforehand the song was going to become as adored as it was, she said she would have put some more thought into it.
"Every video I've ever made I've directed, and produced and cut," she said. "It started because I didn't have the money to put in a big video production. I had to get very creative and beg my friends [to help] and pay them in cartons of beer."
Since the release of "Adore," surreal moments have included playing to a huge packed crowd at the country's Splendour in the Grass music festival and working in the studio with Jack Antonoff and Joel Little (Lorde).
"Things are just going so quickly, and I definitely know now that when I put a song out, it's going to be heard," Shark said.
She has also spent some time in the studio with one of her childhood heroes, Mark Hoppus of Blink-182. The partnership came after he Tweeted her out of the blue to tell her many of his friends and his son were listening to her music. Hoppus invited her to L.A., and she just happened to be in the city two days later.
The two grabbed coffee, she played him a couple of her more recent demos, and he suggested they head to a studio, which turned out to be the legendary Sound City. She got a kick out of recording on the studio's famous Neve 8078 console—"every legend in music has recorded on it." Just don't ask Amy Shark what the music is for: a debut LP, a film, for another artist or something else entirely. "It's all very top secret, and I'm definitely not going to tell you what it's for," she said.
Shark has already beaten the possibility of becoming a one-hit wonder; her second single, "Weekends," is gaining steam. She signed with Sony Australia, and later RCA in the U.S., which released her EP, Night Thinker, consisting of six similarly personal, meditative, guitar-driven gritty pop songs. New music is on the way very soon, though it might come in the form of another short-player than a full-length debut.
Shark no longer has to worry about getting the attention of record labels. In fact, on her way to signing her current deal in Australia, she turned down many of the same labels that previously shunned her. How did that feel?
"It was pretty awesome. There's a number of people, man, that it would be really hard for them to come up and talk to me," she said, laughing. "I'm not a total bitch. But I will never forget what they had said to me before."
Follow Roman Gokhman at Twitter.com/RomiTheWriter.