Introducing: Art-literate D.C. pop trio Prinze George
There is nothing illiterate about Maryland synth-pop trio Prinze George. Guitarist-producer Kenny Grimm, vocalist Naomi Almquist and drummer Isabelle De Leon are all well read, educated and appreciative of the culture around them near Washington, D.C.—they're avid museum-goers in a city where many museums are always free.
Named for their home of Prince George's County, the three titled their 2016 debut album Illiterate Synth Pop, for a joke penned about the spelling of the band's name. The term may have been an insult when it was penned by a writer describing the trio's breezy mid-tempo jams, but it stuck.
Grimm, Almquist and De Leon played together in a rock band earlier this decade. Eventually Almquist and Grimm started Prinze George as a side project when the other band took too long to record and release songs. De Leon joined a few months later.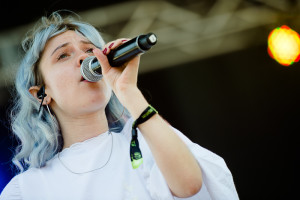 Intent on pursuing Prinze George, Almquist and Grimm moved to New York for a year. They tried to find other musicians to work with, but no one felt right for the band. During their time in New York, the two released two songs. The second of them was "Victor," a chill piano ballad with up-tempo percussion and chirping synths that caught the attention of the music industry. The song drew comparisons to Lana Del Rey and MS MR.
A year later, the two returned home to Prince George's County and incorporated De Leon back into the band. An EP followed in 2015. They've continued riding the wave of success, releasing Illiterate Synth Pop late in 2016.
"So many people struggle for 10 years just to play a show, you know?" Almquist said. "We've just been really blessed."
RIFF caught up with Prinze George at a Bay Area stop earlier this summer. The band doesn't currently have any shows lined up. Instead, it's spending the next few months releasing singles and making videos for the debut album.
RIFF: What is so special about Prince George County to warrant you naming your band after it? Tell me about your home.
Naomi Almquist: Prince George's County is where we all met. It's basically the place where we've grown up and gone to school and everyone that we know and love, our families are still all there. People stay together, and a lot of people stay in the area. It just like a little different. It's hard to explain.
Isabelle De Leon: That tri-state area: D.C., Maryland, Virginia, is kind of like one and the same, because it is so small. And I think there's a lot to be said about the artistry and the music that comes from that area. You see a lot of pretty well known, established musicians who are from there as well, like Wale and Logic and a lot of other bands. So, I think that also just pays homage to the diversity of the area. I think because of that, there's a lot of artistry influence and a lot of cool cultural things happening.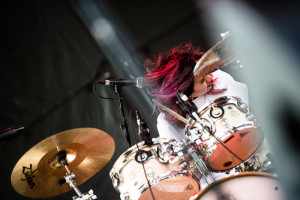 What do you do for fun when you're home?
Almquist: Well, when it's cold, we drink a lot of wine. When it's warm we go to the beach. The beach is really close; it's like three hours away: Ocean City. You can also go to Delaware for Rehoboth [Beach].
De Leon: D.C.'s a pretty young, developing, city. It's changed a lot in the last 10 years, even the last five years. So, there's always new, hip spots you can go out to. There's a lot of different neighborhoods with different characters with a lot of active nightlife, a lot of live music that's happening. So, we like to go to shows, go to the free art museums, there was just an amazing exhibit at the Hirshhorn [Museum and Sculpture Garden, in Washington, D.C.].
Almquist: Kusama. It was free but you had to sign up for tickets and it was almost impossible to get in because the demand was so high. It was incredible. Just a lot of 3D, bright colors. It was nuts and the fact that it's free, that's so D.C. That you can just go to a city and go to any museum you want for free. Usually cities will have a "free day" or they'll have a student discount pass. More people go because it's free all the time so there's more flexibility, time-wise, for people. Usually the free days are workdays, in the middle of the workday. That's how it was in Chicago for the Art Institute for a while. It was like, the first Thursday of every month was free, but if people are at work they can't fucking go.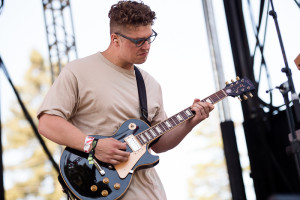 What are the dynamics of Prinze George? What roles do you play, how do you write songs, how do you like to record together, how much thought goes into your production?
Kenny Grimm: I'm the producer for the band. So, I guess I would say I'm generally the overseer of things. Generally I'll start an idea in Ableton and get something going. Naomi and I live together so it's kind of like, "Hey, check this out!" in the next room. Then she'll tell me if it sucks or not and if we should move forward with it. Then we'll have a lot of ideas that are just in demo form. I think the album is really cool because we had brought a few demos to Minneapolis [where Prinze George recorded] and then we kind of rethought 'em. Isabelle puts her spin on everything.
How surprising was it that you found success so quickly? Some artists work many years to get even a little taste of success.
Almquist: I think that the best answer to that question is the Internet and just the way that the music industry has changed. We got very lucky. We had a song that came out that did extremely well and it was the second song we'd ever released. … We didn't have pictures up, we didn't have a team, or anything, it was just like, "Oh, we're putting this shit out there to see what happens."
Grimm: It's weird because we started out and then we released our second song and it [reached] No. 1 on HypeMachine and stuff. It's weird 'cause then you start kinda looking at success in terms of how many hits you have on Soundcloud and I think it throws you off a little bit. Just remembering what you're trying to do and say with music, and what you're trying to put across [is difficult]. For us it was obviously great and why we're here right now, but after that happened with a few songs, we just took a step back and refocused.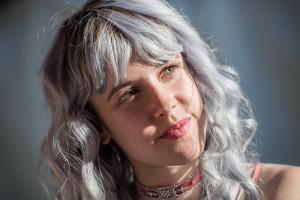 Does Prinze George usually write about personal experiences or fictional and narratives?
Almquist: Usually personal, but I like to mix it up sometimes and do half-and-half. Sometimes you embellish things. I don't lie, but sometimes you have to indulge a feeling or a memory, and maybe exaggerate it a little bit so that it rhymes, you know?
Can you walk me through a song that is a good example of that embellishment?
Almquist: "Victor" is a good example of that. That was our second release. That was the song that pretty much got everything going in the beginning. [With] that song I was thinking about the character from Mad Men, Don Draper, 'cause I really love that show. I was thinking about this archetype of this man, and I kind of borrowed from the show and then also from conversations I've had with other people about father figures in their life and my own experience. I kind of just made a little "soup." That's sort of how that song came out.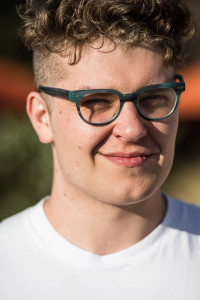 Who do you look to as influences or inspiration? Is it other atmospheric electronic pop bands like The XX and Broods, or do you look in other genres?
Almquist: It's different for all of us. Kenny and I are obsessed with The National. The National is our favorite band together.
Grimm: The two of us listen to a lot of music in different styles than us to get influenced. So I definitely have my production influence, like, "Oh, that's cool sound."
Almquist: We love Beyonce. Isabelle and I are big Beyonce fans; especially the last record.
De Leon: And a lot of strong female artists.
Have you spent much time in San Francisco?
De Leon: I was made here. Yeah, my parents were not embarrassed to tell me that when I was in high school. It was cool because, actually this trip, we got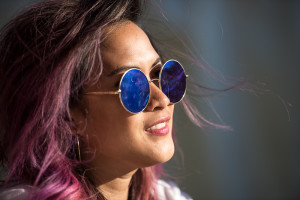 to San Francisco on my birthday. So, it felt very "full circle." Prior to that, I had visited a few times and really fell in love with the city and just how much different stuff you can see just within an hour outside of the city, like Muir Woods, Napa Valley, the beautiful beaches. I love also the contrast: the city with the hills and by the water.
Follow Roman Gokhman at Twitter.com/RomiTheWriter and RomiTheWriter.Tumblr.com. Follow photo editor Alessio Neri at Instagram.com/windowofcolor and Windowofcolor.com.