Audien pushes EDM's boundaries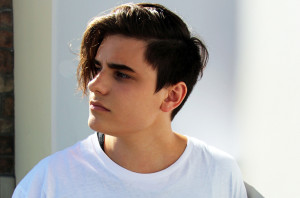 It's not for everyone, but it's everywhere: electronic music. The genre has evolved faster than any other in the last three years. DJs around the world push its boundaries every day, and if you don't follow closely, you will be left behind. Audien has made it a priority to also push himself into new ground.
Audien
8 p.m., Friday
Regency Ballroom
Tickets: $25.
The Grammy-nominated artist spent the last year tinkering with new techniques for his music, and he's ready to show them off. His love for experimentation is propelled by the displeasure of being constrained to one genre. His diverse taste is to blame for this. The only thing that remains steady in his repertoire is his appetite for melody.
"I tend to concentrate a lot on finding the melodies that will evoke the most possible emotion from my listeners," Audien said. "You'll find my new stuff to be Audien-like, but perhaps more chill."
Born Nathaniel Rathbun in Mystic, Conn., Audien signed his first record deal in 2009. His music started to gain recognition through other DJs like Above & Beyond, Tiesto, Armin van Buuren and Hardwell, who incorporated songs into their sets. He proved to be a fan of mixing the genre pot when he made "Something Better" in 2015 with country artist Lady Antebellum. The song reached No. 1 on Billboard's U.S. Dance Club Songs chart. He hopes that artists will continue to mix genres to create new possibilities. Drake is on the top of Audien's list of desired collaborations.
Although his desire to be different pushes his experimentation, another reason Audien tries to mix up his music is because the genre itself is changing. More artists entangle hip-hop, rock and funk further into electronic music. Porter Robinson and Madeon are the two artists that are pushing the boundaries the most, according to Audien. Their live shows and visual components create a progressive multi-platform approach.
The hardest, and perhaps most essential, part of pushing a genre is the art of prediction. Electronic music now traveling on the mainstream path. This success will eventually reach a tipping point and tastemakers will search for something new. At least, that's what Audien is expecting.
"I think people may rediscover their appetite for underground music soon," Audien predicts.
During his Las Vegas residencies, the Marquee and Wynn quickly became Audien's second home and testing ground for his new music. If the crowd loved it there, it would work anywhere, he said.
Of course, DJs are only as successful as the music of the original artists who they remix, and it's why experimentation still exists. It was artists like David Bowie and Prince that Audien admired the most. When they passed away last year, it took a toll on the young DJ.
"They were really two flag wavers for fearless experimentation," Audien said.
Audien has run off the success of his Grammy nominated remix of "Pompeii" by Bastille for the past year. Following the nomination, he also signed a record deal with Astralwerks. Today, Audien is out on his Feels Trip Tour, where he continues to exercise the art of experimentation.
Follow writer Joey Reams at Twitter.com/Joeyreams94.