Friends Brittany Howard, Becca Mancari & Jesse Lafser find Bermuda Triangle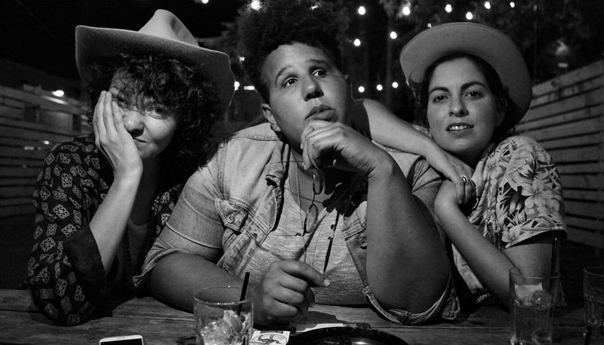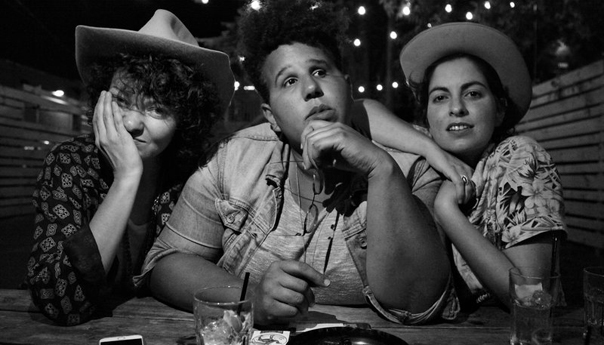 For as much travelling as Pennsylvania native Becca Mancari has done in her life, touring as a solo artist or a member of new group The Bermuda Triangle is still a recent development. Over the years, she's called New York, Florida, Virginia and now, Nashville, home. She's trekked through India, Africa and the New Mexico desert. All the way, she looked for inspiration for the rootsy, reverbed songs she was writing.
Bermuda Triangle


Bells Atlas
8 p.m., Tuesday, Feb. 6
The Independent
Tickets: Sold-out

8 p.m., Wednesday, Feb. 7
Bimbo's
Tickets: $27.50
In 2012, Mancari ended up in Nashville, despite her best intentions but as a self-fulfilling prophecy—"I felt like I was always going to go there. I didn't want to. I'd always felt like Nashville was kind of a cheesy country place"—following advice from a manager who worked for Americana duo The Civil Wars, whom she met while performing at a wedding. After five years of honing her craft, Mancari released her debut solo album, Good Woman, last October. At the same time, she was writing and rehearsing with two of her best friends, Jesse Lafser and Brittany Howard (of Alabama Shakes), for Bermuda Triangle.
This week, the group makes its first trek out West. It will be Mancari's first real tour. Even one year ago at this time, music wasn't her primary responsibility.
"I was flipping eggs, man," Mancari said of her day job, which she quit just last September. "I was making a lot of bacon, and cooking. Getting up early in the morning, like 6 a.m. every day."
With the praise for her solo material and the buzz surrounding Bermuda Triangle, Mancari is an egg flipper no longer. Rolling Stone named Good Woman as one of the top breakouts in 2017. Blending folk, indie rock and country, it glides upon a warm current of air with tracks like "Summertime Mama" and "Arizona Fire," the latter of which is about Mancari letting go of a relationship to build herself up again.
The album was inspired heavily by Mancari's experiences while travelling. She's been inspired by the people she met: From Appalachian and bluegrass of Virginia, to rock and even to the Hindi influences she picked up in India. Other ways of living have opened her up to possibility, and even humbled her, she said.
"The idea of just staying in one place has always terrified me," Mancari said in a phone call while on her way to a solo show. "For me, movement helps me with writing in general. Even being in the van, I feel like I spend more time thinking about songs than [when] staying at home. … For me movement is a part of song writing."
The album was years in the making, but by the time it was released in October, Mancari was already onto the next thing with Bermuda Triangle. That's an impressively busy way to kick off a career.
"I'll tell you what: I was pretty burnt out, but I was feeling so thankful to be busy and working," Mancari said. "I was actually on the road playing a show the day that Good Woman came out. So, they had had like a big bottle of champagne. To me it's the dream of every artist is to just do what you do and make your living from it.
"So, I'm very thankful for Bermuda Triangle, it's kind of given me the wings to do that. I wouldn't be able to do it without it."
Mancari met Howard and Lafser after moving to Nashville, and the three immediately connected: "If you're on the level and you're a good hang, you just run into each other at a house party." They started jamming together for fun on each others' porches. Howard, whom Mancari described as a huge fly fisher, got her friends into catch-and-release fishing, and that quickly became their second favorite group activity.
The trio played its first show on a whim in July, booking Nashville's The Basement East after a middle-of-the-night phone call. That led to a short Southeast tour in the fall and now the West Coast swing.
Bermuda Triangle's set is about 15 songs strong, Mancari said, including a few tracks from the women's other projects, but not Alabama Shakes. The musicians wrote most of the songs individually, with the others finishing them with their own flourishes. Live, the songwriter sings lead on her songs.
They have written one song together, aptly titled "Bermuda Triangle." Unlike the other tracks, which can be sad, or beautiful, this one is funny, Mancari said.
"That's a new thing for me," she said. "That's been really exciting, and Brittany's hilarious, so that's pretty easy for her. [With Alabama Shakes, Howard] just plays and sings, and she just rules the stage, but doesn't talk that much. With Bermuda Triangle, she does talk and it's pretty funny. I think the fans are going to just eat it up and love it. It's just really like being in our living room with us."
Bermuda Triangle has released just two songs so far. On the folky "Rosey," a remake of an older Lafser track, the women's voices weave in and out as Lafser laments a break-up. On the island lounge whisper-sung "Suzanne," Howard laments that her love interest has fallen for another woman. The song may surprise some Alabama Shakes fans who have gotten used to a more aggressive delivery by Howard.
The band has given all three women the chance to try new things with their music. Besides writing different types of songs and learning to connect more personally with an audience, all three are playing new instruments for the first time. Mancari has been learning to program drum machines. Howard picked up an upright bass. Lafser is learning the banjo. With only each other to rely on, they're taking more chances and becoming braver on stage, she said.
Despite all of Mancari's travels, this week's tour will include her first visit to the Bay Area. The group will have two days in the city, and she's excited to visit the Castro.
"Being a queer person, there's so many amazing stories," she said. "I know that there's so much history for me, personally, that has inspired me, so, yeah, I'm going to try to find some of that stuff."
She also readily admits she has much to learn about the touring lifestyle.
"It's new for me to learn how to not drink every night or to just chill out, go to sleep. These are important things," she said. "We still like to have fun. My bandmates are some of my closest friends, so we really enjoy being together."
Follow Roman Gokhman at Twitter.com/RomiTheWriter and RomiTheWriter.Tumblr.com.