Dublin's Bell X1 finds new inspirations in human connections with 'Arms'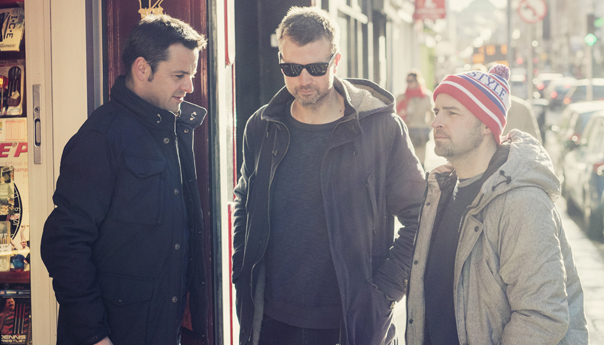 There was a time, years before Ed Sheeran and Hozier ruled the Irish rock airwaves, when Bell X1 was seen as the primary contender to the throne of U2. With the international acclaim of their third album, 2005's Flock, the Dublin band went from local favorite to U.K. powerhouse.
Singer-guitarist Paul Noonan, guitarist David Geraghty, bassist Dominic Phillips, keyboardist Brian Crosby and live drummer Tim O'Donovan didn't end up ensnaring America like their predecessors.
Their legacy as a great Irish band was cemented with their following album, 2009's Blue Lights on the Runway, but international success did not manifest. They could have hung up their instruments when Crosby left the band in 2008, but decided to persevere. This was, after all, a band that got its start through turmoil—before former drummer Noonan became a singer, Bell X1 was known as Juniper. Their singer was Damien Rice.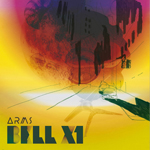 'Arms' was released Oct. 7.
Bell X1 will tour the U.S. in February.
Half a decade later, the three founding members remain and last week released their seventh studio album.
"A lot of life has happened in the last few years," Noonan said. "We've all had kids. We've had to become a lot more ordered and structured in terms of when we work and when we tour. The band is no longer the be-all and end-all.
"For a while, songwriting was divinely inspired. You'd wait for the strike. Now, you got to put the work in."
Noonan and co. have sustained their level of celebrity in their home country, but have over the years been able to release the pressure they sometimes felt while making albums. Time has put life in perspective.
"With every new record, there's always the danger that none of them will show up," Noonan said. "Thankfully they do."
At the same time, Bell X1 remain at their most creative. No two consecutive albums have the same sound and feel. The band has shifted drastically between classical folk and pop, incorporating brass, and dry electronica in the vein of Alt-J and Radiohead.
Noonan on the Dublin music scene of the last decade:

The global economic crisis of 2007 and 2008 hit Ireland hard. But from the ashes of closed businesses were born recording, rehearsal and performance spaces. Artists took advantage. When the recovery began, some spaces disappeared into gentrification.

"There's a really strong DIY ethic here. There's a strong sense of community … amongst the musicians. It's a small town, and it's a small country. To sustain a career within Ireland, you need to be pretty resourceful, in terms of the practicalities of sharing recording equipment, jumping on each other's bills for live shows and guesting on each other's records.
It's always been a priority for us to strike outside the country and bring our music to wherever we could. We were three records in by the time we made it to the States. It took that long to build momentum. The idea of starting small in countries you've never been, and feeling like it's growing organically; there's something satisfying about that.
Our contemporaries would be The Frames. Glen Hansard … has got lots of stuff going on. It's weird to feel like we're kind of the elder statesmen at this point. We get a lot of bands coming up who cite us as an influence. There's no greater feeling as an artist to think that you may have inspired others.
We made our first record in 2000, and we've seen some changes. Ireland has been on a little bit of a trip during that time. [After the financial downturn], there was a sense that we had gotten ourselves carried away as a nation. There was a certain shame to the realization that that had happened and that we had turned out backs on what we think of as core values. A sense of community, a sense of empathy and compassion being the more important things in life, as opposed to what car you drive. … When things crashed, we realized, 'Oh Jesus, we made a bit of a fool of ourselves.'"
With Arms, Bell X1, swerved from the traditional to avant-garde. The previous album, 2013's Chop Chop, was recorded over two weeks with producer Peter Katis (the band members are huge fans of his work with The National and Interpol) at his studio in Bridgeport, Conn.
They were introduced to Katis by Thomas Bartlett of New York traditional Irish group The Gloaming, who co-produced their record. Chop Chop is likely the band's most traditional, steak and potatoes album, Noonan said.
"We wanted to shrink the palate for it, I suppose," he said. "It was probably the most enjoyable record we've made. Something just clicked."
The paths to Arms was an inverse experience. It took years to write and record in numerous studios. It had various incarnations, iterations and revisions.
"We weren't sure what we were doing for a very long time," Noonan said. "We were flailing in the dark. It could have been three different records."
Between albums, Noonan, Geraghty and Phillips began to question their purpose: What did they have to offer? Was their music good enough for them? What were they trying to say as a band?
"We didn't just want to add to the noise. I'm often overwhelmed by the amount of music out there and the amount of music I haven't heard," Noonan said. "Dave has a studio he converted from the garage, and we'd been working there a lot. It had that sense of adolescence about it; go to the basement and make some noise. It was quite raw. That bunch of songs … felt like we were aping something. It never developed into a coherent body of work."
The band also had a bunch of songs that were a continuation of Chop Chop—classic and stately. Those songs got dropped as well. While a few of the songs from those two failed projects did make the final album, they were eventually overhauled.
While Bell X1 had always asked big questions in its songs, with often deep, philosophical questions—another parallel with U2—they looked to turn the spotlight on themselves and those around them. Once the trio felt they were telling those stories truthfully and resonating with the "experience of being human in the world," they regained their reason to carry on.
Melancholic first single "The Upswing" manages to both cite Star Wars and touch on depression, and the importance of having friends to lean on in times of need, even when those friends don't know what you're going through.
"That's what we do for each other," Noonan said. "It's a very universal experience."
Another song, "Take Your Sweet Time," was inspired by a video of a woman who had been deaf since birth and been granted hearing at age 40 through cochlear implants. In the video, a nurse begins by counting the days of the week, and the woman sobs uncontrollably.
"I thought about the idea of listening to music for the first time; wondering what that must be like," he said.
"Sons & Daughters," meanwhile is about the problems people are creating for future generations. Noon had seen a documentary about discoveries from millennia ago—coins, arrowheads, other artifacts.
"[The song] talks about 'what are people gonna find in 1,000 years from our time on earth?'" Noonan said. "We're not taking care of the earth. There's a blindness to that, it seems. It speaks to the idea of us not having the capacity to be farsighted enough to see what damage we are doing."
The touchy subjects are not new to Bell X1. They're the band's bread and butter. But on Arms, Noonan said it was his and his bandmates' goal to steer away from sonic melodrama.
"In the past it would have been handled with an emotive canvas," he said. [Sons & Daughters] is a groovy pop song. I like that juxtaposition."
For the album, they ended up inviting local musician Glen Keating, who has a collection of '60s and '70s analog keyboards and synths. Keating surveyed the band's songs and selected the ones that lent themselves to a groove. In the end, they asked Katis to mix the album. He was the rug that pulled the room together.
The album coalesced around this concept, as well as feel and instinct, rather than anything cerebral, Noonan said.
"We do like the idea of changing it up every time," he said.
Follow editor Roman Gokhman at Twitter.com/RomiTheWriter.