Inside 'Bird Box' and The High Strung with author-songwriter Josh Malerman
It would be accurate but simplistic to say that that the success of "Bird Box," the film adaptation of Josh Malerman's 2014 breakout horror novel, has changed his life. The writer was suddenly center stage with actress Sandra Bullock at the Hollywood and New York premieres, and hosting his own screening at a theater in his hometown near Detroit. Netflix went as far as to brag about the streaming numbers of the film—45 million; about a third of its streaming customers in the first week following release—something it rarely does.
But the life-changing events started with Malerman growing up as a fan of the genre in the '80s and visiting the video store with his parents.
"Seeing all this ghastly cover art looking back at you, when videos were all facing forward. … It was almost like taboo," Malerman said recently in a call from his home, with "Bird Box" still exploding and YouTube removing dangerous videos in an attempt to stop the #BirdBoxChallenge from spreading any further.
"It's just a box, after all, but [it's] dangerous because you're taking those images home with you," the 40-year-old said. "And they're going to be in your mind when you go to bed, when you have to walk upstairs alone, when you go to the bathroom late at night alone."
Malerman can't escape horror and incorporates it into his songwriting for his long-running indie psychedelic rock band, The High Strung, which just released its eighth album this month—its first in five years and the first since the return of co-founding member Mark Owen.
The video for the first single off Quiet Riots, "If You Wanna Roll," is a more than subtle reminder that Malerman has monsters on the mind. The homemade, seemingly happy-go-lucky video shows various objects shoved through the hole of a 45-inch record.
But what starts off with daisies, action figures and fuzzy boas quickly devolves into snakes, blood spatter and a creepy clown figure.
"I can't stay away from the genre for more than 10 minutes, you know," Malerman said. "I joke with my friends that I've been on this strict horror diet for 20 years, and it's been terrible for my skin. I can't help it. At the end, my fiancé; she's like, 'Why don't we just break the whole record with a giant rock?' It skidded out of control."
Terrible emo poems to the Rock and Roll Hall of Fame
Josh Malerman was neither a novelist nor a musician first. Truth be told, he doesn't consider himself a musician even now. He was a kid who liked to write. He was friends with drummer Derek Berk, guitarist Mark Owen and bassist Chad Stocker since grade school. His bandmates were already playing music together in high school when they asked him to join. He was known as the writer, working on short stories and "terrible emo poems."
"At some point the boys were like, 'Hey, you write stories and poems; maybe you could write songs.' It was 17-year-old logic," he said.
But the invitation spurred him to learn to play backing organ, then guitar. He fell in love with songwriting.
"Even to this day, I have no problem being the worst musician in the band," Malerman said. "I relish my role as the guy who brings the songs. The other guys are incredible musicians."
Your burning 'Bird Box' questions answered!
Why the birds? The plot didn't need them.
It's even less in the book. In the book, Tom goes out looking for dogs and returns with two husky seeing-eye dogs. And he also returns with this box of birds. And in the house it's like, "What are we going to do with those?" Tom is like, "We can use this as an alarm system. We hang it by the front door and if someone comes close to the front door, they'll start making noise." The title became symbolic. The housemates have the birds inside the box. You got the housemates inside the house. And everybody on earth is inside the box of the creatures. It works like Russian dolls. But the movie amplified the use of the birds to the point where that's how they find the school for the blind. Maybe the title was a little more poetic in the book. It was like, Malorie and the housemates are just like the birds in the box.
Are the creatures a metaphor for social media?
Well, I wrote the first draft for "Bird Box" in 2006. … A hundred percent it was not in my mind when I was writing. … I'm always seeing the creatures or all the book as more of a Rorschach test. What do you see?
What happened to the guy and girl (played by Machine Gun Kelly and Rosa Salazar) who stole the car?
I'd like to believe they made it somewhere amazing and safe. [Director] Susanne Bier said she hopes they made it to the grocery store. I hope they're all right. I know that much.
Is the open ocean safe from the creatures?
So, that question is a difference between the book and the movie. In the book there's a long debate about whether or not this affects animals. I don't want to spoil that because it's a really good moment in the book. I don't know the answer in the movie. My guess is "no" but it would be pretty exciting if the answer is "yes." The question is totally answered in the book.
Let's say I was a Buddhist Monk and my mind was cleansed. Could the creatures still make me jump in front of a water buffalo?
This is my favorite question I've ever been asked about "Bird Box." Those are my favorite: How was a baby affected? How is a crazy person affected? How is someone who has reached absolute nirvana affected? I think he would still jump in front of the water buffalo. It takes a sociopath to survive …at least in the book. … The real sociopaths are not foaming at the mouth. The real ones look like us; like Gary. Gary might be able to witness these [events] because he's already cracked in the right way. Whereas someone else who is … quote-unquote crazy might be pushed over the edge by what they see. I don't think someone who's reached zen, nirvana or inner peace is safe from this.
The High Strung officially got started in 2000, when Clevelander Jason Berkowitz joined the band. The band released seven albums, starting with 2003's These Are Good Times. Though the five were coming up in the aughts, their songs weren't part of either the New York or Detroit scenes. They weren't attempting to be the Strokes or the White Stripes.
Over the years, they reached moderate levels of success. "The Luck You Got," off 2012's ¿Posible O Imposible?, was used for the opening credits of Showtime's "Shameless." A couple of years prior to this they made some waves by getting invited to play the Guantanamo Bay Naval Base Library. (Yes, that Guantanamo Bay).
They had been playing a series of public library shows, which began in Michigan but turned into a national tour that got the attention of the librarian at Guantanamo Bay. After spending the night at a base in Jacksonville, Florida, they were flown on a transport plane to the base. The High Strung, at this point a trio, spent a week playing for troops' families and drinking beer with officers.
"It was like the Marx Brothers Go to War," Malerman said. "On one side of the bay is the airport [and the base]. And then you take this boat across the bay to what is, essentially, a little city, with a Kentucky Fried Chicken and a mall and a pub. It was a little town that had, also, a library."
And an even ballsier rock-and-roll move came toward the beginning of their ride when, in 2004, The High Strung unceremonially dumped their 1980s Chevrolet step van at the front doors of the Rock and Roll Hall of Fame in 2004.
The van, with hundreds of thousand of miles on it, was covered in graffiti and messages from fans. When it was close to dying, the band planned to sell it for a few hundred bucks. But Malerman couldn't swallow the idea of getting rid of the sentimental home on wheels for so little. One night he'd had too much wine and got the idea to drive the van through the front door of the rock museum.
His mom set him straight: It would be slightly less illegal and also easier to just drive it up the front steps to the doors, which they did one early morning.
Berk, the drummer, created a plaque, which he placed behind the windshield. They hopped into a getaway van, and Owen drove them to their next gig.
"In hindsight, I feel like it was like the day before people couldn't do something like this anymore. If you do that today, oh my gosh; there would be a bomb threat," Malerman said. "I got a message from the Cleveland Police Department that said, 'Hey, Mr. Malerman, you're going to receive a notification. … Don't worry, we actually all thought this was funny.'
"At the time, that [stunt] got us more press than that album did."
More recently, the band has demanded more effort from Malerman, as the sole songwriter. This partly explains the five-year lag since the last The High Strung album, 2014's I, Anybody.
That's because Berkowitz, and even more importantly, Owen, both left the band before 2007's Get The Guests.
Malerman and Owen had learned how to play instruments together, written more than 100 songs together, and cared about the band equally. After he left, Malerman, Berk and Stocker wondered if they should just put the band on hold.
Instead, they dug in and kicked off a four-year run during which they released three records and played up to 250 shows a year.
"We were playing to like 20, 30 people, and getting paid in food and maybe a hotel room," Malerman said.
During this time, Malerman usually rode shotgun, free-writing stories in a notebook.
Reinforcement arrived around 2010 in the form of guitarist Stephan Palmer. With him, the band released two more records. But as 2014 approached, Malerman was becoming increasingly busy with "Bird Box."
Discipline
Unless you have no internet connection, you've likely at least heard about the story of Malorie, a mother who blindfolds herself and her two children in attempt to find sanctuary from creatures that drive anyone who sees them to kill themselves.
It was Josh Malerman's first book to be published, but not the first he wrote. He'd previously spent more than a year fine-tuning another story with a literary manager before having a change of heart and deciding to go with "Bird Box" as his first literary statement.
HarperCollins pounced on it, and reviews would go on to compare the story to that of Stephen King. While it didn't become a New York Times best seller (not until after the movie, anyway), Malerman has published several books, novellas and short stories afterward.
His second novel, "Black Mad Wheel," is about a 1950s rock band on a government assignment to identify a sound that can kill. Last year, he followed that up with "Unbury Carol" about a woman who periodically falls into a coma that can be mistaken for death.
"When 'Bird Box' got picked up by HarperCollins, obviously the book took center stage in a big way," he said.
Not even years of songwriting prepared Malerman for the level of dedication needed to stick with a book from beginning to end. The most common aspect of both is the office in which he works. He forces himself to write for a certain number of hours, or meet a self-set word count each day when he's working on a book. The discipline is necessary, he explained.
"If I take a few days off … then [I] may lose [my] grip on that story or that novel and not come back to it for a year," he said. "It reminds me of working out. Like, 'woohoo, I ran for three days in a row!' And then all of a sudden a year goes by, and you're like, 'Oh my god, I haven't run.'
Songs, meanwhile, come in bits and pieces. He writes parts by himself and parts with his band.
"It's not like I have to finish a new book and then work on an album. But I definitely have to finish the day's writing before I head out to practice," he said.
"One of you has to look"
Malerman describes "Bird Box" as a Rorschach test for readers (and viewers). The characters can represent many things, as can the creatures. But one thing became certain to him after he finished writing: it was a story about parenthood—at least a bizarre variation on it.
He and his fiancé, musician Allison Laakko, are not themselves parents. Perhaps his own parents' divorce (when he was 15) played a role, and that part of him is trying to work through that in the form of scary stories.
He didn't personally relate to the characters of "Boy" or "Girl." He related to Malorie, who he views as his twin sister.
"With the first draft, I didn't think of Malorie in terms of a mom as much as someone who I completely related to in a really bizarre scenario," he said. "With the rewrites—and I was starting to do research on the trimesters of pregnancy and talking to my own mom about it—I realized, 'No; this is a mom!' This isn't just a woman with two little people travelling down a river. I didn't set out to spotlight parenthood, but I definitely understood over the course of [writing] that that's what this book is about."
What's next for The High Strung and Josh Malerman?
The five members of The High Strung are already working on material for their next album. Two more of Malerman's novels have been optioned for film. And the release of his next novel, "Inspection," his been pushed back from an April to a March release.
A similar theme is present in his next novel, "Inspection," the release of which got moved up a month, to March, to take advantage of the "Bird Box" buzz.
Two of his other roughly 20 novels (most still unpublished) have also now been optioned for film.
But everyone is still talking about the film adaptation of "Bird Box." Even Stephen King has tweeted that he's a fan of the book and film, starring Bullock, John Malkovich, Tom Hollander ("Pirates of the Caribbean"), Trevante Rhodes ("Moonlight"), Jacki Weaver ("Silver Linings Playbook"), Lil Rel Howery ("Get Out"), Sarah Paulson ("American Horror Story") and even rapper Machine Gun Kelly.
It was directed by Oscar- Golden-Globe- and Emmy-winning director Susanne Bier ("The Night Manager").
Malerman wasn't even upset that the ending was tweaked from his original story.
"Maybe it's because I'm 40 and not 20, but I'm literally grateful for every step of this process so far," he said. "'Dude, someone is making a movie of your book. Be happy for that.' If it's not great? OK. If it's great? Oh my god. Well guess what? Oh my god. The movie absolutely exploded."
Unfinished songs
It's not a surprise to longtime fans of The High Strung that Josh Malerman incorporates spooky storytelling in some of the band's songs. But Malerman said he has always had a difficult time reconciling wanting to write "horror songs." It's always seemed hokey to him, he said, but cited his songs like "Plots" and "Gravedigger" as exceptions.
He cites inspirations in the genre like Screaming Lord Sutch, Screamin' Jay Hawkins and the Misfits.
Malerman's love for "Return of the Living Dead" and "Silver Bullet" comes from the same place of arrested development as his love for the Kinks. Imagining the monsters of "Bird Box" and writing a Beach Boys-esque song with The High Strung brings the same type of joy.
"I understand that from afar, The High Strung plays fairly bright rock and roll music, and the books are dark horror stories," he said. "But they are coming from the exact same playful place."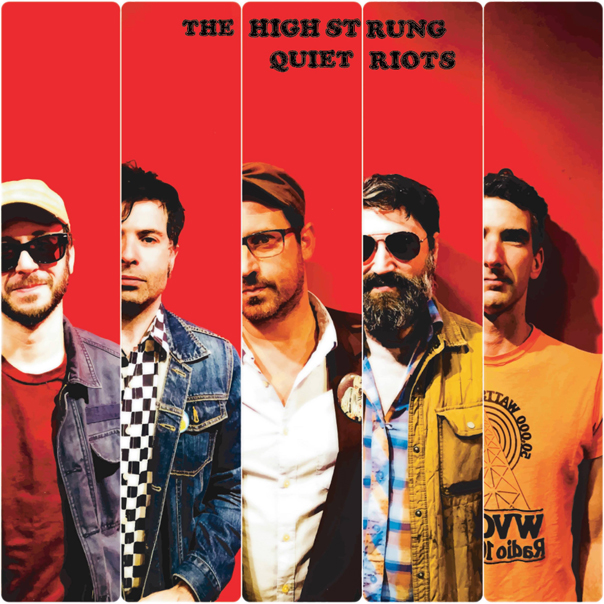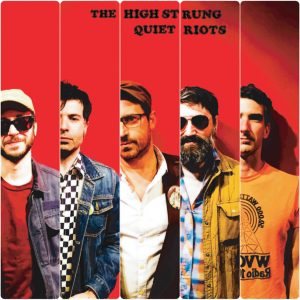 Finishing new songs was becoming more and more difficult with the success of his literature career. Berk and Palmer also have young children, which slowed the band down further. The High Strung continued rehearsing and playing shows, but it was difficult to finish a record.
"It was a constant glorious flow of book work that the songs suffered—they literally weren't finished—for that period of time," he said.
Plot twist
In 2015, Owen reached out to Malerman, saying he and his wife were moving back to Detroit. He also had a heap of song ideas and was itching to play music with his friends again. His return had a fountain of youth effect on the band.
"He came to us without having made a proper album in a decade," Malerman said. "Thanks to Mark's renewed enthusiasm, we went and made an album, and we've been playing good shows. … And because the book stuff is such a big deal right now, I think I needed Mark to do that."
Without Owen, Quiet Riots would not have existed in the form it does, and it wouldn't have been close to being done. He contributed the album's name, as well as songs like "Riots of the Mind," "Darling Weirdo" and "Alien Madman."
Having his friend return to the fold wasn't just an inspiration push to finish his own songs. He suddenly had a partner to finish them with.
"It sounds almost silly to say this, but half of the work of writing the album—guess what? Mark's back!" Malerman said. "It's not quite as demanding."
Follow editor Roman Gokhman at Twitter.com/RomiTheWriter.