Introducing Brick + Mortar: Former teen enemies find a musical connection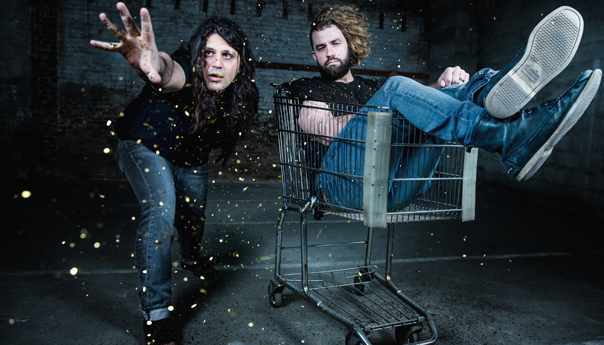 Bassist Brandon Asraf and drummer John Tacon met in middle school under inauspicious circumstances, immediately disliking each other.
Brick + Mortar, Split Party, The Go Ahead
8 p.m., Tuesday, Aug. 8
Swedish American Hall
Tickets: $12-$14.
"I was a new kid in eighth grade," said Asraf, one-half of New Jersey indie alt-rock duo Brick + Mortar. "I moved constantly when I was younger, and I finally moved to the house I would stay at all throughout high school. I was alone, but John was the cool drummer kid. I would sit at the lunch table alone as the cool kids threw french fries at me, and John was part of this crew."
The first time Tacon actually talked to Asraf, it was to make fun of the newcomer's appearance: He looked poor, and it was worth a laugh from the cool clique. In reality, Asraf and his family were poor. In a well-documented story, his blood-diamond-smuggling father left the family when Asraf was 10. He would go on to serve several years in prison and was then deported to his native Morocco. Asraf didn't talk about it openly at first, and his mother told people that her husband had died.
Luckily, Asraf and Tacon's relationship began to turn, starting with the school talent show that year.
Picture the entire student body packed liked sardines into a hot auditorium. They begin to go nuts when Tacon steps onto the stage and begins to wail away at his drums. Asraf was in the corner, watching Tacon, feeling conflicted because he disliked the guy, but at the same time he, too, wanted to be good at something. Despite all of their previous interactions, he decided to try and befriend the enemy armed with spuds at lunch.
By high school, both were on the football team; Tacon still the popular jock and Asraf still an outcast. As teammates, they have an excuse to start speaking. Walking home from school one day, Tacon suggested that Asraf should learn the bass. Asraf went to a music shop the same day and locked himself in his bedroom for hours.
Eventually, the two started jamming. Even though Tacon was an experienced drummer, and Asraf was yet a beginner at his instrument, Asraf could follow along with drummer's irregular time signatures. Neither one sang or played guitar, but the two felt right and locked-in whenever they would play. A full decade passed before they began playing shows at open mic nights at a local coffee shop. To compensate for an absence of guitarist, they would create a full sound using electronics, sampling and looping techniques.
"Kids would show up, and me and Brandon would just fucking rip it," Tacon said. "That was us realizing that we could actually do something with this."
"It showed us what it was like to have fans," Asraf added. "That inspired us to play more."
These shows at a coffee house, where many smoked without fear of repercussions and also did other drugs, gave Asraf an opportunity to sing for the first time. He didn't do so well at first, and got booed the first few times, but he kept trying. When his bass amp caught fire at another show, he kept playing. After a couple more years, Brick + Mortar outgrew the coffee shop and moved on to bigger and better things. The shop didn't fare as well—it eventually got busted for numerous code violations. Apparently, letting your guests do drugs and not evacuating after gear catches fire is frowned upon.
Asraf and Tacon look back at the time fondly and credit their natural progression to the work they put in at the coffee house. Last June, they released a new EP, Dropped Again, and they plan on releasing a full-length debut in 2018.
"Because we don't swear to any particular genre [and] because we don't want to recreate the same thing that got us to where we are, we like to recreate ourselves musically," Tacon said. "Every song is an album with how you approach it."
Follow writer Michael Massaro at Twitter.com/michaelcmassaro.