Interview: Morgan Kibby finally puts her career first with White Sea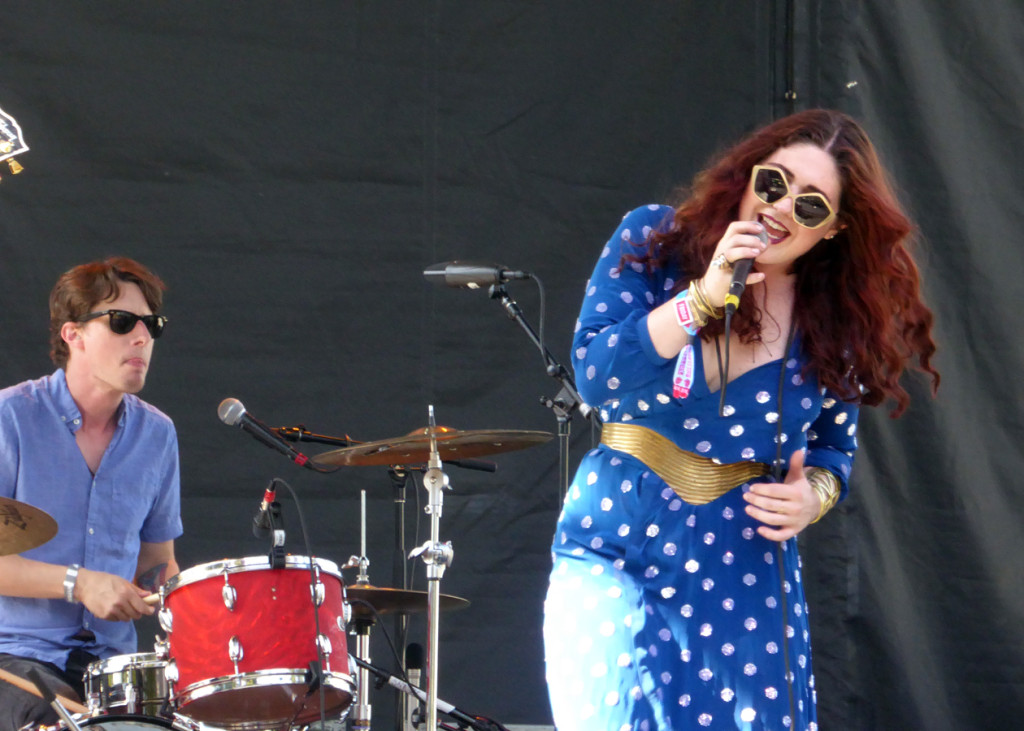 Three-by-three-by-three: Morgan Kibby sees her current work as White Sea in three sets of triptychs. The 32-year-old, formerly a songwriter and keyboardist in M83, was left wanting with the process of writing, recording and releasing her debut solo album, 2014's In Cold Blood.
So rather than approach her music the same way with a sophomore effort—spending months to create music that would sit around for months more and feel old by the time it would be released—she's decided to release songs in groups of three as she completed them.
"I'm such a new artist that I don't think that asking an audience that isn't completely invested in my work, to dive into an album," said Kibby, who makes electronically tinged pop music. "I just don't think in 2016 that that's fair. When I write something and I'm really excited about it, I want to get it to people that give a shit about my music. I don't want to wait a year, when it's not relevant to me emotionally or artistically."
Prior to White Sea, M83 and some work as an actress, the Alaskan-born Kibby grew up in the Bay Area, spending time in Oakland and Marin, and attending the private Lycée Français de San Francisco school near Haight-Ashbury. She also got some of her first performance experience. By age 6, she was receiving classical singing training and performing with the San Francisco Opera. She also studied the cello and piano.
While attending middle school, she and her friends would make trips to the ocean and picnic at Point Reyes. In the seventh grade, she and her family moved to Los Angeles to pursue acting.
She landed a role on the Nickelodeon show 100 Deeds for Eddie McDowd, playing the sister of one of the "human" leads on the show.
"It's pretty hilarious," Kibby recalled. "Seth Green is a talking dog. It's awful and amazing at the same time."
At the same time, she says she would still be in San Francisco if it were not for acting, and she has given up acting years ago. Kibby enjoyed the work itself, but found the work of landing roles degrading to her self-esteem.
"It was too judgmental and too brutal for me," she said. "I felt like I was not quite beautiful enough to be the main ingénue and not quite odd enough to be the girl next door. It really didn't have to do with my acting ability; it had to do with what I looked like. It just didn't make me happy. If it (doesn't) make me feel powerful or creatively fulfilled, it's not worth doing."
Kibby began dabbling in songwriting when she was 19, but never fully committed to music until she decided to quit acting. It gave her control over her own creativity, instead of forcing her to wait for the phone to ring.
Her first experience came in 2003 with the band The Romanovs, in which she sang and played cello and piano. Four years later Anthony Gonzalez came calling with his project M83. Kibby made key contributions to the formation of 2008's Saturdays = Youth and 2011's Hurry Up, We're Dreaming by providing keys and arrangements, and co-writing "Kim & Jessie," "Midnight City," "Reunion" and other songs.
During the end of that tenure she started her solo project, White Sea. The pair mutually separated before Gonzalez began work on what would become M83's new album, Junk.
"At some point in every artist's career, you have to make a choice," she said, adding that she would have had to sacrifice to stay with M83. "That would have meant that I'm going into my late 20s, early 30s, and I wouldn't have been focused on doing my own art. I'm a late bloomer, and for me … making good work takes a lot of time."
While Kibby wanted to make herself the priority, Gonzalez was also ready to change up his songwriting style and work with other collaborators.
In Cold Blood, White Sea's 2014 solo debut, was a cohesive collection of songs detailing a break-up, through the stages of loss and grief. Kibby wrote, produced and arranged the record by herself. But the time spent waiting between the completion of the songs and their release, paired with her new understanding of the music industry as not being kind toward new artists, convinced her to change directions.
Listeners react better to songs from new artists, not albums, she decided. That's how she settled on her triptych approach. In 2015, she released three singles, "Stay Young, Get Stoned," "Never A Woman" and "Gangster No. 1." Kibby also used the time to compose the score of French indie film Bang Gang, released this year. She wants to release a full-length album again, but says now is not the right time.
This year will see the three sets of three songs. Kibby describes the first, consisting of "Arcadia," "Bloodline" and "Secret," as about accepting one's true self, faults and all. When asked what she has learned about herself as a songwriter, she doesn't hesitate:
"I constantly suck," she said. "I'm always learning and (working) to not be so hard on myself. … I've learned a lot self-compassion, and empathy, and forgiveness."
The second set of songs, as-yet unreleased, are about her observations of society and the world. She feels the planet is vibrating at a much higher frequency than in the past, and life is moving faster than before.
"Politics, culture, how we consume things, how we treat people—we're a very fickle, fickle culture right now," Kibby said. "It moves very very fast. We can love somebody one day and dislike them the next."
The new material features driving synths over driving percussion and soaring vocals, which have become synonymous with her contributions to M83 and her older songs. Initially, Kibby sought to limit the use of synths in an attempt to go back to her classical roots. In the end, she abandoned that strategy.
"I'm not intentionally making electronic music anymore but … inevitably (synths) appear," she said. "I can't help it, they're always there. I am who I am."
She hasn't begun work on the third triptych at the time of this interview. But one thing is certain: Once she starts writing, the songs will be released soon after. So far, the quick-release strategy has worked for Kibby, with fans quickly responding to the new material. Fans don't care what form the music takes.
"(Listeners) just want to listen to new music. They just want to listen to your art," she said. "If I love it, you're going to hear it three weeks from now."
Follow Roman Gokhman at Twitter.com/RomiTheWriter and RomiTheWriter.Tumblr.com.