Interview: The return of Broken Social Scene, toddlers in tow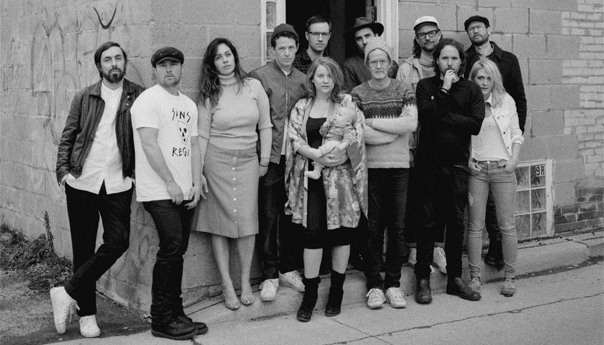 After a seven-year hiatus, Broken Social Scene is back with new album Hug of Thunder. The Canadian collective is as famous for their sprawling, emotional, baroque-pop as their ability to swell from 10 to 19 members onstage, at any given show. These days, they continue to grow concomitantly off-stage as well.
Broken Social Scene, The Belle Game
8 p.m., Thursday, Oct. 26
Fox Theatre, Oakland
Tickets: $36.
"To accommodate this ever-growing family, we will probably need two buses for our upcoming tour," said drummer, Justin Peroff, on a phone call from Toronto. The band had just returned home after a one-off festival outing at the Arroyo Seco Weekend in Pasadena.
A hint of things to come; during the band's performance of "Almost Crimes," the daughter of Amy Millan and Evan Cranley, stumbled onstage with the biggest smile, unperturbed by the huge festival crowd. A surprised Millan ushered her quickly offstage. The little one, unimpressed, was scooped up into her father's arms with a big pout on her face. She is already a veteran of life on the road at 5 years old. The couple, who also lead their own band, Stars, have not declined touring on account of having a baby.
"I think it's going to be more Lego bricks and milk bottles than beer bottles this tour," said Peroff. Last year, heavily pregnant with their second child, Millan performed with Broken Social Scene at the Pitchfork Festival. "Amy and Evan now have two kids. By the time the tour kicks off, Andrew (Whiteman) and Ariel (Engle, latest vocalist to join the band) will have their 2-year-old daughter, Paloma, so we'll also have a nanny on tour with us.
"But it's all good," added Peroff, "We're all family anyway."
This may not sound very rock 'n' roll, but it fits in perfectly with Broken Social Scene's hippie ethos and its ever-welcoming revolving door of singers and musicians.
Broken Social Scene began in 2001 when Kevin Drew and Brendan Canning started writing music and performing together in Toronto's vibrant downtown arts and club scene. Soon Leslie Feist would join them, but in their orbit were always Drew's art school mates and Canning's musician friends. Recurring members would come from other Toronto bands such as Stars, Metric, Do Make Say Think and Apostle of Hustle.
Helmed by yin and yang bandleaders, Drew's mercurial nature against Canning's more laid-back disposition, they form the group's core with Charles Spearin, Andrew Whiteman and Peroff. The band's breakthrough came with their second album You Forgot It In the People when they went from ideas and jamming in the basement to becoming a band.
As other members concentrated on their own bands, Drew and Canning would enlist new members to sing or play instruments. When Feist left to pursue a career in France, and was unable to join them on tour, Millan, Emily Haines, or fourth album newcomer, Lisa Lobsinger were recruited. If Feist was back in town, and the band were playing, she would happily join them. Through the years, various members have reiterated, they are friends first, then bandmates. Some have also been lovers.
There might have been a time where the group was indeed broken or highly dysfunctional, but their comeback has revealed nothing but a group on form. The twelve tracks on Hug of Thunder are everything we've come to expect from the band.
All the key players are involved. Feist wrote the anthemic title track, "Hug of Thunder." Haines sings on "The Protest Song," and Lisa Lobsinger joins Drew for a duet on "Victim Lover." A credit to the band's inclusive nature, Engle who writes and sings on the bossa nova-tinged "Stay Happy" and stands in for Feist on the live performances of the title track, sounds like she's always been in the band. The record's deeper cuts are as memorable as the undeniable hits.
With revolving members, orchestral flourishes, a horn section, multiple guitarists to help create that wall of sound and over 40 songs recorded over three years, how did Peroff keep the rhythm? "It's kinda like the drummer is doing a dance with all of the parts, at the same time," he replied. "It's coordinating my dance moves to accommodate all of the parts coming at me. I have to be paying attention to all the conversations; and tastefully deflect things their way, or another direction. It's being mindful, tasteful with my parts and not stepping on anyone's toes.
"After a while you figure out those musical conversation. Those dance moves are less complicated; they become molded, more singular than separate in its parts, second-nature, like tying your shoelace."
However, there's always that odd knot in the laces. "I thought I was done and then at Christmas, I was called in to do 'The Protest Song.' I think the four of us had carved out the meat and bones of the song earlier. But it was a very immediate creative moment, they wanted one more song, then Emily came in. It was a great song. I knew what was expected of me and felt confident about it."
Ironically, "Halfway Home," a single that appears effortlessly as classic Broken Social Scene was not as straightforward. At times, it was in danger of being hijacked. Peroff had to hold his ground.
"Something like 'Halfway Home' that might be an immediate Broken Social Scene song for the listener; that was being negotiated," Peroff said. "A band is a democracy, but you have to pick your battles. This one I thought was worth fighting for."
"One person thought it should go a different way, and said, 'Do you feel like this is the right rhythm?' You can change parts, but if you change the rhythm, it's a completely different song, so I consulted with the others and got my way."
And what about the use of more electronics on this album? "Even if you go back to our early albums we would used drum machines. "Pacific Theme" was all drum machine." Through the years, apart from Peroff's impeccable drumming skills so crucial to the band's rhythmic sound; he has employed the Tama Techstar drum console which is a board with disciplined rows of knobs, samplers, the MIDI, or simple percussive elements like handclaps.
In the spirit of experimentation and jamming that the band favors, they are open to all ideas.
"Our mode of working has always been, everyone brings whatever they've been working with: lyrics, ideas, instruments. We add as much and then we edit, and start to cut away the fat," Peroff said.
"My role is clearly that of the drummer, but on this album I also play the synthesizer, and Andrew has a song where he's brought in a drum machine part. Drum machine, steel pan or slapping on my thighs; whatever serves the music."
Follow Celine Teo-Blockey at Twitter.com/CelineT_Blockey and Instagram.com/celineteoblockey.