Video interview: Cardiknox not an archetypal tale
"Where are you from?" A question simple to answer for most musicians, but one that trips up dance pop duo Cardiknox. Vocalist Lonnie Angle and guitarist-keys man Thomas Dutton met in Seattle, where both grew up. But it was not until after the duo moved to New York to turn Dutton's music into a stage performance that the two started Cardiknox. And when they signed with Warner Bros., they moved again, this time to L.A.
"We're from Seattle, the band was born in New York, and now all three of us live as a happy family in L.A.," Dutton says after collecting his thoughts.
RIFF met up with the duo in Oakland Thursday shortly after their set opening for Phoebe Ryan on the Boyz N Poizn Tour, which made a stop at Popscene at The New Parish. Sitting on the bus the two shared with Ryan, Dutton and Angle recounted the unexpected difficulties of pushing a theatre production called "Razia's Shadow" toward Broadway, and how they will return to it again once they decide they need a break from making pop music and touring.
The production was based on a concept album the Chuck Palahniuk-loving Dutton wrote with his former emo and punk band, Forgive Durden.
"Razia's Shadow, the elevator pitch, is that it's a world divided by an act of hate, needing true love's sacrifice to reunite it," Angle says. "It's very large themes: Shakespearean, Greek, tragic…"
"There's star-crossed lovers, a villain, using a lot of the classic archetypes, but doing it with edgier sound," Dutton adds.
After being introduced by a mutual friend, Dutton began working with Angle, who studied theatre production. When New York's Public Theatre showed interest, they pulled up stakes and moved to the Big Apple, where they continued to work for another two years.
"The gestation period for a musical theatre piece, from the idea to getting on Broadway, is anywhere from eight to 12 years," Angle says. "Thomas had written the album and had toured it, but then we went back to the drawing board and spent a lot of time on it. And we were a little burnt out."
Before starting on the project, Dutton had no concept of theatre timelines. At several points he thought the book was finished. Several stagings were held. The process of writing, re-writing, staging and re-writing again became grueling.
"It's not like pop or rock music, where you write a song, record it, release it and it's out there—no longer yours but the world's," he says. "It's yours for a long time in theatre, until finally enough lucky breaks happen and enough people like it. It was a grind and we needed a break. We'd been messing around with pop songs and decided to give that a serious go (in 2013)."
The duo took the name Cardiknox as a play on words on an old family name that was often mispronounced. Dutton, the punk rocker, was able to convey his previous experience to the duo's sound, a blend of electronic blips, nostalgic '80s choruses and modern dance pop in the vein of Charli XCX.
He said his lyric-writing influences Cardiknox the most.
"I grew up drawn to songs where the lead singer was wearing their heart on their sleeve," he said. "Maybe they were whiny, dramatic or a little emotional. But that's what I connected to. I'm still drawn to those aspects of songs. That's what I wanted to carry over to Cardiknox. Lyrics and stories that felt genuine, felt real, felt relatable."
After signing with Warner in 2015, the two spent six months in the studio writing and recording debut album Portrait, which was released in March. One of the first songs they wrote, current single "Wild Child," has reached No. 13 on Billboard Spotify Viral 50 chart. The bouncing anthem has become club hit, even though it wasn't written with the club in mind.
"'Wild Child' was written about marching to the beat of your own drum," Angle says. "It's not about being out on a Friday night and taking shots; being crazy in the club. If that's you, it can be that. But for us it's more about tapping into whoever you are; the weird quirks and eccentricities, regardless what society thinks. You do you."
Dutton and Angle have already been through the Bay Area three times in the previous few months. Besides last week, and last spring opening for Carly Rae Jepsen, they played three nights with the Knocks last fall. Or, more accurately, they played two nights and Dutton DJ'd a set at the third.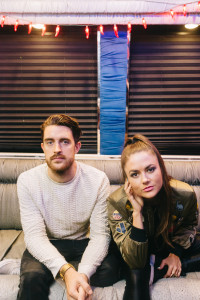 "It was so cool and I was super… sick," Angle recounts. "I had completely lost my voice and was at the doctor that day. But in the midst of the sickness, I left the place where we were staying and went on a walk to Alamo Square. I got an iced coffee … and some great pho. I sat (in the park) and had a Zen moment."
The Oakland stop was near the end of the tour, which concluded Sunday in their original hometown: Seattle. The duo plans to separate for a week, spending time with their individual friends and families, who live at opposite ends of the city. They might catch up on their lives as well. Angle loves cooking and outdoor exercise, and Dutton is a lifelong soccer player (he plays on a team in L.A.).
The two have no immediate plans to return "Razia's Shadow," though they haven't given up hope on it.
"Cardiknox has taken over our life and so when we need a break from this, we will return to the musical," Angle says. "Hopefully that isn't for a while, though."
Follow editor Roman Gokhman at Twitter.com/RomiTheWriter.