INTERVIEW: Chuck D, Prophets of Rage look for new missions following election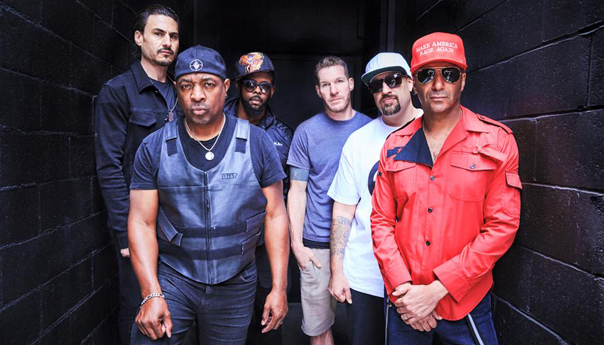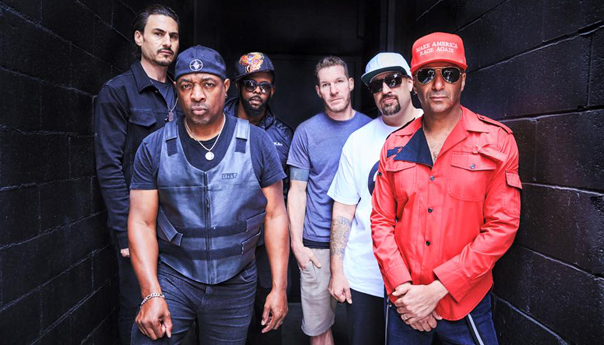 When Public Enemy's hip hop icon Chuck D and bandmate DJ Lord joined forces with Rage Against the Machine guitarist Tom Morello, bassist Tim Commerford and drummer Brad Wilk, and Cypress Hill MC B-Real to form the Prophets of Rage, the supergroup had only one goal: To play the Republican National Convention in Cleveland.
Prophets of Rage, AWOLNATION
7 p.m., Tuesday, Sept. 13
Shoreline Amphitheatre in Mountain View
Tickets: $20-$70.
Chuck (born Carlton Douglas Ridenhour) recalls Morello's mission statement for the band: To be a "'revolutionary task force of musicians that …will speak up against what the voiceless have been trained not to do.'"
He's insulated in the quiet confines of his car, sitting in traffic on Highway 101. His car is his favorite place to answer questions for nosy journalists who expect him to be a font for sound bites on hip hop and racial relations in America. On this day, he's heading to ABC studios, where the Prophets of Rage are performing on Jimmy Kimmel Live!
"I think that musicians in the last 16 years have been conflicted," he says. "They want to have a career. They have an inner burning to speak of their causes but they are afraid."
Chuck brings up a younger Kanye West and the Dixie Chicks, who were vilified after they made disparaging remarks about George W. Bush, as examples of why fewer musicians talk about politics these days. Public Enemy has also been a controversial act.
From the moment they burst onto the scene in 1987, they spouted lyrics that criticized the government, courts, law enforcement and the media. They raised the ire of millions, including Tipper Gore, with songs like "My Uzi Weighs a Ton," "911 is a Joke" and "Fight the Power." Since then, they were selected for the Rock and Roll Hall of Fame, and their 1990 album Fear of a Black Planet was chosen for preservation by the Library of Congress.
Chuck D has remained a socially active and engaged participant.
"At the end of the day, (Public Enemy) had a 'Fuck you, we ain't gonna do what you say,' attitude," he says. "Same as Rage Against The Machine. Because we are internationally renowned. If we were an artist that was stuck in the United States … and always (had) the United States point of view, we would have been weakened by the radiation or that 'hate-iation.'"
Cypress Hill, B-Real's band, canceled a concert in Arizona in protest of the state's 2010 immigration laws. And Rage Against the Machine is perhaps even better known for its activism. Morello has protested and performed at numerous political conventions (both Democrat and Republican). In 2008, Minnesota riot police prevented his band from playing a free show at the RNC.
The Prophets of Rage is the culmination of a collaboration at the 2013 Grammy Awards, where Morello and Chuck D closed out the ceremony with LL Cool J, Z-Trip and Travis Barker. The band takes its name from a Public Enemy song.
"Prophets of Rage organically came together," Chuck says. "It wasn't contrived in no marketing room or board room somewhere, or record company. The proof is in the pudding when we come out and play. Prophets of Rage is like going to the Olympics. … I enjoy is being part of the back rhythm while Tom Morello and B-Real lead everything. I can play the back with the greatest: Brad Wilk, Tim Commerford and DJ Lord."
The supergroup found time to write and record some new material with producer Brendan O'Brien (Pearl Jam, Bruce Springsteen, AC/DC, Bob Dylan, Red Hot Chili Peppers), and released "The Party Is Over."
Besides the new material, which will be introduced at some point, they're covering each other's songs. Chuck says he does feel pressure singing songs that Zach de la Rocha made famous. He, B-Real and DJ Lord have rehearsed tirelessly.
"His lyrics are modern day lyrical scripture; they should be put into a 21st century bible of protest and rebellion," he says. "It is obviously a pressure to get it right. … We won't have anything less than great. We're all seasoned and experienced. Not just pros, but all-stars. I feel like I'm in the all-star game. It feels like I'm a Golden State Warrior."
Prophets of Rage played its first two shows at the Whisky A Go Go in Hollywood and the Hollywood Palladium at the end of May. More recently, they followed it up with a July rooftop gig in L.A.'s Skid Row. Then came the RNC in Cleveland, their reason for existing and "Making America Rage Again."
CHUCK D ON SOCIAL MEDIA & POKEMON
Chuck D: I do one social media only, which is Twitter. Because I have a firm belief, once you're over 50 years old, just one social media. … You're consumed already by being in the area where all that shit started.
It's hard to know where the Pokemon craze is going right now; it's about to become its own social media network.
Chuck D: I don't get it. But then again, if somebody was a kid who liked Pokemon; now they're grown, and they can't leave it alone. I mean, somebody brings Pokemon up to me, I'm like, 'What the fuck man? I'm not a kid.' Teenage Mutant Ninja Turtles; I was already grown. I have no relation to any of that.
In the 90s, I came close to that target demographic but I still didn't get it, not even in the 90s.
Chuck D: Nah, man. I was 25 in 1985, but you know that shit was totally after my time.
The band had an official show at a theater a few blocks from the convention's base, but also played several grassroots shows at parks and participated in Black Lives Matter marches and protests, which he says were just as fun and important.
"The travesty is that Black Lives Matter should be dealing with homelessness and better health care and all these other inequities and the gaps that plague black people in this country," Chuck says. "Police brutality, by default, shot to the top because the straw that broke the camel's back, the tipping point, was the ridiculousness of what happened in Baton Rouge and in Minnesota that was captured on camera.
"Sooner or later, cameras are going to get racial categories. 'Oh, that's a negro camera.' We see the footage but we can't accept it because a negro shot it. That's pretty much what they're saying."
The band's full tour is currently under way.
"We call it the cam-pain against the campaign. The pain of the public, with this lunacy going on, and we're going to bring the pain from the stage to the public to inspire, and then fight to forward movement."
After that? Chuck D turned 56 in August and he's one of hip hop's oldest active performers. Besides Prophets of Rage and Public Enemy, his passion is his online hip hop radio and distribution company, RapStation.com. He prides himself in making the music of lesser-known and newer artists available to online stores.
He also keeps count of how many tours Public Enemy has undertaken from the beginning —107 as of August — and has no plans to stop making music or performing. He takes his career cues from the rock universe. The Rolling Stones are still going strong past 70, he notes.
"You only stop it if you don't know what you're doing or if you do it wrong," he says. "Like being a drug addict (and) you've got to get your life together. But that's not the case with me. I have no other (direction) but to go to higher heights while I'm alive."
Chuck rules out only one possible future: His involvement in politics. Perhaps, 15 years down the road, he may be interested in a position like music cultural ambassador.
"This government is piss-poor on teaching the arts and culture like it should," he says.
But his lack of desire to view the country as an insider will keep him from elected office.
"I always deal with the perspective from the outside-in," he says. "I'm what you call a free black man, thinking-wise."
Follow Roman Gokhman at Twitter.com/RomiTheWriter and RomiTheWriter.Tumblr.com.