INTERVIEW: Dave Keuning of The Killers refracts himself through solo 'Prismism'
The Killers are back in the studio, but the band's founding guitarist, Dave Keuning, is at home in San Diego. He's contributing ideas to his band by email, just released his debut solo record, Prismism, and will hit the road for a couple of weeks.
Dave Keuning Dangermaker
8 p.m., Wednesday, Feb. 6
The Independent
Tickets: $14. 21+
The situation is complicated, but in the grand scheme of things, it comes down to Keuning's inability to spend the majority of his life for the next two years in the studio and on the road. He wanted to be close to family; specifically, his son. That necessary commitment is why he skipped the majority of The Killers' shows in support of the fifth album, Wonderful Wonderful.
"I'm not ready to be gone a year from home because they don't record in two weeks," Keuning said. "They record in, like, a year. … I definitely could come in and out, but those are inner band things that we're figuring out and we don't know how it would work. I could also record from home. So far as the touring goes, I won't be touring on the next record. That's still what it is. That hasn't changed."
It's more than a bit jarring to hear Dave Keuning, 42, refer to The Killers as "they," rather than "we." He was, after all, the one who started the band by placing an advertisement in a Las Vegas newspaper that got the attention of a 20-year-old Brandon Flowers.
Too many ideas
It's obvious that there are some underlying issues, but at least one of those has fed into Keuning's creativity. He had hundreds of ideas for songs that The Killers skipped over through the years. The majority of those still existed as voice memos on his phone. Some were hummed melodies; others groupings of lyrics or even thoughts. On a few, he played guitar or a keyboard.
He got a kick out of listening to them again, which he had time to do after finding himself home in San Diego while The Killers were on the road.
"I just have a ton of material not being used [by The Killers] that's going to go to waste someday if I never work on it," he said. "You know, I would love it if they used all my ideas, but they also have a ton of ideas without my ideas. They already have enough; no doubt about that. With Wonderful Wonderful, it came down to what they thought was the best fit for the album, and I didn't have a ton of say as to what made the record. I really had no say."
With so many demos that had gone nowhere—300 voice memos from the last decade—and time on his hands for the first time in years, Keuning decided to see what would happen if he picked up working on one. At first it was just a fun experiment.
"I guess, to have creative control over it was kind of a fun experience for me," he said. "I would never say I had to have [control]. It was just there. There was no one else around but me."
He ended up bringing in an engineer to help him record, but decided to sing himself—something with which he was extremely uncomfortable—after not being able to come up with a better fit. His first couple of attempts didn't go so well, he said, but he eventually began to find his own voice, range and singing style.
He described the experience in a self-deprecating manner, saying he could never do what Mick Jagger or Sebastian Bach did. But the truth is on the album's 14 songs, he sounds like he's been singing for a long time.
One song led to another, and then another. He now wishes he could have made a record like Prismism a decade earlier.
"I always felt a little busy or I felt like it wasn't the right time," he said. "I was working on Killers records on breaks, hoping it would get used on Day and Age or Battle Born or Wonderful Wonderful."
He never considered going solo until after his self-exile, he said. And having all, or even more control over the music he made didn't factor into his decision to take a break from his band.
"You can say, 'Oh, Dave just wanted to go his own way because he wanted to get his way on everything.' That's not it at all," he said.
I won't be able to answer your question unless they call me up. I think Brandon put it best when he said 'it's murky,' and he's probably just as uncomfortable answering these questions as I am because I think we don't know all the answers.
At a crossroads
The reason to step back is complicated and multifaceted, Keuning said. Wanting to be with his son, now 13, was a big part of it—but not the only one. He described the situation he was facing as "a perfect storm."
With The Killers, he went on four tours that were between 18 months and two years long.
"I'm on the road, wondering what's going on [at home], how's he doing, getting pictures," he said. "[There was] plenty of drama—more than one person should have in a lifetime. It's harder when I'm gone. It's easier when I'm home to deal with some of that and at least not feel so guilty for being gone.
"Meanwhile, I'm out on the road with this great, awesome band that I'm just loving," he said. "I'm happy about our success, and my dreams have came true, and it's like these two things are happening at once. I'm trying to enjoy what's happening with The Killers, and I'm also just having this uneasy feeling hanging over me a lot."
Keuning has also had to deal with people in his life who presumed they knew exactly what he should have done, whether it was saying he was crazy for giving up on his dream, or telling him that he should have left the band much earlier. He has friends who have done that, either by their own choice, or by the choice of their wives, who made them quit.
Making the decision was one of the hardest of his life, he said.
"It was kind of an all-or-nothing thing," he said. "They [Flowers and drummer Ronnie Vannucci, Jr.; bassist Mark Stoermer is also taking a break from the band] preferred me to do the whole tour rather than parts of it, so I had to choose to not do any touring. I didn't feel like I had a choice at the time, and I don't feel like I have a choice now."
Prodded to clarify the situation, Keuning has no clear answers. What if the band calls and asks for his help in the studio, or extends an offer to tour part of the time?
"I won't be able to answer your question unless they call me up," Keuning said. "I think Brandon put it best when he said 'it's murky,' and he's probably just as uncomfortable answering these questions as I am because I think we don't know all the answers. I'm sending ideas to The Killers, and I don't know if they'll be used or not until the album is released."
Prismism
The record began with "Stuck Here on Earth," the first demo Keuning took from voice recording to completion. The album's penultimate song, begins with a squelching synth before a delayed guitar enters the mix, followed by some shimmering effects. One hundred seconds in, driving drums kick in.
"My head's in a daze/ These things that I can't escape/ These highs, these lows, how it ends nobody knows," Keuning sings. "Turn back now/ Do I come home running/ Will I live this down with the bridge still burning?"
The song could pass as a Killers' track, but with more electronic and synth elements. Fans of Metric will dig it.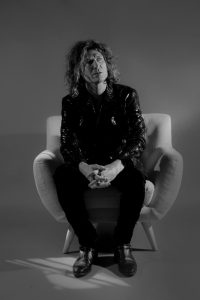 Prismism looks at the artist's relationships. The lyrics are laid out straightforwardly.
But not all songs follow the same path. "The Queen's Finest," "Gimme Your Heart" feature acoustic guitar to varying degrees. The latter even has a bit of a classical guitar vibe. "Restless Legs" and "Pretty Faithful" double down on the synths and power pop. Mark Stormer played keyboard on the latter.
The album opens with power pop tune "Boat Accident," which came from one of Dave Keuning's two oldest voice memos to make the album as completed songs (the other being gentle acoustic ballad "Hope and Safety").
"I was going to throw ["Boat Accident"] away, but I decided to work on it," he said. "You just never know until you work on it. "I never ever did it for the reason of calling my own shots. This is all I've got. This is me making music. I'm going to try and contribute to The Killers, but if they don't want it, I'm going to keep on making music myself because that's what my favorite thing to do in life. That's what gives me joy. If I don't use these ideas, then I'm going to die someday and wish that I had used them."
A few weeks, here and there
After he releases the record on Jan. 25, Keuning will hit the road for a couple of weeks with a band consisting of friends from San Diego. He plans to continue playing a few shows here and there throughout the year.
It won't be like The Killers' massive tours, he said. He compared the experience to a part-time job where he can make his own hours.
"Playing live is the funnest part, really. You finally get to share these songs with the audience," he said. "I really, really, really miss playing the live shows with The Killers. I miss the fans and all that stuff."
Fans shouldn't come expecting to hear any of his band's songs, though, and he wants people buying tickets to know that. He's not ruling out doing so at some point, either. The shows will consist largely of his new originals, and a couple of covers, he said.
He's not looking at "the solo thing" as a temporary project. Even when or if he returns to The Killers, he'll keep making his own music along the way.
"There's too many ideas," he said.
But he's not ruling out a return to the band that kick-started his career in music and is holding out hope that there's an answer that would satisfy both him and his bandmates.
"That would be awesome," he said.
Follow editor Roman Gokhman at Twitter.com/RomiTheWriter.