David Duchovny tries to learn from his past on new album Every Third Thought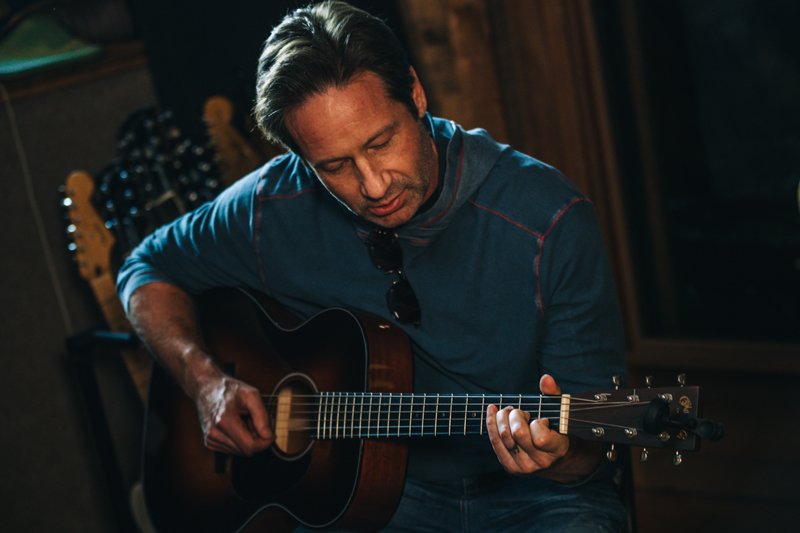 On TV series Californication, actor David Duchovny played a novelist fighting writer's block and myriad other distractions that kept him from putting words to a page. In his own life, Duchovny, best known for his role as Fox Mulder from The X-Files, has overcome those obstacles as a writer. He's written three novels, the first two of which made the New York Times Best Sellers' list. The third, Miss Subways, hits store shelves in May.
Every Third Thought
David Duchovny
Feb. 9
But if there's one passion that had eluded Duchovny, 57, it was learning how to properly play a guitar. He had one growing up, but other commitments got in the way.
"I've always loved music, and it was sad to me that I wasn't able to produce it in any way," Duchovny said recently over the phone. "The whole idea was that I was just going to be able to play guitar well enough to sit in a room and kind of amuse myself while playing songs that I loved."
Finding some free time between projects a few years ago, Duchovny bought an expensive acoustic guitar, determined to learn. This week, he will release his second album, Every Third Thought.
"That's really how it all started, and still what it's about. But now the songs that I like are ones that I'm writing," Duchovny said, chuckling.
The actor-novelist-producer released his debut album, Hell or Highwater, in 2015. The folky alt-country album received generally positive reviews, uncommon for a music project for an actor. But for his follow-up, Duchovny moved in a darker lyrical direction and a different sound. The distorted, fuzzy guitars, with just the right amount of squelch and chiming riffs are hallmarks of '90s alt rock.
The name of the album (and title track) is a callback in a line in The Tempest—"Like any English major, I'm a big Shakespeare guy." The specific line, delivered by Prospero, is an introspection of one's own mortality: "Every third thought shall be my grave." To Duchovny, the line speaks of obsession with death. But the album, and song, is more about romantic obsession than a mortal one. The album has no main thematic core, but it has several recurring topics.
"The song ["Every Third Thought"] is about my dad. The song is about death, moving on," he said. "There's a lot of songs about loss or songs about love. There's a couple of lighter songs as well. The only things that holds them together is that they're all from my mind."
The loss of life and love intermingle sometimes, as they do on the album's first single, "Half Life." "Unconditional love decays/ Only fossilized hearts can break," he sings. On the ballad "Jericho," Duchovny sings about visiting his father's grave for a sign or guidance on how to live his life, which "never comes." And on the chugging "When The Whistle Blows," he again looks at the past: "We can't undo the hurt that's been done/ We can't un-win the battle we've won."
Duchovny wrote and recorded the songs in 2016 at Atomic Sound studio in Brooklyn with the same band he worked with on Hell or Highwater: keyboard player and producer Colin Lee, guitarist Pat McCusker, bassist Mitch Stewart and drummer Sebastian Modak. Duchovny wrote primarily with Lee and McCusker, while Stewart wrote one album track, the sparse, slow-burning "Spiral," on his own. The four members are Berklee-taught and play together in another band.
Q&A
On whether one of his cult TV series inspired another:
I don't think [Twin Peaks] inspired X-Files. … It was a huge hit, and then it was a huge bomb. It wasn't like studio executives were saying, "Give us another Twin Peaks." The show lasted two years. It's a work of genius, but it's hard to have a work of genius on network television. Maybe it carved out an area, but I think what Chris Carter was doing with The X-Files was really hearkening back to shows of his youth like The Twilight Zone and Kolchak: The Night Stalker.
On what will happen to The X-Files now that Gillian Anderson is leaving the show:
I don't know, and I'm sorry that that's the discussion of the show at this point. I'd rather the people just enjoy the episodes that we were able to give them for this run, and I'm not going to worry about what's going to happen next. … I'd rather look at it in the frame of here's 10 great episodes of television for you.
On his debut, Duchovny typically wrote the lyrics and chord progressions himself before taking them to his band to spruce up. But for Every Third Thought, he collected individual ideas, verses or a chorus, and he and the band would work on turning the ideas into songs together.
"When we started to record, they were going to be the players on the album," he explained. "We liked each other, and we liked working together, so then we just became collaborators."
His own influences primarily come from late '60s and early '70s classic rock, as well as '90s alt-rock, but his younger bandmates also have input.
"Whatever old fogey sensibilities I have coming from my classic rock, they're going to throw in their sounds," he said.
After finishing the album, Duchovny waited more than a year to release it, looking for some free time between filming his return to the long-awaited third season of Twin Peaks (on which he played cross-dressing FBI Agent Denise—formerly Dennis—Bryson), and the new season of The X-Files, which is currently airing. And unlike his better known pursuits, he didn't have much financial backing to release, promote and tour Every Third Thought.
"My music side of my life is a much smaller side," he said. "It's not like I have all the power of a television station or a movie studio behind getting it out there.
This month he'll be hitting the road—in Australia—to play some live shows. No U.S. shows are planned as of yet, but they'll happen, eventually. Duchovny is also excited about getting a chance to sit and write songs in a room with his band for a couple of weeks, creating an even stronger collaboration for a third album.
Music remains one of his passions, but for him, it's something more: An opportunity to express himself creatively without placing any pressure on himself.
"I'm lucky enough to be able to have other things that I do, so music doesn't have to succeed monetarily in a way that I might want a television show or a movie to do," he said. "It can just be what it is. And that's the way I approach it."
Follow Roman Gokhman at Twitter.com/RomiTheWriter and RomiTheWriter.Tumblr.com.