Doc Robinson wraps nostalgia in golden indie soul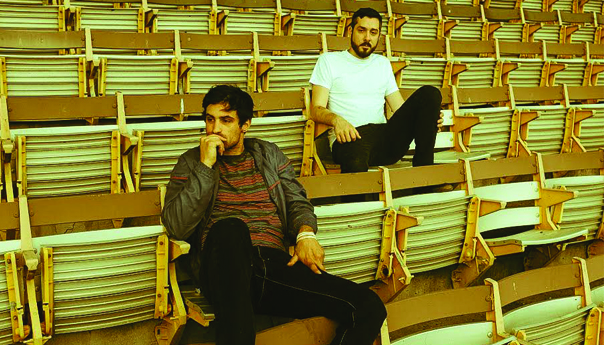 In Detroit, it was the 1950s. For Seattle, the '90s. Portland? The '00s. If you ask Doc Robinson's Jon Elliott or Nick D'Andrea, they'd tell you that right now is the time to get in on Columbus, Ohio's music scene.
"It's still kind of trying to figure itself out and trying to bud and blossom a little bit," Elliott said.  "We love the way it's going and we love the camaraderie and the collective musical fellowship that we have here in town."
The city of about 850,000 is home to The Ohio State University, as well as a music conservancy at Capital University and two art schools.
"It's kind of a cool city because the metropolitan area's not huge and the downtown area's not huge," said Elliott. "We've got a lot of really cool little hip scenes. It's easy to collaborate and it's easy to work together. A lot of bands play shows together here in town."
The guys are both active in other Columbus-based bands. Elliott sings with The Floorwalkers and D'Andrea fronts Nick D' & the Believers. They wrote their first song together, "Summer Moon," seven years ago. However, it wasn't until early in 2016 that they decided to form Doc Robinson.
"Once we decided to start telling people that we were putting this project together, the community support we got … was incredible," Elliott said. "We've had a couple different local businesses and some tastemakers who've done some really huge things to help us facilitate things and make the music video [for 'Golden Daze.']"
Columbus' spirit of community trickled into their debut EP, Golden Daze, which features six of their friends as backing musicians. The four tracks on Golden Daze are poppy and infectious with a taste of Motown and a splash of indie rock.
"The first time we got together for a writing session, we said, 'Who are the bookends of who we want to sound like?'" said D'Andrea. "For us it was Doctor Dog and Smokey Robinson. We tried to meet in the middle between those two, which is why we chose the name Doc Robinson."
The inspiration is especially clear on the EP's title track. The melody of "Golden Daze" is superficially bright and catchy, while the lyrics point to a deeper nostalgia.
"I think with all these tunes, we have really heartfelt emotions hidden in more pop-structured songs," D'Andrea said. "We're kind of pouring it all out there in the verses a little bit, especially with that song."
Listening to "Golden Daze" reminds D'Andrea of a very specific scene from the film The Royal Tenenbaums: twins Ari and Uzi are out "chopping it up with their grandpa," as he described it.
"That's what the verses are like to me: the memories of all the shithead stuff we used to do when we were kids," D'Andrea said. "Also, it's like tipping our hats to the people who we lost along the way, who we had some of those memories with."
Doc Robinson cranked out its first EP in just 10 months, yet Elliott said they already have the guts for six or seven songs for their next release.
"We played a couple of these tunes live with the full band and it made us just want to jump into the studio right away with them while we had this moment and try to catch lightning in a bottle," D'Andrea explained.
When asked how they maintain that level of creativity while holding up their responsibilities with their other bands, D'Andrea said it's all about balance.
"Bands have ebbs and flows in productivity, so it gives us time to split our efforts," he said. "We'll have recording sessions for both bands in the same day …  sometimes. It's generally cool."
The duo expects to put out another batch of songs in early spring, and are preparing for a 2017 tour. You can bet than when they hit the road, they'll bring some of their Columbus crew with them.
"In general, this band is definitely a musical collective that we kind of get to be head masters of," Elliott said.
Follow journalist Brandi Smith at Twitter.com/BrandNewSmith, Facebook.com/BrandiSmithTV and BrandiSmith.me.