Geographer sideman Duncan Nielsen returns with new Doncat album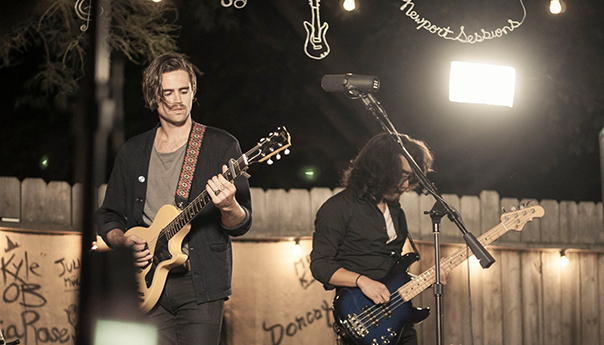 If you don't have the financial resources, you work with what you've got and make due. Such is the case with folk and psych-pop singer-songwriter Duncan Nielsen, who's had the songs for a second solo album written since 2014, but has patiently bided his time, balancing other work and waiting for the right opportunities to present themselves.
"We did take our sweet time," said Nielsen, who records and performs as Doncat, but is also a member of San Francisco band City Tribe, whose members include drummer Cody Rhodes (also with Geographer). He's also known as the touring member of Geographer. "We don't have a label, we don't have a producer. We're using our own means to put it all together. It takes more time to get it all organized."
Diane Coffee, Waterstrider, Doncat
8:30 p.m., Thursday, Aug. 25
The Chapel
Tickets: $15.
The Morgan Hill native and UC Berkeley alum will finally release Easy Cowboy on Sept. 9, nearly three years after his debut, Don Gato.
The album will be released on his BandCamp page and all streaming services. Doncat performs Aug. 25 at The Chapel with Diane Coffee and Waterstrider before embarking on a fall West Coast tour.
Nielsen has been writing and performing solo since high school and started Doncat in 2012, two years before Geographer's Mike Deni called on him to fill out his touring lineup.
The opportunity to earn a steady income and build out his fledgling solo project were great benefits, but possibly came second to the right to call himself a "working musician," Nielsen said.
His debut was recorded one song a month for a full year. It was a collection of different ideas. All of the recording sessions took place at downtown San Francisco bar John Colins, where he used to put on showcases in 2010 and 2011 with City Tribe bandmate Jake Jones. He and his friends would go in Sundays to record while the bar was closed, using the building's high ceilings and long hallway arrangement to produce the album's big, echoed sounds.
"They were their own chapter of a book, I guess," Nielsen said. "I'm not good with analogies."
For the follow up, he knew he wanted to make some wholesale changes. For starters, all of the songs were written at together, around the same time. They returned to the bar at times to record some drum and guitar tracks, but mostly stuck to a professional studio to achieve more accurate precision in the sounds Nielsen wanted to create.
"It's hard to monitor everything in a (temporary) place," he said. "So it was a good blend of spaces. We even did some stuff at my house and my engineer and bass player's [Chris Sugiura] house." The recording and performing lineup includes Kyle Kelly-Yahner on drums.
Another goal was to have the songs work well together. Each of the tracks was written with what Nielsen calls a "cruising" element. At the time he wrote and recorded, he said, he listened to a lot of Joni Mitchell, which in turn inspired his creation process.
"She has a lot of fun and interesting things going on melodically; playful, sweet and beautiful in many ways," Nielsen said.
Many of his other influences also are from decades past. The guitar players he looks up to most include Jeff Beck, but also Peter Green from early Fleetwood Mac, James Gang-era Joe Walsh and Eric Clapton from the Cream years. Vocally, he admires John Mayall.
At the same time, Nielsen isn't satisfied living in the past. He's determined to add his influences to create something that sounds like it belongs today. He cites Little Dragon, another influence, as an example of taking classic soul and make it contemporary.
"Her soulful singing style remind me a lot of the older artists that I like," he said. "But they make it really new and fresh. I don't believe I could simply imitate or mimic."
Nielsen describes the songs on Easy Cowboy as brothers and sisters of the same mother. Each are a message he wrote to himself as a reminder to not be driven or haunted by the events of his past.
Rather than counting mistakes, together they serve as a reminder to look forward, not in the rearview mirror.
"In each of these songs, I reflect on past events or something that could be easy to dwell on, but use the song as a cathartic way to let it go," he said. "That's how you came to be who you are."
The song that most closely signifies this storyline, and the one most important to Nielsen, is "Jet Black Car."
"It's a song about true love, clinging to love and being so flippant that it could go either way," he said. "It's easy to spend a lot of time in your life second guessing who you're with and who you're in love with; being judged by who you're with. But it goes back to that [Stephen Stills] song, 'Love The One You're With.'"
These are busy days for Nielsen, and he understands that involvement in too many simultaneous projects have stretched some musicians thin. Still, he's not one to take his situation for granted. Doncat is finally gaining traction, but he still has other commitments.
Besides the three bands, he's had several songs placed in television shows and films during the past couple of years, including CMT's Nashville and DirecTV's Kingdom.
He said working with different collaborators has strengthened him creatively. Additionally, he's learning to contribute to the work of others, collaborate in a band and lead a band at the same time.
"It's wise to put your eggs in more than one basket, but you put your eggs in too many baskets and suddenly you don't know where they went," he said. "You have to balance and know what you're getting in to."
Follow Roman Gokhman at Twitter.com/RomiTheWriter and RomiTheWriter.Tumblr.com.