Interview: Falling in and out of love with James Hersey
James Hersey has a strong opinion on artists who give up their dreams for financial success; those who collaborate with so many songwriters that they lose their voice along the way.
"It becomes diluted, and I feel bad," the Austrian singer-songwriter said of others like him who moved to Los Angeles with big dreams. "They started writing for others and kind of shed their own skin in a way and lost touch with their own project, because they're trying to write a hit every day. It's very easy to write formulaic music, especially pop music. You know the chords, you know what words people want to hear. But it's hard to give it real soul. I wouldn't do it because I think I'd lose myself in it."
Hersey, who refers to his music as modern folk, knows a thing or two about writing pop tunes that directly connect with the masses. Hypnotic electro anthem "Miss You" has racked up more than 83 million streams on Spotify. "Coming Over," which became his big break after it was remixed by DJs Kygo and Dillon Francis, has more than 40 million streams. With the release of his debut EP, Pages, in May, several other tracks have been streamed millions of times.
The personal nature of songwriting keeps him from working with others.
The Vienna-born musician writes love songs, or tales of heartbreak, disenchantment and connection. His looks and tastes in subject matter have drawn comparisons to John Mayer. Writing personal stories about relationships is both a form of therapy for Hersey, and a challenge. Understanding the complexities in the connections between people, and the way love falls apart can be difficult to understand. By baring his soul, he tries to give others the confidence to be honest with each other.
"Some people are like, 'You helped me out of depression.'" He said. "Some people are like, 'We fell in love to your song.' It's lovely."
Despite his repeated success writing love songs, he still swears there's no trick to nailing a hit other than being personal—every one of his songs is about a past relationship—and hard work.
"I'm just really obsessed with lyrical aesthetic and phrasing and trying to nail the melodies," Hersey said. "[I have] a personal need to nail it. So I work on it, I edit my stuff over and over again. … It's a lot of exploration."
Hersey first studied classical music and jazz—his first instrument was the cello, his second the drums—and then played in rock bands. His wrote his first song, for his girlfriend, when he was 12. Later, in high school, he got into electronic music. Other kids were beginning to experiment with Ableton and similar software, uploading their own beats. That's where he got his first taste of sampling.
"My best friend in high school was a scratch DJ," Hersey said. "I would go to this place after school and get high, and I'd play guitar and he'd scratch, for hours."
He also found inspiration in the relationship of his parents. While his mother was an Austrian journalist, his father was a Boston science teacher.
The two were forced to live apart before they could be married. Hersey saved all their letters to each other from that time, which declare their love for each other, but also express doubt and raise questions—many of the same topics Hersey now writes about. He has his mother's writing tattooed on his body, and the artwork for Pages and his previous singles feature his parents as teens and Vienna.
"The idea behind it was to take this organic history that my parents have; they're married for over 30 years," he said.
Hersey lives in Berlin now, but he's drifted around the map, trying to make a music career work in Holland, New York, Austin, Los Angeles and London.
"I'm like a running away type of person," he admits. "If I was in a tough relationship, and I thought I could find the answer and become somebody different if I moved away. It doesn't work, by the way, in case you're thinking about it. Wherever you move, your own demons follow you."
After finding London too stressful, Hersey ended up in Berlin, an electronic music capital. By then, he had realized he would not change who he was based on where he lived. All he could do was find the place he was comfortable, and he had that in the easy-going city where you "can drink and smoke where you want, do your thing, and you don't have to worry about getting in trouble for loitering."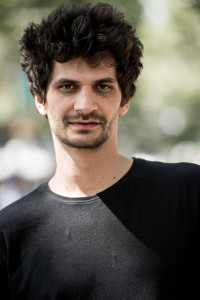 He played hundreds of open mics and bars, without a real idea how to succeed in the music industry. Many of his demos, which he hand-delivered to radio stations, were rejected. Eventually, however, his strategy paid off.
"Coming Over" was picked up by radio and caught the attention of Austrian producer Filous, who remixed it. From there, EDM juggernauts Kygo and Dillon Francis caught on and cut their own version. The song was originally written in 2014 about—what else—a former flame, and began a new trajectory for Hersey. He is quick to give credit for his current success to the producers.
He wouldn't have made it otherwise, he says, because a sensitive singer-songwriter from a small non-English speaking European city can't easily be sold to the public on lyrics alone.
"That's just how you open doors," he said. "I also love … what they did with it. I got to perform at Coachella with both of them, so it's given me a lot of cool experiences."
He also doesn't think "Miss You" would turn out as big as it has without a similar remix by HONNE. Hersey wrote the song for another love when faced with answering difficult relationship questions.
"I knew that I had to leave again, and I didn't know the answers but I had the questions," he said. "So it's just the questions: 'Show me what it means to be yours. Show me what a life this could be. Where can we go with this, so that while I'm on the road I can think about it and make the reasonable decision?'"
The relationship didn't work out. "Singing it now, it's not easy," he said.
Follow editor Roman Gokhman at Twitter.com/RomiTheWriter. Follow photo editor Alessio Neri at Instagram.com/windowofcolor and Windowofcolor.com.