First Aid Kit returns ready to rebuild from Ruins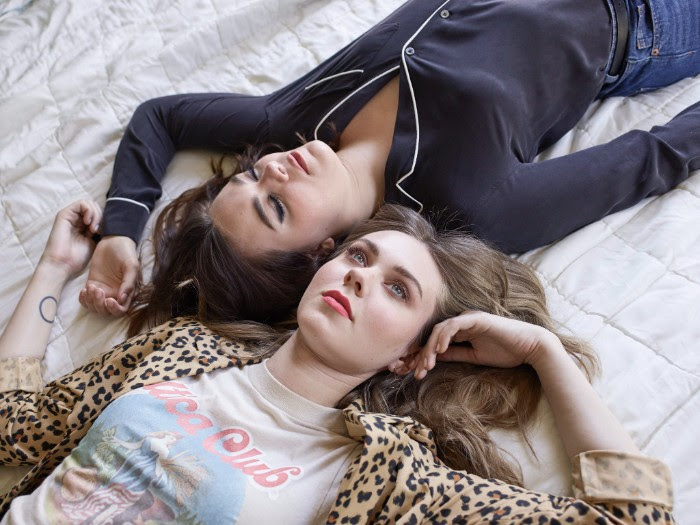 After touring the critically acclaimed third album, Stay Gold, in 2014 and 2015, sisters Klara and Johanna Söderberg—First Aid Kit—burned themselves out. The duo, which rose above the indie circuit for the first time, had been writing, recording or touring its songs for years. And it was too difficult to turn down the opportunities while they presented themselves. Because each opportunity brought First Aid Kit closer to what the duo wanted to accomplish professionally, declining any one created a sense of guilt of missing out.
First Aid Kit
Van William
8 p.m., Wednesday
Fox Theater
Tickets: $29.50.
"It was important to develop our own identities beyond being in a band together, because that was all that we had," Johanna Söderberg said earlier this winter in a phone call from Stockholm, Sweden, which she calls home between album cycles. "We didn't see our friends. And our family, when we had family dinners, all we'd talk about [was] the band. Because our dad and our mom worked with us, too."
A break was needed to figure out who Johanna and Klara were outside of the framework of First Aid Kit and to decompress; to become sisters first and bandmates somewhere down the list of importance. For Klara, the time was especially difficult. She had recently ended an engagement. The sisters were separated not only by distance (Klara was living in Manchester, and the two didn't see each other for months at a time), but also by mindset.
"Klara was just going through a life crisis and I wasn't, so it was hard, in a way, to know how to deal with that," Johanna Söderberg said. "I think in the end, we managed to, and I sort of helped her process her emotions and her sadness."
Taking a break hit a reset button for the sisters. By agreeing to not write any songs or even listening to music for any other reason than enjoyment, the pressure both were feeling was released. Eventually, both longed to write and tour again. In 2016, First Aid Kit travelled to Los Angeles for five weeks to write new music. The collection of songs, which makes up Ruins, were very much informed by Klara's breakup. "That's why it's so sad," Söderberg said.
If the theme was not obvious enough, the video for first single "It's a Shame" was presented in split screen. The sisters both go through the same routine, but while it's all sunshine and roses for Johanna, everything that could go wrong does for Klara. The war, upbeat rhythm of the song masks pain and self-doubt.
To record Ruins, the pair decamped to Portland to work with producer Tucker Martine (My Morning Jacket). It was the first time in six years the duo passed on recording sessions in Omaha, Nebraska with Mike Mogis, but Martine was actually the first producer to ever reach out to First Aid Kit, when the sisters were recording their 2010 debut, The Big Black and the Blue.
"We just felt like we wanted to do something different … and be somewhere else, kind of for our own sake—just to challenge ourselves and get some perspective and some variation," Söderberg said. "Tucker was the first person who came to mind. We felt like instantly that he was the right guy for the job. We just have a really similar references and musical inclinations."
Over six weeks, Martine invited several of his friends to the studio, and they became the session band for Ruins. Previously, the duo recorded only with their father and a Swedish drummer. Martine brought on R.E.M.'s Peter Buck, Wilco's Glenn Kotche, Midlake's McKenzie Smith, and local musicians Steve Moore and Ely Moore. The sisters were nervous going in to the recording, but only because of the high caliber of the other musicians in the room.
Pull the Van around
A familiar face is joining First Aid Kit on its entire U.S. tour. Former Bay Area musician Van Pierszalowski (WATERS) will open for the sisters, performing songs off his solo project, Van William. Johanna Söderberg talked about their rekindled friendship.
We met a long time ago on our first tour ever in 2009. We opened for his band Port O'Brien on [his] European tour. We didn't really keep in touch and then last year when we went to L.A. to write songs for the record, we met him at a party and we instantly became best friends. Ever since, we've been talking every day. We did the song together and he's just our favorite human being in the world, so having him on tour is such a treat.
The session band's contributions are felt throughout Ruins, beginning on album opener "Rebel Heart" with Kotche's upbeat drumming and the extended breakdown and outro. When Klara and Johanna originally wrote the tune, in a rented house near Joshua Tree National Park, the alt-country portion of the song was all there was, Söderberg said. They knew they wanted to diversify their sound and mood of the new record, beginning with a little something extra. The outro, which is about the last 90 seconds of the song, blends '70s AM pop, brass flourishes and '90s-flavored alt-rock.
"We had that in our minds and we came up with that brass melody in our heads," Söderberg said. "Then going into the studio, we sort of just let the musicians improvise there. Our records have always been very vocally dense, so we wanted this record to include a few more instrumental breaks and let the band take more space on the album. … I think it's a good opener because you don't really know where it's going to go, where the record's going to end up when you're listening to it."
First Aid Kit didn't want another Stay Gold; the sisters shied away from polished instrumentation and pitch-perfect, golden harmonies. Ruins was recorded live in the studio because the two wanted to capture the raw energy of live performance.
To Söderberg, the song also sets the lyrical tone of the record—of love, breakup, self-searching for one's identity and trying to figure things out without any help. Besides their constant artistic inspirations—such as Fleetwood Mac, Gram Parsons, Lee Hazlewood and Bob Dylan—Klara and Johanna started binging on Heart's 1975 record, Dreamboat Annie, and on New York indie rock band Big Thief.
"The lyrics in this record are more private, and in some ways it's a little scary to be so open about your past and your relationships," Söderberg said. "We were inspired by [Big Thief] to do that."
First Aid Kit has so far released two other songs from the record, and each stands out on its own merits. "Fireworks" is a slow-dance ballad with ringing guitars and an ethereal vibe, while "Postcard" was a "total homage to Gram and those classic old country songs," she said.
Now, Johanna and Klara get to hit the road again. Although they played a few shows in 2017, including a set at Hardly Strictly Bluegrass in Golden Gate Park, they are looking forward to a proper U.S. tour, which they will kick off at their favorite American venue, the Fox Theater in Oakland.
"Hopefully, the new songs will resonate with the crowd," Söderberg said.
Follow Roman Gokhman at Twitter.com/RomiTheWriter and RomiTheWriter.Tumblr.com.