Interview: Chris Robinson Brotherhood in tune with Bay Area vibes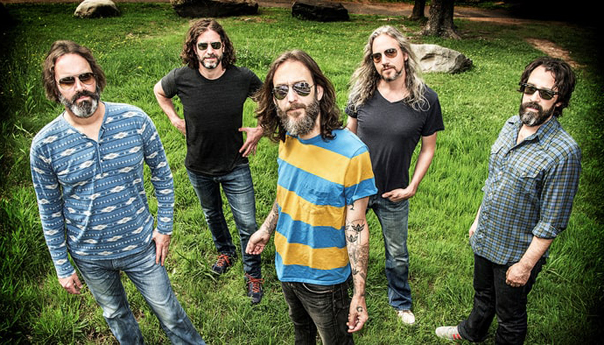 Chris Robinson and his bandmates in the Chris Robinson Brotherhood rolled into Portland with just enough time to grab some eggs and hit Powell's Books before the former frontman of the Black Crowes and his jam band-leaning brotherhood head to perform. But the obsessive basketball fan is contemplating a brief stop to catch the Portland Trail Blazers.
Chris Robinson Brotherhood
8 p.m., Thursday, Friday, Saturday
The Fillmore
Tickets: $32.50.
"I mean, we don't go on until nine," he considers. "We could have gone to the first half, at least."
The next day, the CRB begins the trip south down Interstate 5 to San Francisco for three shows at the Fillmore. Robinson turns 50 in two weeks and now calls Marin home. He left Georgia with his first big Crowes paycheck, living in New York and then Los Angeles.
But the culture and vibe of the Bay Area always called him. His bands have played December residences here for years.
"There's a pragmatism to living in Marin County and ending the tour in … our home town," Robinson says. "A lot of it has to do with San Francisco being one of the best concert cities in the world. To me, it's always about the vibes. To have that kind of following in San Francisco is, like, what a blessing, you know?"
After a couple of lineup changes, the Chris Robinson Brotherhood includes guitarist Neal Casal, keyboardist Adam MacDougall (of the Black Crowes), bassist Jeff Hill and drummer Tony Leone.
They've been touring all year in support of July LP Anyway You Love, We Know How You Feel, as well as November EP If You Lived Here, You Would Be Home By Now.
Unlike their previous releases, 2012's Big Moon Ritual and The Magic Door, and 2014's Phosphorescent Harvest, the new records were self-produced and released on Robinson's Silver Arrow. The work was more collaborative than in the past, but both retain the band's psychedelic backbone, with flourishes of funk, jam band spontaneity and roots rock aesthetic.
LP opener "Narcissus Soaking Wet" tells the tragedy of the Greek god who falls in love with his reflection and drowns. The song was Robinson's first time co-writing with MacDougall, his Black Crowes bandmate.
"Hopefully it's the first seed of many compositions Adam and I can get into," he says. "The band is my name, but we just put my name on it so we could skip in line a little bit. If I'm the leader, I'm only a good leader because I don't do any leading."
Songs like "Leave My Guitar Alone" and "Ain't It Hard But Fair" follow the blues rock path of the Black Crowes, while "Oak Apple Day" and "Forever as the Moon" lean toward funk. The EP's "From the North Garden" is a ruminative tune at the nexus of Daniel Lanois and Eastern influence. Slide guitar on "Sweet Sweet Lullaby" brings the ship back home with a southern alt-country jam.
To Robinson, the freedom to make whatever kind of music his band wants, alongside Mount Tamalpais, is much more important than his previous life as rock star.
RIFF: Do your winter San Francisco gigs feel like homecoming shows?
Chris Robinson: Completely. We always said when we started that … we're from Unicorn, California. We wanted a mythical place to be from instead of Los Angeles or whatever, you know what I mean? I'm not really into Los Angeles. Every city in California has something to offer. When we got this band together, our first gig was in Los Angeles. It was cool, but … our first gig at the Café Du Nord was, like, a scene. People … never heard us but it was already something in the air.
How are you liking living up in Marin? You've been there for about a year now?
Yeah, we've been there for about 18 months. Love it, I mean completely love it. I'd been waiting to get up to the Bay Area for years but circumstance… I started my tenure in Phil Lesh & Friends 12 years ago. Phil graciously had me around for the first couple of weeks of opening Terrapin Crossroads [in San Rafael]: Putting his band together. Phil uses all the guys in my band.
I'd take guitar lessons from Barry Sless (Phil Lesh, Moonalice) in Fairfax. The other night I went to see Barry play at the Iron Springs Club and, you know, just the scene, man. People dancing and no one's trying to be cool. Everyone's super-kind. …We totally made the right decision [to move to Marin] and this speaks to me on a soulful level, being up here. It's something that I've been looking for my whole life.
You recorded both the newest album and then the EP that came after at a studio near Stinson Beach. Are you familiar with the musical history of that area?
Yeah. Jerry [Garcia] lived right there; lots of people between there and Bolinas. The Youngbloods: "I'd rather be a hippie from Olema." We have Betty Cantor-Jackson, [who] has been recording us since 2011. So I get a pretty good history lesson from her, too. I'm amazed by the records she has made.
What you've gotten from CRB that you haven't gotten before? What does this band offer that your others have not?
To be with a group of people who are enthusiastic, all free to express ourselves how we want. … We take that and use that as a great thing of confidence and comfort. I've dealt with the giant money, rock star illusion machine. Rock star shit. And I've always felt this way.
Even when you were a part of it?
When I was a part of it, I always realized … them telling you that "you're a rock star" is them trying to tell you that what you do is more special than what everyone does, and that's just not the case. The best thing about music is it exists outside of … competition. There's only competition in terms of capitalism. Anyone gives a fuck about the Grammys? Who gives a shit? Music's this living, breathing, organic entity that connects us to our ancient past and can give us great vision to our far-reaching futures, because the vibration's been the same. The song is the same. The message is the same. The emotional content of our lives is the same, no matter what the surroundings are. Music's a conduit to that, at least in my mind.
You self-produced the album and the EP. Do you look at your own label as a distribution vehicle? Or is it a fervent passion? Did you want to be involved in the business or just to say "screw you" to everybody else?
I want to be able to manipulate the situation, you know what I mean? Making records is another facet of what I do. The writing songs, the recording of them. If you break down what albums and stuff are now, what they mean to people … they're not supposed to mean anything. They're like this antiquated thing. But for me it's still a viable way of saying, "Hey man. We worked on these songs for these weeks and then we went in the studio and we recorded them and this is how we felt and these are the pictures we wanted to paint and the stories we wanted to tell with this music."
I still think it's a cool way to do it. I still think it works. So, ideally, the idea of having a record company is just to kind of perpetuate the craft, more so than be involved in business. … Like you said, I was involved in the corporate music business with million-dollar budgets and waste of money and time and ego and people's opinion. It's like a fucking joke. You might as well be an advertising executive and deal with some boss telling you, "I don't like that." But I'm not here to sell chicken nuggets. My father, in his own negative way was like, "Oh, you're a poet, huh? How do poets make any money?" Well, I guess they become songwriters or singers.
When did your father say this? Are we talking beginning of your career or later on?
He was not very supportive of me early. My dad … had a Top 40 hit in the '50s, like a bebop, Bobby Darin-kind-of-rock and roll song, and he was on ABC Paramount in the early '60s in a folk duo. But it never really happened for him. My dad wasn't an artist. He wasn't a songwriter. He was a good guitar picker and he had a good voice and he knew what songs to sing. My folk music leanings all come from him. But in my dad's colloquialism, he said I "couldn't carry a tune from the well to the house in a bucket."
We were never really very close and then the first [Black Crowes] check I got, I moved to New York, and then subsequently from there to California. I'm sure he was proud, but it also brought up a bunch of other sort of weird stuff, which was, I guess, just part of whatever my karmic residence was supposed to deal with at the time.
Were you ever able to patch it up?
I mean, I loved him, you know? But no, we were never close. That's sad to say. That's the sad truth. I think by talking about it … other people who had the same experiences sometimes feel a little better. I guess at the end of the day, I ended up, like, "Hey, fuck you, dad." Twenty-seven years later, what I've done every day of my life is play music.
Talking about that music, you released the EP just a few months after the full-length album. Is that your own version of a deluxe release or was there a different reason to keep those songs separate?
That wouldn't be too far off the mark. The reality is we're responsible with the budget. … We have 15 pieces of recorded music and they tend to be longer, some of our compositions. I didn't want to do a double record. I thought it would be best to focus on one. But we had all this other stuff, and it's already mixed and it's already sort of paid for itself. … We have the opportunity to have another two releases in the air, and then we actually are just wrapping up Vol. 3 of [live compilation series] Betty's Blends, and then we go right back into the studio Jan. 1 to start a new record in Stinson Beach.
You have said The Black Crowes are done. Do you ever miss those times, or playing those songs? I know that CRB stays away from Crowes covers.
The Black Crowes, at its best, was amazing. We made some amazing music and I'm super proud of those songs and I want to sing those songs sometime. That band was what it was. That sounds like something a sportscaster would say. I have no malice [toward the Black Crowes]. I have to do what my soul is telling me to do. … That's why I'm committed to the [CRB]. But yeah, those songs are there and I love them and one of these days I'm going to sing them again. That kind of music just doesn't go away, I hope.
You made the sportscaster reference. I read somewhere that you were a big basketball fan. Who's your team?
I'm a fucking huge basketball fan. I grew up in Atlanta and the Hawks were always sort of a corporate team. I was kind of not a Hawks fan. Then, living in L.A., I was kind of a Clippers fan. [During] Steph Curry's second year I noticed that I was taping all the Warriors games. … As the next season went by, I'm rooting for the Warriors over the Clippers. You know, I'm in Portland. I'm a Damian Lillard guy. I love Russell Westbrook's game.
We even went to a Sixers [versus] Wizards game on the East Coast a couple of weeks ago and got to see John Wall. The Sixers took great care of us and the coolest part of the whole night: At halftime they have a little bar and I was sitting there and this guy [who] had seen many of my concerts … goes, "Hey, it's pretty cool that you're here with Allen Iverson!" I look over and Allen Iverson is sitting right next to me! In my dumb way, that was like the coolest thing ever. Man, that guy can really ball. I was dorked-out.
Follow Roman Gokhman at Twitter.com/RomiTheWriter and RomiTheWriter.Tumblr.com.