San Jose's Changing Names take next step with debut LP, release show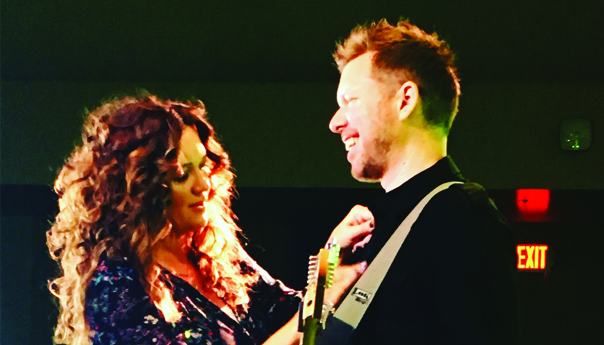 For San Jose's Katie Joy and James Nobriga, it's hard to say what came first: The romance or the music.
"They both started the first day that we met because James heard me sing and that totally captured him," says Joy.
Changing Names album release show
7:30 p.m., Friday, Nov. 11
Valley Christian High School, San Jose
Tickets: $10-$15.
The pair fell in love, got married and began writing songs. They signed with Incubator Records, a Christian label, under Joy's name.
"It was all about having her be the solo artist," Nobriga says. "But we just really believe that our music is more than just her on her own with me supporting, but a full-on collaboration between the two different backgrounds that we have. Just like a marriage, you both bring in your own baggage and you make it work together, even all the messy parts."
That's why they left their label, determined to find a new identity that allowed them to focus on their differing styles and strengths.
"When we've tried to do music together, it was always tough because finding that compromise was really hard," says Joy. "We had a couple of false starts over the years, but this is who we are."
She's referencing Changing Names, which the two launched a few years ago after more than a decade playing together. Joy says the band's name is a reflection of their struggle in the music business and their fresh start.
"In the Bible, whenever something new is happening, God actually gives that person a new name. It signifies the beginning of a new identity and a new season," says Joy. "It signifies that what you're starting is significant enough that it requires a branding. That is what happened with what we're doing."
Changing Names released debut EP Scars last year. Its four songs, which include "Wall of Strength" and "Razor's Edge," shine a light on Joy's heartfelt lyrics and Nobriga's '90s alt-rock melodies.
"Rock music changed in the '90s. It went from this very glitzy glamour to more of an honest 'Hey, we're broken and we're grunge' kind of thing," Nobriga says. Still, the rock edge but had really nice melodies. I really identify with all those styles."
Everyone from Pearl Jam to heart-on-their sleeves rockers Tonic, Vertical Horizon, Switchfoot and Lifehouse influenced Nobriga. Joy pulled from Muddy Waters, Jewel and Sarah McLaughlin.
"These women … would write their own stuff. It was just them and their instrument," Joy says. "That was really inspiring for me."
Changing Names will launch their first full-length album, Lovely Deceit, on Nov. 11, at an album release show in their home town. 
"We're not really sure what comes next, we're just running towards whatever that is," says Joy. Lovely Deceit includes the EP's four songs and six new tracks. Nobriga says listeners can expect more of a rock edge.
"We could do layers and layers of guitar work. We would set up these big old Marshall stacks and everything for 'Set Me Free' and then we were just blasting it in the control room,"says Nobriga.
Tough songs like "Set Me Free" are balanced by softer acoustic melodies. Joy says that reflective tune "Cover Girl" is one of her two favorites on the album.
"Lyrically, it was very therapeutic to write because I think women are so hard on ourselves and we are our own worst critics," she says. "It's very hard to look past what you see in the mirror, to look at really who you are as a person and realize that you are valuable. For most of my life, if I had anything to do with it, I would look at it with disdain. I hated the music that we made because I had something to do with it. I had such a deep-rooted self-loathing that I didn't even realize was there."
Nobriga and Joy identify as Christian, but like countless other artists who sometimes sing about God, their relationship with the Christian music scene is "complicated."
"We want to be doing what we're doing, which is telling stories about our lives. We're not trying to be a Christian band that just speaks to Christians or is in that market where that has that certain kind of sound," Nobriga says. "But we wanted to be true to ourselves and also be able to reach people who have no faith background whatsoever and just related to the kind of the stories we have, the ups and downs."
Follow journalist Brandi Smith at Twitter.com/BrandNewSmith, Facebook.com/BrandiSmithTV and BrandiSmith.me.