NYC funk and jazz band Ikebe Shakedown leaves the story open to interpretation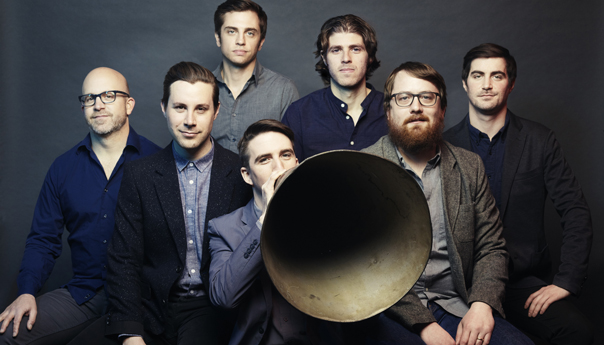 As Ikebe Shakedown's Nadav Nirenberg talked about his band over the phone last week, a kaleidoscope of muffled horns echoed in the background. The funk band was in the middle of a recording session at its Brooklyn studio, Hive Mind Recording.
The Brooklyn instrumental septet is comprised of two parts. There's a four-man rhythm section comprised of drummer Barnaby Alter, percussionist Dave Bourla, bassist Vince Chiarito and guitarist Robin Schmidt. Then there's a three-member horn section: tenor and baritone saxophonist Mike Buckley, trumpeter Jason Colby and Nirenberg, the trombonist. Ikebe Shakedown's horn-heavy sound incorporates elements of soul, jazz and funk.
Ikebe Shakedown's members met at Bard College, about 100 miles north of New York City along the Hudson River. Several of the rhythm section players had their own band, moved to Brooklyn and connected with the brass players through mutual friends. The group initially bonded over Afro-beat music. While most of them studied jazz performance in school, Nirenberg said that their musical instincts chiefly developed from practical experience.
"I think we've learned a lot more from listening and playing and transcribing songs … than going to school to get a degree and play Big Band music," he said.
Nirenberg described Ikebe Shakedown influences as "cinematic soul music." The band has gotten opportunities to work with a number of their inspirations, such as David Axelrod and soul man Isaac Hayes. Other influences include Curtis Mayfield and peers like Monophonics and Orgone.
Brooklyn has a niche instrumental music scene, and the bands in that community inspire each other, Nirenberg said. It encompasses not only soul groups, but also jazz, salsa and funk.
"We've been very lucky that the community in Brooklyn is so fertile and there's so many friends who are … building new studios and putting out new amazing projects," he said.
But the Brooklyn scene may not necessarily apply to other New York instrumental communities, because the players and their inspirations are different, he said.
"We … devour everything that we possibly can from the other communities," he said. "But by the end of the day I think that anyone who is spending the time and taking it seriously while they're having fun and just trying to make great music—whether it's soul or whatever—is doing good."
Ikebe Shakedown decided to leave vocals out of its songs because the members felt they would distract from the songs' subjectivity. Even titling the songs can be a challenge. The band takes on that task but attempting to put words to something that Nirenberg said "doesn't have much to do with language."
"Anyone can put their own meaning on top of it, and feel like it puts them in a certain place,"he said. "There's no lyrics to define that for you. We find that it works well in that cinematic way, where it's almost like trying to put you in a specific mood. But that mood is very subjective and up to the listener."
The band records all of its music straight to tape at its studio rather than relying on digital equipment to fix the songs in post-production. Nirenberg and co. appreciate the sound and aesthetic of the medium, as well as the happy accidents that sometimes emerge while recording in analog. Tape also helps the band put a song to rest faster, while limiting some of the tinkering that slows other artists. 
Running its own studio has opened doors for the group in translating its cinematic flare to future projects. It's not hard to imagine a movie car chase, or a boxing title fight (well, at least a Rocky title fight) set to one of the group's songs like "Supermoon." The band has also had its songs featured on-screen, such as the Sandra Bullock film Our Brand Is Crisis.
"Now that we're able to keep it all in-house and write together and feel comfortable in our own space, recording for film [is] becoming much easier," Nirenberg said.
Ikebe Shakedown is not interested in dictating listeners' emotions but rather in creating feelings that go hand in hand with these cinematic moments.
"We're trying to make music that you can put on and listen to, and that will elicit whatever individual response would come from your own experience," he said. "And for us, that's going around New York City."
The city inspired 2017 album The Way Home.
"There's a ton of people in New York who are making really earnest music, and music that they feel passionate about doesn't necessarily translate into what some people might consider success," Nirenberg said. "But success is a very subjective thing. [Our] community of musicians that we find ourselves in [is] making new, earnest and really great music."
Follow writer Grace Becker at Twitter.com/graceoliveb.