J. Roddy Walston and the Business rebel against 'the Soft Life'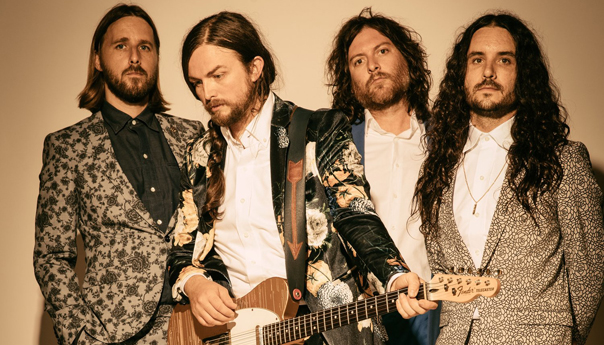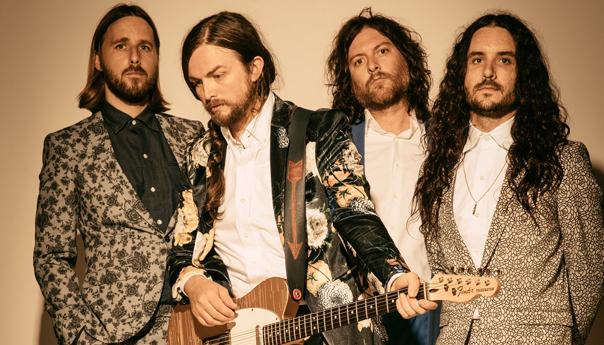 Sometimes J. Roddy Walston feels at odds with the ways of the world.
"Everything's easy and instant and same-day-delivery," he says, sitting back on a couch. "You don't even have to think about getting online; you can just go like 'send me that.' I'm not anti-technology, anti-progress or things moving forward. … There's this whole system of being rewarded for basically lying or being a braggart, and people famous for that."
J. Roddy Walston and the Business
9 p.m., Friday, Sept. 21
August Hall
Tickets: $20.
Seemingly, the philosophy of his band, J. Roddy Walston and the Business, has butted up against the ease with which other artists have found success.
From doing the grunt work of running their own tours for more than a decade, to building their own studio prior to recording their latest album, Destroyers of the Soft Life, by dismantling the building that would house it (which used to be a grenade factory), Walston and his changing lineups have always chosen the blue-collar path.
Contradictions were running through Walston's head as he was writing what would become Destroyers of the Soft Life. Additionally, he and his wife had a child on the way. He worried about the world they were bringing it into.
"The whole record is me dealing with being, 'I'm like this and it feels like the world's like this,'" he says. "I feel like I'm a crazy person because everyone else seems OK with it. Even [on] a song like 'You Know Me Better,' which was this experiment of trying to write a song about two things at the same time: One about human nature and relationships; resenting people for being exactly like they are. The other [about] technology being our creation and it's doing the same thing to us that we do to people."
Here Walston references millions of peoples' willingness to give away their personal information on social media, and how that influenced the 2016 presidential election.
"Why are we signing up and giving all this information away and pretending that we think it's free?" he asks. To the chagrin of managers and publicists, Walston avoids social media, even though his band would profit for his participation.
"I hate it," he says with no doubt in his voice. "I love looking at magazines, and if there's some great iconic picture of a band, that's a worthwhile thing to exist. [But] some band being, like, 'here's my socks,' or, four times a day, 'here's a selfie and one of our lyrics'—it works but I hate it. It's garbage. It's bad for people."
J. Roddy Walston and the Business have been at it for 16 years. The ship for Walston to change his mind on the matter has sailed.
Walston started the band in 2002 in his Tennessee hometown, playing a sound that was equally influenced by rollicking soul, Southern rock, blues and gospel. Two years later, he followed his future wife—and took the band along—to Baltimore. Members came and went as the band released its first full-length album in 2007. It followed with a self-titled LP on Vagrant Records in 2010. That album featured indie hit "Don't Break The Needle." Walston released a third, 2013's critically acclaimed Essential Tremors, on ATO.
Through all this time, J. Roddy Walston and the Business booked their own gigs to keep the ship moving, even as a long-range plan eluded the band.
"Maybe if we had done the move to some big city and tried to just make noise," Walston says. "We just started touring, basically acting like a local band everywhere. … We went out on a tour with the Lumineers where they were playing arenas, in a bus, and we didn't have a tour manager. We were playing and then driving through the night by ourselves. Total insanity."
Asked if he's got any regrets, that's one of two that Walson brings to mind. They've seen other bands that had been around less time but succeed quicker because of having the right management.
"It wasn't like we didn't want help back then; we just didn't get it for whatever reason," he says, acknowledging the band used it as an opportunity to learn about the industry. "We understand the music industry better than a lot of bands because we had to do a lot of jobs ourselves for a long time."
Another regret is his band's long name: "You just see people's eyes glaze over a lot of times," he says. "Literally, I'll be like, 'this is our band' and they'll be like, 'Yeah, I'm not going to remember that.'"
Walston had moments where he questioned what he was doing and whether it was worth the struggle. Whenever his band's success didn't stack up to that of his peers, he would remind himself that success didn't depend only on talent. Luck and coincidence is also needed.
Walston and his wife moved to Richmond, Virginia, already the home to bassist and band member Logan Davis, in 2010. J. Roddy Walston and the Business' lineup is now rounded out with guitarist Billy Gordon and drummer Steve Colmus.
Following Essential Tremors, Walston took a break and began to write down many of the thoughts he was having that would influence his next record, and to spend time with his child. Eventually, he and his bandmates found the discarded grenade factory that would become their own studio.
While Walston is very much a hands-on man, all the work he had ever done to that point was as much as he and his bandmates were about to take on. The building had been previously refurbished haphazardly. There were rooms full of screws scattered on the ground, rooms where everything was furnished from wooden pallets. The group had to pull everything apart.
"We did all of it; it was like a total craziness," he says. "The whole thing was very much trial by fire, going from 'I've done a few jobs around the house," to 'We can gut this whole building.'"
When the studio was built and furnished, Walston and the band spent a year and a half making Destroyers of the Soft Life. After writing and recording 90 percent of the album in early 2017, they flew to Seattle for a month to track the vocals with producer Phil Ek (The Shins, Fleet Foxes, Built to Spill).
"Phil helped us get an outside view of the thing," Walston says. "Built to Spill is definitely one of my favorite things that he's been involved with, but his track record is pretty outrageous, whether that's on a mixing role or production role. Because he had worked with such great people, there was some part of me that wanted him to go, 'you remind me of blah-blah-blah.' But he [said], 'I don't do that.' Which was actually the thrust of the whole thing for us with this record—not putting on blinders, but blowing out the box and doing whatever we want."
J. Roddy Walton and the Business released Destroyers of the Soft Life in September 2017 and have spent a good portion of the year since on the road. At BottleRock Napa in May, the band seemed reenergized, and Walston especially. The bandleader, often at his '70s standup piano, is a charismatic leader, usually in motion.
The band used to play between 150 and 200 shows per year. That would drain its energy and make the members not want to write, record or spend time together after returning home. They don't have to play so many shows anymore.
This has given Walston the time to write more songs. He expects more new music from his band, and possibly some solo material by year's end.
"I love being on the road, I love playing shows, I love touring—but it also took a while to get the motor started again writing on the last record," he says. "Now that we're not just constantly burning the candle at both ends, I actually have energy to be creative."
Follow editor Roman Gokhman at Twitter.com/RomiTheWriter.