Interview: Jeb Loy Nichols 'hustles' soul and hip-hop with country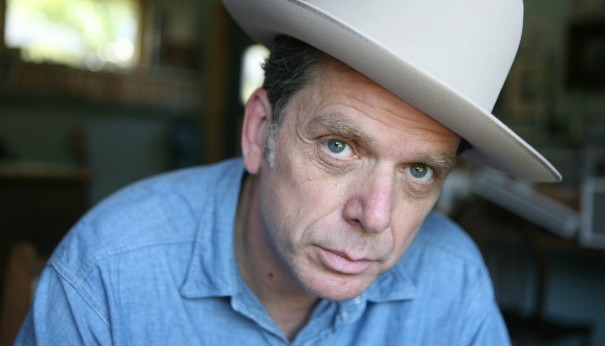 If you were unfamiliar with the work of Missouri-raised Jeb Loy Nichols, you would be forgiven for expecting a countrified sound from his latest LP, Country Hustle. Don't be fooled by the iconography of the album art: white dude, 10-gallon hat and Nudie Suit. Nichols' sound is funkier. It's blue-eyed soul, peppered with dub, reggae and modern day hip-hop references.
African rhythms of Mali guitarist Ali Farka Toure are weaved tightly into the fabric of Country Hustle. Album opener "Come See Me," a circular rhythm as comforting as gently lapping waves against a fishing boat out on the Amalfi Coast, is a prime example. On first listen, the title could be mistaken for an invitation to "come sailing." On closer listen, it is "come see me" and the low-slung groove indicates a booty call. As Nichols drawls: "It's true I spend most of my time/ Alone here in the hills/ Every now and then I find an empty nest/ That only you can fill."
Chatting with Nichols on the phone, from his farm home in Wales, he greets you with none other than a British accent.
"I have now lived in England longer than I have in America," he says, laughing. "It's a terrible situation. [The accent] comes and goes. Whenever I go back to visit my dad, in Missouri, he always goes through this terrible kind of theatre: 'Well, I can't understand a darn thing you're saying,'" Nichols mimics in a Southern drawl.
Nichols has lived in the Welsh countryside for more than a decade. Country Hustle, which was released on March 29 in the U.S., is his 11th LP. Apart from recording music, he is also a published novelist, poet and artist. He did his own album artwork for Country Hustle.
"That's All I Want" stays true to the blues tradition of Skip Johnson but it has echoes the work of hip-hop producer Madlib, who is known for his jazz references and spacey effects. Nichols takes from the Mississippi and places it on Mars while retaining the storytelling's dark Nick Cave-edge. In "Long Live The Loser Pt 1 and 2," Nichols experiments with an abrupt change mid-song the way Kendrick Lamar did on "How To Pimp A Butterfly," then segueways into a whole different song.
Born in Wyoming, Nichols, is no ordinary cowboy. He has a deep love for the country music that he grew up listening to on local radio. Tony Jo White ("Polk Salad Annie" and "Rainy Night In Georgia") is one of his biggest musical heroes. But the bluegrass he has sung for more than two decades, is tinged with dub, soul and hip-hop.
"When I'm in my studio doing woodblock printing or painting, the music I have on more often is hip-hop: Erykah Badu, Shafiq Husayn of Sa Ra, Kendrick Lamar," he says.
Nichols first fell in love with hip-hop when he arrived in New York to attend art school in 1979. He had seen The Sex Pistols back in Austin, was excited about punk and looking forward to being immersed in the scene.
"By 1979, punk was all over," he laughs. "New York never really understood punk, anyway. There was this new thing happening; hip-hop. I would go to the Bronx. Go to block shows. I had seen Afrika Bambaataa several times. Early crews like the Treacherous three and Funky 4 + 1; I loved all that."
The first recording he ever made was a rap song called "I'm A Country Boy." "In 1980, hip-hop and country didn't seem like a stretch to me," he adds. "It was all music that you could dance to, there was a kinetic, forward energy about them."
Both genres also centered around storytelling. "If you go back to Hank Williams singing 'Jambalaya,' it's slightly silly but it's very wordy and you want to follow the story," he says. "And then, there's also that feeling of excitement that is carried in the song; hip-hop used to have that."
Nichols feels that hip-hop today is overrun with themes of power, money and the business.
"I wanted to make a record like the inside of my head," he says. "Kendrick Lamar's "King Kunta" or "The Healer" by Erykah Badu; that is the hip-hop culture that I love. A well-rounded culture of art, graffiti, dance, community and a way of seeing the world. I think Jay Z is a good MC but I'm not interested in his music; it's about power and money. That old Western capitalist notion of domination."
Nichols hearkens back to his early days in New York, when it was easy to meet like-minded folks in clubs like Pier 3, Paradise Garage, the Mudd Club and later, Danceteria. At the latter, he spent time with Neneh Cherry and Ari Up of U.K. punk band The Slits. Then he moved to London and lived with them.
His musical education would continue in London, where they all lived in a squat with influential dub producer Adrian Sherwood. It was part of an '80s scene that included a pre-Sugarcubes Bjork and Minor Threat's Ian Mackeye. Members of The Clash and Sex Pistols attended Sherwood's popular dub parties. Sherwood was a huge proponent of cross-pollination in music. He would go on to collaborate with the likes of Depeche Mode, Sinead O'Connor, Primal Scream and Nine Inch Nails, and inspired Nichols to start his own band, Fellow Travellers, with his wife, Loraine Morley.
"Adrian is still one of my closest friends," Nichols says. The thing that has stayed with me from that time is not so much the music; though there was a lot of good music. It was that notion that we don't have an allegiance to a specific genre. Do what you need to do in music. If you are in a country band and you listen to reggae or hip-hop, then do that!"
Follow Celine Teo-Blockey at Twitter.com/CelineT_Blockey and Instagram.com/celineteoblockey.