Kamasi Washington ready to dream it all up again
Tenor saxophonist Kamasi Washington does not believe in the words that describe music. Sitting on a brown sofa backstage at Outside Lands, facing a journalist sitting on a slightly different brown sofa, he draws a comparison:
"I could say, 'That's a brown couch.'" The imposing figure with the smooth voice and genial demeanor points to his own sofa. Then he raises a finger to the other. "I could call that one a 'sofa,' but that doesn't make them different things."
Washington isn't talking about furniture. His band was the only jazz act on the festival's massive lineup. The day before his set, French-Cuban sisters Ibeyi played in Golden Gate Park. Their band was the only one that could be interpreted as being in the "world music" genre.
"There's a connection to what we do and what [Ibeyi] does, and between what we do and what Major Lazer does," Washington said. "All this music is related. All these genres, these words we use to categorize them, are just words. They don't really separate the music. We're coming to a good time in music, where we are taking away those separations and letting people experience all this stuff together [at festivals]."
Washington may be a jazz musician, but his experience defies categorization. He came to forefront of the national consciousness for the first time as a contributor on Kendrick Lamar's groundbreaking, Grammy-winning 2015 album To Pimp a Butterfly. Prior to that, he collaborated with Lauryn Hill, Nas, Snoop Dogg, Chaka Khan, Flying Lotus, Thundercat and Raphael Saadiq, along with jazz greats such as Wayne Shorter, Herbie Hancock, Horace Tapscott, Gerald Wilson and George Duke.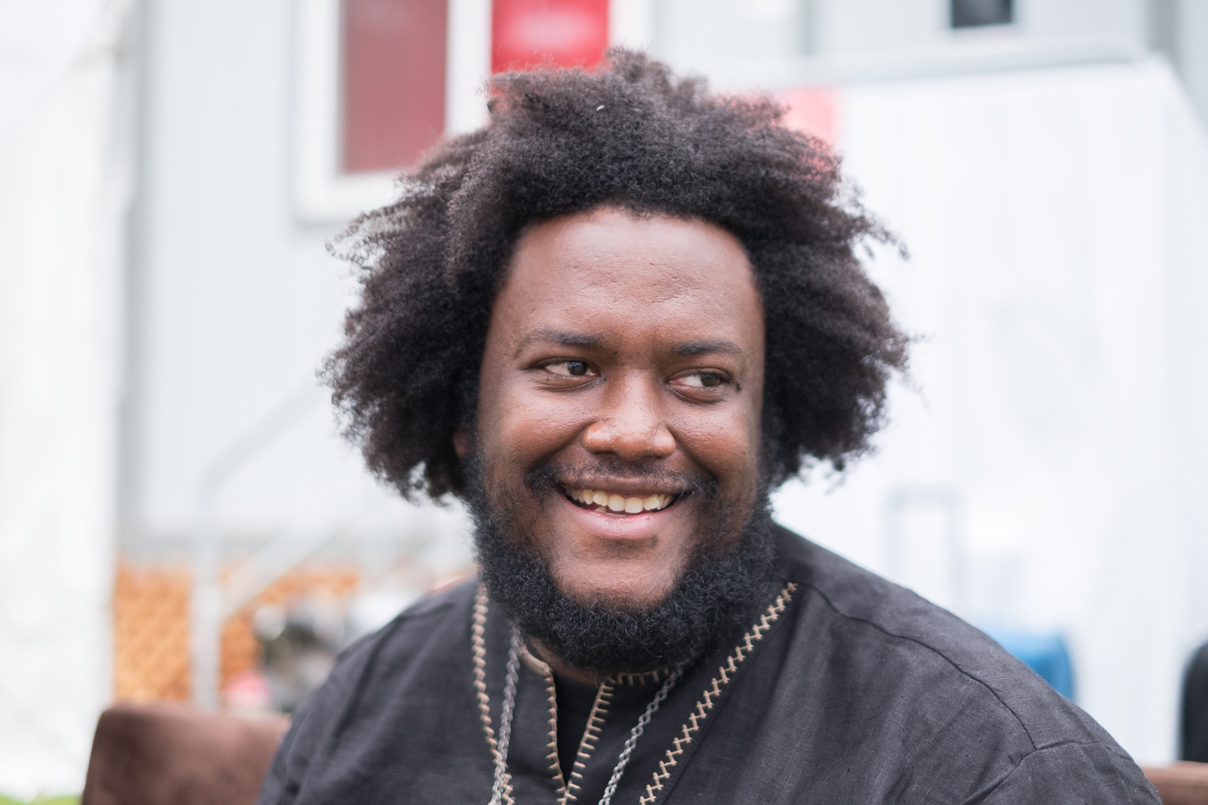 His critically acclaimed 172-minute triple album The Epic, followed the Lamar record by just a few months, but eschewed hip hop entirely. Instead, it turned Washington into the biggest living jazz musician in America. It's widely viewed as his debut album, but he has self-released other works in 2005, 2007 and 2008.
Q: Esquire labelled you the savior of jazz. Is it anyone's job to save jazz?
A: I think the music of jazz is spread so far that it's everywhere and people don't really realize it. They realized it on Kendrick's record, but it's been on Snoop's records, it's been on Nas.' It's been on all types of records that you listen to. The idea of 'jazz' has been in a bit of a slump. People … becoming more open to it is a really cool thing. It kinda forces you open in a way, and makes you kinda think about things in a different way. The idea of jazz being a cool thing is great. Because it hasn't been considered a cool thing for a long time. [It's] either something that is special for a very small select few people, or something that's over their heads.
The saxophone wasn't even his first, second or third instrument.
The 35-year-old's parents are both musicians. Washington was raised on jazz in Inglewood, the second of three sons. His mother, Valerie, plays flute, while his father was a professional saxophonist, who toured with his own group and worked with the Temptations, Diana Ross and Earth Wind & Fire.
"When my older brother was born, he stopped touring," Washington said. "By the time I was around, he was basically teaching. He wasn't going on the road anymore. But he was remarkable when he was younger."
Two hours later, Washington would invite his father, Rickey, on stage to perform with his band. His mother also was in town. The two celebrated her birthday the previous evening by going out to dinner.
"My mom, she would probably tip the whole stage over if I told her to come up," he said. "She would get real mad."
Washington's first instrument was the drums, which he started learning when he was 3 years old. He later switched to piano and, when he was 9, the clarinet. By that point, he knew he wanted to play saxophone, but his dad made him jump through a few hoops first.
"He grew up in the '70s, where if you were a saxophone player, you had to be a double," he said. "So that meant you had to play saxophone and at least flute or clarinet. Clarinet is the most difficult of the three, so he started me off on clarinet because he knew that it's easier to learn the hard instrument first and then go to easier instruments."
Until he took jazz seriously, he stayed a clarinet player. Despite jazz being with him from the beginning, Washington's first love was hip hop. He wanted to fit in with his friends by listening to what they were listening to. West Coast gangster rap was his sweet spot.
After finding out that Washington played clarinet, a cool cousin, who used to be a rapper, told Washington that he used to play the trumpet. The cousin introduced him to his dad's record collection, including Lee Morgan and Art Blakey. Eleven-year-old Kamasi was finally interested in jazz, and helped his own friends get into the genre.
"When I got into jazz, I started to get a more personal relationship with music," he said.
The only problem was that whenever he tried to replicate the songs of his favorite saxophonist, Wayne Shorter, on the clarinet, it didn't sound the same. Although Rickey Washington wouldn't let his son learn the saxophone until he mastered the clarinet, the son found a workaround. When his father left the saxophone out one day, he learned how to play Shorter's "Sleeping Dancer Sleep On" and ran to his father to show him.
He was in the eighth grade at the time. When he entered a prestigious Los Angeles arts high school the following year, he was still in his first full year of learning the instruments. By his sophomore year, he was lead tenor saxophonist in the school's jazz band.
"If you were one of the best musicians, it was a bit like being the star football player," he said. "Everybody has a concert in front of the whole school, and if you were one of the more talented kids, it was a little bit of a big deal."
By this time, he was already friends with the musicians with whom he's been playing ever since. The sons of his father's friend Ronald Bruner — drummer Ronald Bruner, Jr. and Stephen Bruner (who makes music as Thundercat) — were friends since all were toddlers. Keyboardist Brandon Coleman, drummer Tony Austin, trombonist Ryan Porter, bassist Miles Mosley and pianist Cameron Graves joined up in middle and high school. The band at Outside Lands included vocalist Patrice Quinn, pianist Jamael Dean and drummer Robert Miller.
While studying at UCLA, Washington got his first professional break. One of his professors, big band musician Gerald Wilson, invited him to record with his band. Shortly after college, a mutual contact put him in touch with Snoop Dogg, who was impressed with the young musician and took him on tour as part of a horn section. He would go on to join Flying Lotus's Brainfeeder label (which released The Epic). Other collaborations followed.
Today, Washington cannot pick his favorite because he got something different from all of them. He credits Wilson as a teacher, Snoop Dogg as the first touring experience and Kendrick Lamar for involving him in a "historical landmark."
"It's almost like, 'What's your favorite ingredient in gumbo?'" he says. "It's the combination of all of them that really makes it what is. It makes me what I am."
The Epic story has been told many times. Washington and his bandmates, calling themselves the West Coast Get Down, entered the studio just before 2012. Working long days, they recorded 190 songs, split between a handful of projects. Of those, 45 were Washington's.
Q: How much did Inglewood's gang culture affect you growing up?
A: Growing up in South Central L.A., the gang culture is in there, but there's more to that. The real reality is that … people who are actually in gangs … are really the minority in that community. But they get so much attention, that as a kid, you think everybody's a gangsta. So you think, "Oh, I gotta be a gangsta, too." And then you get a little older and you start to realize, "Most of my neighbors are really cool." This guy's a historian, this guy's a teacher, that guy's gonna be a doctor or lawyer. You realize that the community that you live in is very diverse. I found a place called Leimert Park [and] I realized that the cultural, musical center of L.A. is in my neighborhood, with all the musicians, poets and writers. They all come here to hang out. So the gang culture, when I was really young, was very prominent because I saw myself as being a part of that. And then when I got a little older, the gang culture became really insignificant to me.
"I was originally trying to make a single disc … but I did have a vision for what I wanted the album to be," he said. "I wanted to represent who I am and who the musicians I'm playing with are. When I got to putting the album together, I realized it needs all of this to be that. That's when it turned into 172 minutes. This is the complete statement."
The turning point came after he recorded "Change of the Guard," and decided it had to be on the album no matter what. Afterward, he had his now-famous dream about warriors living in a village below a mountain. Their goal was to overcome and kill the guard protecting a gate at the top of the mountain. Only the final warrior succeeded. Washington interpreted the guard as the protector of music and the final warrior as the bearer of new music. Hence, "Change of the Guard."
"With the other 16 songs, I was forcing myself to extend this dream," he said.
Since the album is largely absent of lyrics, Washington plans to write a companion graphic novel this fall. He's also started working on a follow-up album. Hundreds of songs are already written, and he and his band have gone in a different music direction inspired by his travels and growth as a musician and a human being.
Are any of them inspired by dreams?
"Ha! The music incites the dream, which then tells me what to do with the music," he says. "I dream all the time, and the music is in the dreams."
Follow Roman Gokhman at Twitter.com/RomiTheWriter and RomiTheWriter.Tumblr.com.