Introducing Meg Mac: Aussie chanteuse hits the high notes on Low Blows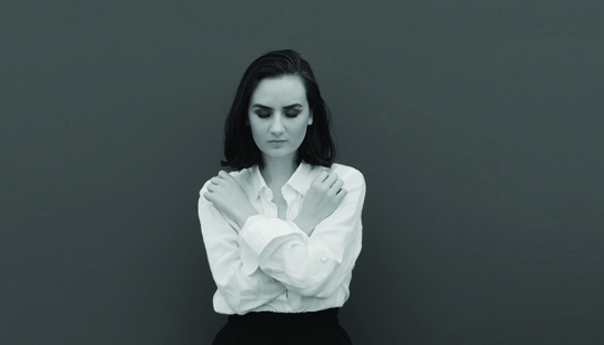 Four years after recording her very first single ("Known Better"), Australia's Meg Mac is gearing up for Friday's U.S. release of her debut album, the soulful and emotive Low Blows. Twenty-seven-year-old singer-songwriter Megan McInerney says the experience of recording 10 new tracks was certainly different than what she's done in the past.
Low Blows
Meg Mac
July 14
"I had been releasing songs just one by one, seeing how it'd go. I hadn't spent too much time in studios, working," Mac explains. "So this was a big experience for me, going overseas and making the album."
Mac says it took one visit to Fort Worth and a day with the Niles City Sound crew to know that was where she wanted to make her album.
"The studio and the guys, the feeling of the place—everything seemed right," she says.
She describes stepping into the studio as "like going back in time." It's loaded with original and vintage equipment, from tape machines to microphones. Being in there, Mac says, made her want to make music.
"That had a big effect on the sound of the album. We tried to make a real and simple-sounding album, so you could feel it when you listened," she says.
Low Blows' sound is so "real," you may even hear a few mistakes while listening. Mac says she and the crew actively discussed those and chose not to over-edit, leaving the songs naturally imperfect.
"If the feeling of that take was right, but there was a mistake or I missed a note, then it's more important for me to go for the feeling," Mac says. "It's natural, it's like life. The imperfections are how you know it's real and that I mean what I sing."
Rare mistakes are not the only clue, however. Mac infuses her songs with soul and emotion. When she unleashes the power of her voice, she verges on Adele territory.
The highlight of Low Blows is the self-love anthem "Don't Need Permission," calling on the listener to have the strength to own yourself. A powerful and inspiring message told with layered harmonies, the song is a call to action. "Gotta be selfish/ Take it or leave it/ It's my decision/ I don't need permission/ To be myself," belts Mac.
As strong as she is on "Don't Need Permission," Mac displays true vulnerability on her most recent single, "Maybe It's My First Time." Trying to move past something, while reliving the pain over and over, Mac leans on her trademark piano as she tries "cruising off this last time" and leaving hurt feelings behind.
The album's title track is raw and authentic. "That's when I don't like it/ But I can't leave anything alone/ And I won't say no/ Even when I wanna," Mac sings.
"I wrote ['Low Blows'] on piano in my bedroom in Melbourne," she describes. "It was at a time when I was looking back and thinking about how things would be different if I worked out how to speak up and stand up for myself. I go quiet in uncomfortable situations and have to figure it out later."
Shot on Mac's iPhone during the recording process at Niles City, the video for "Low Blows" has moments reminiscent of Audrey Hepburn's Princess Anne from Roman Holiday. Highlights include candid moments when Mac is caught singing along with her song, looking mildly embarrassed when she realizes the camera is focused on her.
"I was just filming everything for myself, I had no idea that it would turn into a video for 'Low Blows,'" Mac says. "I think it works because the studio had such a great atmosphere and people should see that."
Above all the others, she says there's one song on Low Blows she wants everyone to hear: "Shiny Bright," which Mac calls "the essence of the album and me."
"I think most of all I wanted to make a simple album. I wanted it to feel like and sound like I was singing my songs to you, like you were with me in the studio and I was singing to you," Mac says.
The Aussie chanteuse fulfills her goal on Low Blows, providing the raw and intimate album for which she aimed.
Follow journalist Brandi Smith on Twitter, Facebook and BrandiSmith.me.