Micropixie: the extraordinary evolution of an alien activist
Neshma Friend has lived in many places and undergone many transformations, but her Micropixie persona has proven to be far more than a mere alias. Describing herself as "your favorite alien with extraordinary abilities," the San Francisco artist will complete a trilogy of psychedelic avant-soul concept albums this March with Dark Sight of the Moon. Her newest single, "New Year's Day," provides a peek into her "dream album," and represents a pivotal shift in her songwriting approach.
"Generally I'm very explicit with my lyrics," said the Brittish-Indian musician, pointing to "My Beige Foot" and "Testosteronica" as direct appraisals of racism and misogyny. "It's very clear what I'm talking about.
"On 'New Year's Day,' I didn't want to be extremely clear," Micropixie said. "I focused on the lyrics more like poetry, trying to find the words that sounded the best. I went back and rewrote numerous phrases. It touches on immigration, xenophobia, capitalism, consumerism and the new-age philosophies I encountered when I came to San Francisco."
The visual accompaniment is equally perplexing at first, chock-full of psychedelic imagery and clever editing. Editing played a crucial role, as the footage Friend used was originally recorded for two other projects.
The stop-motion scenes were captured one-and-a-half years ago after she decided to finally realize her long-held desire of using the "Wall of Circles" in her living room for a stop-motion sequence. During the same two evenings, the scenes of her friend Palak Shah on the couch were recorded for a short film project, Coins Into Cash. It wasn't until the beginning of 2017 that the last ingredients were added.
"My close friend Ed Cornelius and I were in Mexico City for Christmas and New Years during a rather sad time," Micropixie said. "My father and both of Ed's parents had died that year. Since we were both alone for the holidays, I suggested we take a creative retreat. We ended up shooting a lot of footage, as well as the photo for the album cover."
After recording "New Year's Day," she began to see how her reserve of footage complemented her song. From bittersweet moods to stoic political imagery, she was able to use the past to enhance her somber timbre and provocative lyrics.
The single was also the first song she worked on with lauded Spanish producer Paco Serén of  Los Piratas, with whom she made Dark Sight of the Moon. Her relationship with him spans back almost a decade.
"About eight or nine years ago, Paco found me on Myspace, wanting to collaborate," Micropixie said. "I thought, 'oh my gosh, is this another creepy guy on the internet?' I've had a lot of bad experiences like that, so I didn't respond to him for a year."
"[

Jeff Crerie]

 said [my] lyrics could be a speech at the United Nations. Come on everyone! Let's stop vilifying people who need to immigrate, and what's all this bullshit about judging people for the color of their skin?"
Micropixie
Serén finally convinced her to respond after sending three pieces of music to her that blew her away.
"I immediately started thinking of melodies and lyrics," she said. "And we tried to work together through cyberspace for two years."
Internet collaboration proved easier said than done. Beyond having to resort to Serén's wife translating their Skype conversations—"my Spanish was worse than his English"—her musical ventures were obscured as she was compelled to join the San Francisco housing justice movement in 2016. Micropixie eventually she suggested that she come to Serén in his hometown in Galicia, Spain to start her album.
"He couldn't imagine that I would uproot from my life in S.F.," she said. "But I really loved his music, and I knew that the best way to collaborate with someone is face to face."
Language barriers notwithstanding, their joint efforts yielded the most unlikely results—like using a 10-second scratch dub vinyl loop from a producer named Xavi Garcia to create "New Year's Day." Micropixie then had the idea to pitch-shift the same loop to come up with the chorus.
Friend is no stranger to relocating and traveling, having laid down roots in India, England and France over the course of her life. Her animated short "50 Shades of Beige" provides a summation of her conception in Mumbai and subsequent journeys to London, Paris and eventually, San Francisco. The short also encapsulates her sociopolitical outlook as somewhat of a national and cultural anomaly.
"[Jeff Crerie] said the lyrics could be a speech at the United Nations," Friend said. "Come on everyone! Let's stop vilifying people who need to immigrate., and what's all this bullshit about judging people for the color of their skin?"
Micropixie comes from this outside-looking-in perspective. Her extraterrestrial persona "doesn't understand human behavior… racism, sexism, misogyny, ableism, ageism.
"Micropixie is like a child in awe of Earth; 'What are you humans doing to this planet and to each other?'"
Micropixie's struggle to understand intolerance and bigotry mirrors Friend's experience with racism as it was perpetrated against her, her family and also within her community. It was this unwillingness to submit that drew her to music and art in the first place.
"I kept getting the message that it was wrong to question authority," Friend said. "When you're told that [what] you're thinking is strange, you find ways to get lost in your own world. I would just go off and 'be weird,' listening to music and reading books."
She points to Marvin Gaye's What's Going On and the formative Stevie Wonder records as some of the first music she remembered loving. She'd listen to the same album multiple times, letting it "enter her bloodstream." It's a far cry from the single-centered trends of modern music, and an early sign of her big-picture perspective on her expression.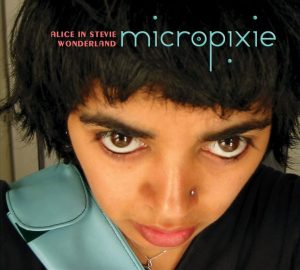 Long before she conceived of Micropixie as a musical outlet, Friend broadcasted her alien persona on the internet through a website of her own design. Though still a work in progress since the early 2000s, it has remained a hub for her graphic design and visual art. Longtime friend Jeff Crerie lent her a camera with which she took an accidental selfie that not only became her first album cover, but helped solidify the Micropixie alien concept.
Crerie, of progressive jazz outfit Neo Eon One, saw her creativity and suggested they make an album together.
"I thought he was crazy!" she said. "I said I didn't know how to sing or make music."
Friend had completely abandoned her musical endeavors; singing, violin and the harmonium. Coming from a poor immigrant family, she was dissuaded from artistic pursuits and, being of South-Asian descent, directed toward a science, technology, engineering and math education—something with bigger financial prospects.
"Everyone around me used to mock me for playing the violin [and being in the orchestra], as they saw it as something only posh people did," she said. "I lost my confidence and stopped playing music for quite some time."
She instead became a music listener.
With Crerie's encouragement and collaboration, Friend made Micropixie's 2005 debut LP, Alice in Stevie Wonderland. The experience gave her a newfound purpose, and a desire to move to San Francisco to pursue music.
The LP started what would become a triptych of albums, which continued seven years later with the release of The Good, the Beige & the Ugly. While its predecessor depicts Micropixie's arrival to earth, the sophomore release centers largely on the alien's discovery that she's a woman of color—and consequently the stigmas and disadvantages presented to her by society. But it is in the third chapter that Micropixie understands things as they really are.
Dark Sight of the Moon is a byproduct of the current political climate. She began writing the album a few months prior to the 2016 election, and the subsequent shock inspired her direction.
"I remember saying to myself, after the pussy-grabbing tapes came out, 'He's done. There's no way you can say things like that and become president,'" she said. Several of the songs on the record are an examination of the pathology Donald Trump represents.
"There's one song called "NPD," which stands for narcissistic personality disorder," she said. "It's Micropixie singing as if she was Donald Trump."
There are other tracks on the album too intense for her to speak on at length.
"If I start talking about my song 'Overlooked,' I'll start crying," she said. "It's about America's history with slavery, genocide and people not recognizing their privilege. I was in tears while I wrote it."
Though this might give the album a bleak exterior, its 15 tracks constitute Friend's most ambitious work. It marks her transition from electronica to electro-acoustic music. More than 25 musicians—including members of Thievery Corporation—contributed performances to the arrangements.
"I feel I channeled something much bigger than myself with this album," she said.
Her progression as a musician has coincided with her employment at Music Together of San Francisco, a children's music school, where she has worked for 10 years. But the job allows her the flexibility to travel and work on her music anywhere in the world. 
"I love my songs and want them to be heard," she said. "The thing that carries me through is that I really do believe in the message in these songs."
As the Dark Sight of the Moon album looks to kick Micropixie into high gear, Friend remains as invigorated, determined and artistically inspired as ever, seamlessly synthesizing her two identities—"school administrator by day, intergalactic pop tart by night."
Follow editor Max Heilman at Twitter.com/madmaxx1995 and Instagram.com/maxlikessound.