'New Wave: Dare To Be Different' chronicles new wave radio revolution
The history of rock and roll is a series of revolutions during which young insurgents dethrone the previous kings and queens who have grown fat and lazy. Chuck Berry unseated T-Bone Walker. The Beatles unseated Elvis. Nirvana unseated big hair metal.
The rebels in these revolutions are not always in bands. Label A&R guys, record store clerks, roadies and radio stations also have their roles. New Wave: Dare To Be Different, a new full-length documentary, chronicles the first salvo in a rebellion against corporate classic rock. The shot was fired by Denis McNamara, program director at a tiny station in Long Island called WLIR.
"We were little guys fighting in a giant friggin' war zone," McNamara said in a recent interview. "We knew that this little 3,000-watt station had to stand out from its competitors."
During the '70s, Long Islander Billy Joel played for WLIR's softball team, and the station featured a fairly standard rock format, with the occasional Frank Zappa tune thrown into the mix. Joel, a member of the old classic rock guard, coincidentally played right field for the station's baseball team at the time.
The changing market in the late '70s and licensing problems in the '80s forced the tiny station to seek out a market niche that would allow it to compete with much bigger stations in New York City. McNamara and WLIR shifted their focus from the big names of classic rock and toward smaller indie acts, some of which played locally at a dive bar in the Bowery called CBGB's—bands like The Talking Heads, The Ramones, Blondie and The B-52s. The station also discovered a new wave of independent acts hailing from the U.K., including Simple Minds, U2, Duran Duran, The Cure and Squeeze.
"I had music directors who would scour the local import stores," McNamara said. "We were lucky: New York had a lot of imported music. There was an import company that would import stuff for us from England, and some of my staff would go to the airport to meet the courier. I went to England a couple times—very low-budget—and I was treated like a king by the music industry there. Every one of these labels met with me and said they would support us and sent music to me."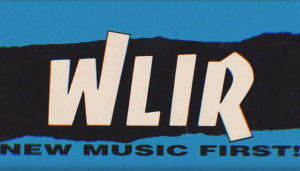 McNamara, who at first followed his love of music to an internship at WNEW, eventually became a sought-after producer for live performances that were recorded for broadcast on the radio later, including a notable concert by Bruce Springsteen during his Born to Run tour. McNamara landed at WLIR in 1975 and became the station's music director.
The antagonist in New Wave: Dare to be Different is the Federal Communications Commission, which reportedly hounded the tiny station for years with licensing issues using a variety of allegedly corrupt practices—often at the behest of the tiny station's much larger competitors, McNamara said.
"We were really living to make the best air sound because everything around us was a real drag," he said. "The FCC was going to take our license away. All our competitors were telling everybody we were going out of business. Even when we got successful, the money was being put into our legal defense in Washington to keep the station going. And there were all these groups trying to take over the station by challenging our license from the FCC, so there was a lot of dirty stuff going on."
Against this backdrop of regulatory conflict, New Wave: Dare to be Different focuses on the musical revolution WLIR helped spark as classic rock gave way to new wave. The documentary includes interviews with a bunch of artists who state unequivocally that WLIR was key to their success. These artists also offered their music for the film.
"Literally we grew our own farm club of artists … and to this day [they] still appreciate us for what we did," McNamara said.  
For director Ellen Goldfarb, the film, which was seven years of research in the making, was a labor of love. Goldfarb grew up listening to WLIR and witnessed the format change firsthand.
"I grew up on Long Island and WLIR was my favorite radio station," she said. "I went through the whole change with the station as it emerged. … They were always a progressive station that would play bands you wouldn't hear other places, and they would mix that in with Led Zeppelin and The Grateful Dead and bands like that. And then they started to pick up on some of the newer music like David Bowie and The Ramones; a lot of the CBGB bands. LIR was playing music that really no one else at the time was playing. When people heard about LIR they became intrigued and it became kind of like a secret club."
The insular music scene fostered a sense of community, not just through a shared interest in a new underground style of music, but through good old-fashioned analog interaction with their listeners.
"It was a very social thing. We interacted with our audience through the phones with requests, and voting, and also through the concert and club scenes," McNamara said. "So it was a much more human time for this tribe of music lovers to make this station the sort of nucleus for their lives."
One of the great things about Dare to be Different is the way the documentary features the tiny station's staff and its listeners' love of music. Music was a cornerstone in the staff's lives. McNamara said he is glad to see a new generation of young people pick up the cause.
"You know, there's a lot of great music out there now, but it's kinda hard to watch it grow because really everything's changed," he said. "Nothing is the same, and the movie represents a kind of an era that will never really be again."
The documentary's soundtrack, featuring bands like The Cure, Simple Minds, U2 and more, captures this love as well, still standing on its own, which the movie's makers said has an even bigger effect when it's heard through a theater's sound system.
Goldfarb's passion for the project grew out of her own sense of loss she still felt a quarter of a century after the station went off the air.
"I was intrigued by a bunch of Facebook pages that I ran across [with] a lot of fans that were still talking about this station that no longer exists … still grieving," she said. "I knew it had an impact on me, but I had no idea [of its larger impact on music fans]."
The film also serves as a eulogy for the station, which ultimately lost its battle with market and regulatory forces. It captures not only a time and place, but a mindset held by the station's staff and its listeners.
"There's never been a station like LIR again in New York in all these years, and this is the most important media market in the world," McNamara said.
Follow writer David Gill at Twitter.com/songotaku.