INTERVIEW: Noah Cyrus shares her sadness on 'Good Cry,' moves past hectic summer
The biggest, most heart-breaking break-up of Noah Cyrus' life is not the one the internet has been talking about for the past month. While a three-month celebrity romance crashed and burned in a storm of very public accusations over social media, it was a previous two-year relationship that influenced and inspired her debut EP, Good Cry.
Noah Cyrus
Maty Noyes
8 p.m., Saturday, Oct. 20
August Hall
Tickets: $25.
"I think when you're in a relationship with somebody, the way that I was for such a long time, you'll always love them," says Cyrus, the younger daughter of country artist Billy Rae and sister of pop idol Miley. "That's basically what the EP's about, and that's the truth. I was in a relationship with somebody who I will always be in love with. But, that's just life, you know?"
Noah Cyrus, 18, answers the call from a hotel in Baltimore. She released Good Cry a week earlier, celebrating by supposedly selling some of her tears for $12,000. It was a joke that riled up internet (more on that in a bit). Cyrus spent the night before her Baltimore show performing in Nashville.
"I literally just woke up because I've been like, so tired," she says. "Nashville was our hometown show, so we stayed up there and hung out with everyone there and it was amazing."
But more than anything, she is relishing being away from Los Angeles, which had created an insular, claustrophobic environment during the public break-up with Lil Xan, with very public accusations flying in front of everyone over social media. Even to Cyrus, who had grown up in front of the public's eyes as the sister of Miley Cyrus (and three other siblings: Trace, Braison and Christopher), the last few weeks have been a "hectic time."
Noah Cyrus is answering questions from the comfort of her hotel bed, with Maty Noyes, her friend and tourmate, beside her—"Hellooooooo!" Noyes teases.
"So I am so stoked to be on tour," adds Cyrus. "It's nice because my best friend opens up for me. She's awesome, and it's nice to be out on the road with a friend and someone that is incredibly talented."
Noah Cyrus has a great life, and she's extremely thankful for that. But there is something that the woman named one of Time's "30 Most Influential Teens in 2017" never had: a typical childhood.
"My ex-boyfriend [had] all of his friends … that he had known from elementary school. And they had grown all this time together. … And I remember that would make me sad. I was always saying, 'man, I wish I had met you guys sooner.' And, it was because I never got that. I never went to a school with the same people consistently. I didn't go from one elementary school, to the right middle school … to the same high school. I didn't go to the prom with my friends. I didn't skip class; I didn't have those times with my friends. Because, I didn't have those friends.
I wouldn't change what I have, because … I'm very grateful for the life that I have. I'm very grateful for all that has done for me. But I would say that I'm a little envious of the people that grew up with the same friends and still have them, and still have those inside jokes, and still remember that random person at a party in their first year of high school, you know? … Their memories are so vivid that they have with each other now. I'm so jealous of that all the time. And so, yeah, that was a really good question. I did feel like I missed out on the high school experience and the middle school, elementary school experience of making that group of friends that last you a lifetime.
Of course, I've made other great friends now. I have friends that'll last me a lifetime. I just haven't known them since I was a kid. We didn't grow up and develop together. It was just a different thing, and I was always envious of that."
Cyrus was 5 or 6 when her sister's show, Hannah Montana, became a hit. She has had some acting roles since then, including recurring roles on her sister's show. She also voiced the titular character of Ponyo in the 2008 English version of the anime film. The role included singing the theme song.
But it was not until three years ago, when she was 15, that she also took up songwriting. That's when she discovered the 2014 Ben Howard album I Forget Where We Were.
She would listen to the record over and over, marvelling at Howard's technicality and decided she wanted to make music like him—neither her sister nor her father were the inspiration, though of course she respects both.
"Really, Ben Howard was kind of one of the reasons why I started music; because of this album," she says. "I look him the way that I look at Alex Turner, the way that I look at Kanye, the way that I look at Bon Iver. I look at them as technical musicians. And that's somebody that can sit there and break down everything for you, note by note—all of this self-taught shit that I'll never know. I play piano, a little bit, but I don't play guitar; I don't play the drums.
"He carried so much weight with his words that even, just the guitar solo—no pun intended—could make me cry."
Noah Cyrus released a few songs starting in 2016, including collaborations with Marshmello, and XXXTentacion. By late last year, she had an album's worth of songs ready to go, but she decided to ditch the whole thing and start over. Cyrus says it's because she didn't feel personally connected to any of the songs anymore, even those she had penned herself.
This was toward the end of her two-year relationship; a time when she was especially down on herself. The songs, however, were happy and upbeat. It wasn't who she was at the time, and it's not who she is now.
"I just didn't feel like they were me, and I felt like they were who other people wanted me to be," she says, adding that she fits better into the subgenre of dark pop, not into the bubbly songs people were writing for her.
Noah Cyrus describes herself in the last three years of her life as "sad." She doesn't keep it bottled up, as her social media followers know. But she also talks to the people closest to her, including her mother, producer and director Tish Cyrus.
"So, that's what I wanted to make my music about. I want my fans to get to know me, and I wanted my fans to be able to relate to that," she says. "I'm not saying this is my lane forever, but for now, this is what I'm feeling in my heart. I just feel bad and I just wanted to make an EP about how sad I was, basically."
The songs on Good Cry came together at different points over the past year, during her previous relationship. Cyrus wrote "Mad at You," which features Gallant, during an argument. The song showcases her vocal range alongside a gospel-like choir. "No matter what you do, I can't be mad at you," she sings.
Cyrus wrote the title track at a particularly dark time. She says she was unable to mentally juggle and make sense of the relationship alongside her depression and anxiety. "Hopeless/ Feeling so hopeless/ Honey, I drink 'til I'm sick … I'm choking on my bad vibe," she lays out.
The song represents the theme of the EP as a whole, she says.
"It's about relationship, it's about my inner demons," she says. "The EP isn't blaming anybody for my depression or anxiety. It's saying this is who I am."
The most uplifting, up-tempo song on the record is "Punches," which also carries dark undercurrents. Cyrus was living with her boyfriend at the time and wrote the song following a fight with her ex early this year, toward the very end of the relationship.
"I was like, 'I don't want this to happen, I don't want us to break up,'" she says. "'I'm gonna miss him so much. I'll take any of this arguing; anything, I'll do it.' Love beats you up all the time, you know? Like, 'I'll do it for this relationship.'"
She says writing and recording the song was the first time she had cried in the middle of a session.
When it came to recording "Punches," after the song was fully written, she turned to her friend LP, herself an accomplished songwriter.
"LP and I are just homies. I FaceTimed her one day," she says. "I remember her driving with her earplugs in. … I'm like, 'Hey girl, can you get on this record?' She's like, 'Send it to me!' Then five seconds later, she's like, 'I'm recording it this Saturday!'"
The most important song on the record to Cyrus is "Topanga," in which she details the dissolution of the previous relationship over a sparsely strummed acoustic guitar and cricket chirps: "I don't drive Topanga anymore/ 'Cause it reminds me of you smoking and singing love songs in the car/ Like we always used to."
"It is word by word; if you wanna know about it, you listen to 'Topanga,'" she says.
Noah Cyrus spent a month on the road last year, opening arena shows for Katy Perry, and has travelled extensively with her family. But her Good Crytour is the first time she's playing to fans who want to hear her songs, exclusively. For the first time, she's seeing fans sing all her songs word-for-word, rather than just the radio single.
She also had some fun with the promotion leading up to the release of the record, including a partnership with hip L.A. clothing brand PizzaSlime to sell some unique merchandise. There was an assortment of hoodies and sweats with the words "Noah Cyrus sucks" emblazoned on them, a "Noah Cyrus tears" mug, and a shirt with her father's face, covered in tattoos.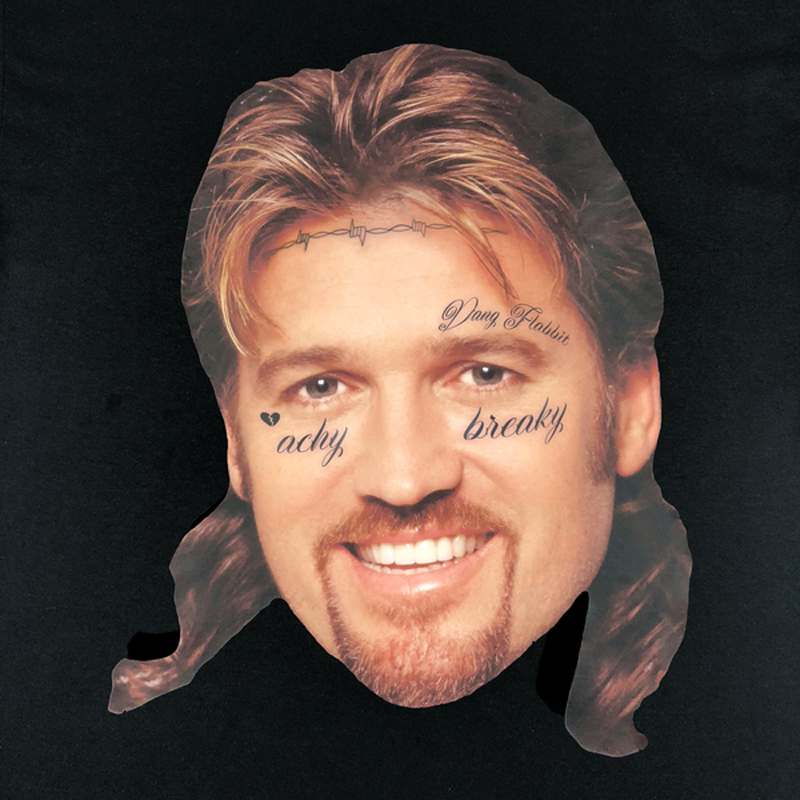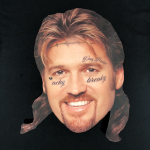 "I love my dad so much, so all I wanted to do was make merch with my dad's face on it," she explains, laughing. "My favorite photo of my dad ever was the photo of him with a really long mullet, and he's smiling super hard."
She loves the photo so much, in fact, that she's had it plastered on her in-ear monitors at shows.
Rather than rest on her laurels, she decided she needed to take the image over the top, and slather it with tattoos in the vein of Post Malone. That's where the barbed wire idea came from. For the words, she chose two of the quotes for which her dad is best known: "achy breaky" and "dang flabbit."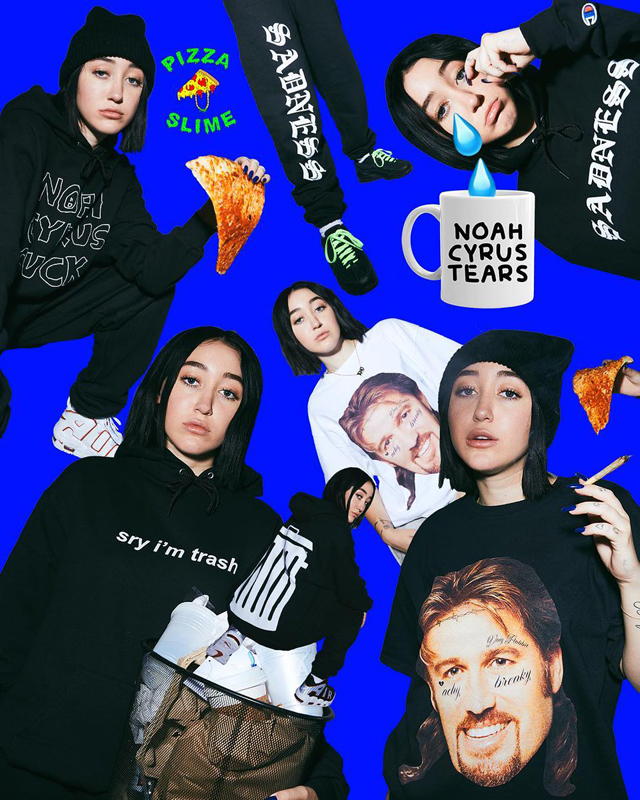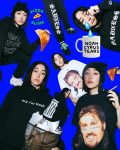 What does someone drink from a mug labeled "Noah Cyrus tears?" The assumption might be: Noah Cyrus tears. So for two days, PizzaSlime was selling vials her tears for $12,000; or, $1,000 per tear.
The internet went nuts, and yes, people started buying those vials. One fan went as far as to start a GoFundMe campaign that raised more than $1,000.
Cyrus is more than prepared to talk about those tears, which of course was a promotion for the album.
"Tears in the bottle; what we've all been waiting for," she says, chuckling. "Tears in a bottle was a joke. Anybody who bought the tears in the bottle was going to be refunded. There was no bottle I cried in, 'cause that'd be weird. … It was fun while it lasted, though. It was a fun 48 hours."
How does someone count out 12 tears, anyway?
"Exactly; 'one blink, two blinks,' like, you would just have to count your blinks and the tears that you drop. But no, I didn't do that."
Follow editor Roman Gokhman at Twitter.com/RomiTheWriter.