Noise Pop: Iman Europe in an Oakland state of mind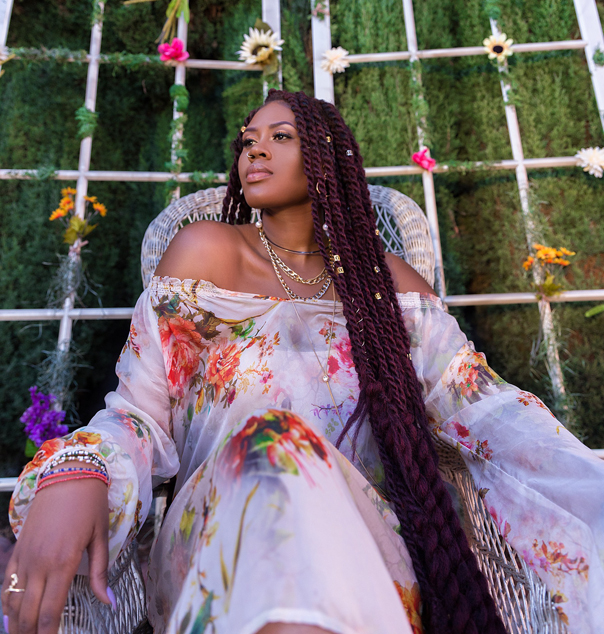 Iman Europe grew up with her mother's side of the family in Los Angeles and spends time in New York, where she was born and where her father's side of the family calls home. Still, if you ask the singer-songwriter and rapper about her favorite place to call home, she'll talk about Oakland, where she briefly lived in 2015.
Caleborate
Iman Europe, Cash Campain, Yeek
8:30 p.m., Thursday
Cornerstone Berkeley
Tickets: $18.
"New York is so gritty and straightforward and blunt, and L.A. … is pretty, and it's nice—it's an adjustment to get used to," said Europe, who returns to the East Bay this week to perform at the Noise Pop Music Festival. "I love my home, but at the time, I needed something to kind of wean me back into the West Coast."
Iman Europe chose Oakland because many of her closest friends live here, but ended up falling in love with her existence. She enjoyed going out with her friends, or always knowing that she would run into them at some point. The community comforted her and avoided what she refers to as the "cliquey-ness" of Los Angeles. And she loved the food, especially a taco truck on 14th Avenue/International Boulevard south of Lake Merritt: "That's a really fat-ass answer, but it's one of my favorite things to do," Europe said, laughing.
The area also influenced her music. She collaborated with Berkeley rapper Rexx Life Raj on his club track, "Lowkey Lovesong." And the city inspired her single, "Oakland." "I'm definitely moving back, eventually," she said.
Right now, Iman Europe calls Inglewood home. She moved to Los Angeles with her mother when she was 1. She took an interest in the piano when she was 7 years old, and by her teens, she knew she wanted to be a songwriter. That inspired her to study creative writing at U.C. Riverside.
"My mom always tells me the story about how I was 2, and listening to music, and I knew all of the sounds in the background that she hadn't even heard," Europe said. "And that's when she told my dad, 'We've got to get her in some music stuff because she's really good at this.'"
Her dad, himself a musician, got her listening to the great soul, jazz and blues singers, like Marvin Gaye and Al Green.
"I had the music part … but I wanted to learn more about writing. I love writing so much," she said.
Besides the likes of artists past, like Gaye and Green, Iman Europe has looked to Lauryn Hill, Erykah Badu and Andre 3000 as songwriting inspirations, and to the Notorious B.I.G. and Missy Elliot for hip-hop muses.
"He is just one of my favorite artists all the way around, all the way down to who he is as a human being," she said of Andre 3000. "I like that he's recluse. I like that he doesn't pressure himself to put all this stuff out. He did such a great thing in music and in art, period. … Same thing with Erykah Badu and most neo-soul artists, when you think about it. They all take their time, do something extremely special to contribute to the world, and then they go and live their lives."
Europe is constantly writing, and even many of her frequent blog posts carry a certain rhythm and swagger, with stories that are both personal and universally relatable such as in a recent post about the passing of a friend and mentor: "I've taken time for granted. I live like I'm entitled to. I treat people I love as if I'm sure to see them later, lacking appreciation for their presence, now. At the current moment, I have 153 unreturned voicemails. On one hand, I mean, who leaves voicemails anymore, bro? It's 2018. But on the other hand, why do I feel so comfortable delaying the people that I claim to care for?"
In school, Iman Europe studied prose, a type of poetry written in paragraph form. It still requires rhythm and imagery to work, but has a more comfortable flow. She uses that technique when writing songs, too, seeking out the rhythm in words to make sure they pair well together. Weather and location also play a role in the creation process, she said, and helps dictate the style in which Europe writes.
"When I'm in New York [usually in the winter], it's really cold … so I tend to rap," she said. "Here in California, it's beautiful every day, and it makes you want to sing, so it depends where I am in my spirit."
Last year, Iman Europe received a career boost when Tune-Yards paired her with producer TRAKGIRL for their female-led music series C.L.A.W. The song the two created, the smooth-but-skittering "Blessing," preceded an album, Nami, which was released in Japan and has performed well enough for Europe to tour in that country next month. A U.S. release is coming this spring, she said. The title, which is her first name spelled backward, is Europe's closest friends' nickname for her, and also has two other meanings.
"'Nami' means 'wave' in Japanese. That just kind of plays onto the sonic direction of the album," she said. "And it means 'us' in Polish. That plays to the thematic direction, because it's very relationship-based."
But until the album officially drops in the U.S., Europe has two Bay Area shows to which she's looking forward, including the Noise Pop gig next week in Berkeley.
"I still want to move back to Oakland; I'm still there in my mind," she said. "That's why I love going back for shows: because I have a reason to be there for a week and soak it up a little bit."
Follow Roman Gokhman at Twitter.com/RomiTheWriter and RomiTheWriter.Tumblr.com.