Interview: Pond comes down from a high on The Weather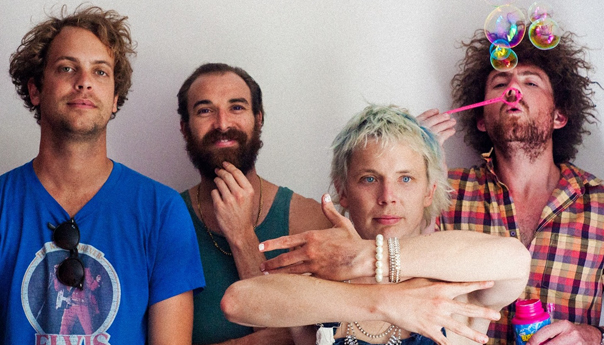 Pond has always been the spacier, looser offshoot to Australia's tight, psych-band juggernaut, Tame Impala. Its last six albums imbibed a goofy spirit as the band members shape-shifted through rock, minimalism and garage pop; all within the limitless expanse of psychedelia. Pond's upcoming seventh album, The Weather, bucks that trend. It is the sound of a band coming down from a high.
Pond, Kirin J Callinan
8 p.m., Tuesday, April 25
GAMH
Tickets: $19-$43.95.
Singer Nicholas Allbrook, who helms the outfit, agreed.
"There's not, like, a conscious bridling of the goofiness," he said during a call from Perth, the band's home base. "It's just the way things change [and] the sentiment of how we now feel: what moves us to actually create. It is something less giddy; more weighty."
On opening track "30,000 Megatons," he sings nihilistically: "We need 30,000 megatons/ Push the button now," seemingly calling for the destruction of the planet. It was written after a particularly bad day.
"I had stayed in bed all day so I can only imagine that I was feeling pretty flat and deflated; that's the only reason why I would stayed in bed like that," he said. "Australia is going through a weird time. We have fallen deep into Islamophobia and nationalistic sentiment right now. Prior to that we had the Tony Abbot period. [ed. note: Abbot was an unpopular president who supported far right policies and was ousted after only two years]. I guess, personally, I was feeling quite nihilistic, in a sort of throw-your-hands up kind of way. I was thinking 'What more can a poor boy do?' If the infrastructure is set up to destroy everything we all hold dear, and that is what we want, then let's just do it?"
It's a nihilism that is easy to understand given events going on around the world: Brexit, the rise of the far right in Europe, and abrupt shifts in national policies at home in America. "It's like a concave mirror. It makes everything more giant and bizarre," Allbrook said about similar sentiments felt around the world.
Pond has described The Weather as a concept album. It lays out all the dark things underneath the shimmery surface of a modern skyline filled with cranes, new development, money and white privilege. It is about Perth. And Australia. But it could easily be any modern state in the world or prosperous city in America. There is a seething underbelly.
The music video for "Sweep Me Off My Feet" juxtaposes images of a Shampoo ad-worthy, chiseled Adonis against an impish Allbrook, under the shower, all smeared mascara and nicotine-stained teeth. As he implores in his best Bowie on the chorus: "Someone sweep me off my feet," a Christ-like savior appears against the backdrop of a mosque. And the words "debt ceiling," is followed by Wall Street-office types laughing and doing the funky chicken.
The mood and tone of The Weather might be a break from previous Pond albums but the easy way with which the songs came together did not change. When all the songs were recorded, they were handed over to Kevin Parker, who produced.
"Like the other albums, the songs flowed quite easily," Allbrook said. "We just write all the time. In our own time. It's very habitual for us.  … We surround ourselves with good people so it makes the process easy. And people are very diplomatic."
Much has been made about the tight-knit group of friends, who remain close despite their competing projects. "Maybe we should start some beef with someone," Allbrook joked. "It could be a good publicity stunt."
Allbrook did, however, confound everyone when he made the decision to leave Tame Impala in mid-2013. It was at the peak of the band's growing popularity around the world, following the success of their sophomore LP Lonerism. He has talked in some detail about the rock and roll lifestyle and success being a bit too much for him.
"There's a lot of reasons why I left Tame Impala, none of which is directed at the dudes or any animosity towards them," he said. "I kind of got quite terrified of becoming this useless human being, this useless, rock-star touring musician-bassist—lauded by people I don't know, for music I didn't write.
"My arse was being wiped by others, willingly, more and more. I could see that this could come to an end at any time, and as a young man I would have never really done anything for myself. Kevin could decide to stop touring tomorrow and I would be an alcoholic who can't drive or work, and doesn't know his mother. I became paranoid and had to leave."
Allbrook moved to France and Melbourne for brief stints during the release of Pond's sixth album, Man it Feels Like Space Again. These days he is back in Perth, making it much easier to collaborate with friends on his solo projects, as well as with his Tame Impala cohorts for Pond.
"I know why I like Perth: all my music-making friends are here," he said. "Kevin and so many of the people I like are here. I also love the beaches. And there's just so much space."
Follow Celine Teo-Blockey at Twitter.com/CelineT_Blockey and Instagram.com/celineteoblockey.