Roni Size matters: The return of the drum and bass pioneer, Reprazent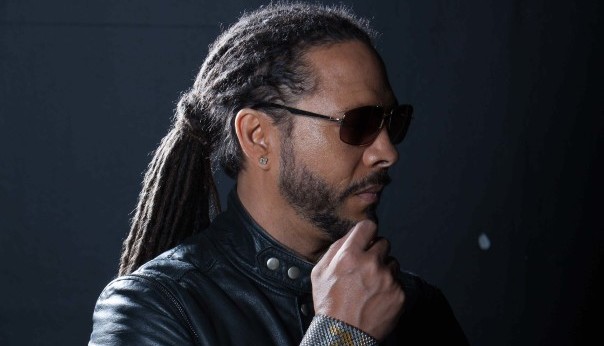 Bristol legend Roni Size brought his pioneering sound to the mainstream when New Forms, the debut album from Reprazent, his drum and bass collective, bested Radiohead's OK Computer to the Mercury Music Prize in 1997.  Size went on to collaborate Stateside with Method Man, Cypress Hill and Rage Against The Machine's Zack De La Rocha. But in 2009, he shuttered his influential drum and bass label, Full Cycle, and took a step away from the limelight.
Roni Size, The Stamina Crew
10 p.m., Friday
1015 Folsom
Tickets: $15.
Returning was one of life's hardest challenges, Size said  in a Skype call from his Bristol studio last week. He's back with a third Reprazent album and a tour that will see him land at 1015 Folsom Friday.
"My career has been like a parachute jump," he said. "You get on a plane, nervous, unsure if you're actually going to do it. When the time comes for you to jump out, you do it but aren't sure you're going to enjoy it. Free-falling, now, you're worried the parachute is not going to work. Then you pull the chord, it opens up and you get the most amazing feeling. … Then you land and immediately go, 'Let's do it again!'"
The Bristol sound system scene emerged in the '80s. The term "sound system" refers to both the musicians fusing Caribbean music with electronica and hip-hop, and the literal stacks of speakers that accompany the live performances. The genre has its roots in the city's Jamaican and reggae music crews, consisting of DJs, singers and huge stacks of speakers. The Wild Bunch, one of Bristol's most famous sound systems, was inspired by hip-hop and punk. That group, as well as the emerging rave culture, inspired Size.
With the success of his groundbreaking New Forms, which incorporated drums and bass into the genre, Size toured relentlessly for nearly a decade. As a result, he started to feel out of touch with the thriving scene he helped create back home, as well as his influential label, Full Cycle.
In 2008, Size finally took a break from his career to concentrate on family. After almost seven years out of the spotlight, Roni Size and Reprazent resurfaced in 2015 with headline slots at some of the biggest festivals across the U.K. and Europe. There was still a huge audience for live drum and bass.
Drum and bass came from the underground and because of this, Bristol insiders bristled at the audacity of Size's American collaborations. But Size has an inclusive mindset and seized on the unique opportunity. He helped spawn a U.S. drum and bass scene, which is still going strong today. The scene made his name recognizable, even if people could not name a Roni Size song. After 12 years apart, DJ Krust and Size are back together on the decks in America. They have also dusted off some classics and commissioned new remixes for their Full Cycle label.
Coming back was not without challenges, however. Size's four children were a motivating force in his decision to step away, but they were not the only ones pulling him away.
"You have to find yourself apart from music," he said. "Since 1985, it was music every day; for breakfast, lunch and dinner. Coming back is the hardest thing I've ever done. Getting the label back to where we had it before, that's going to take a lot of time. And we've also got Roni Size Reprazent. We're bringing that back to the table."
Size's ongoing contributions have not gone unnoticed. Earlier this year, he was awarded the Music Producers Guild Inspiration Award. Previous recipients include Damon Albarn, Nile Rogers and Sylvia Massy (Red Hot Chilli Peppers, Tool and Johnny Cash).
In the years Size was away, computer programs all but took over making electronic and beat-heavy music, allowing everyone to get that Bristol sound with the flick of a button. He said the new methods don't bother him.
"Back then, we got the hardware [which included Roland S550 and S760 Samplers, an Atari computer and Yamaha monitors] and manipulated these machines to get the sounds we wanted," he said. "Today, you have software programs on your computer: Bristol Bass, Bristol Drums and Bristol Sound. We get a lot of props for the sound we help create. And now you can string it up with no speakers!"
In the first decade of his drum and bass collective, Reprazent, archives were kept on floppy discs. Today, Size makes music on his laptop in his bedroom, too. However, when he gets disillusioned with the quality of the sound, he goes back to his old favorites. He picked up a VHS tape, flashing it in front of his laptop's camera. "Ruff Window" was scribbled on the label.
"This is what we used to make our music, and do our shows back then," he said. Then he picked up a large brick-sized hard drive and laughed. "And this is an old school drive."
Rolling his chair, he hunched down towards his beloved Roland S760 sampler with a big smile.
"This is all stuff that I still use," Size said. He still believes making music is about finding artistry and expression given all the tools at one's disposable. Yet, it is important to work within the confines of drum and bass and to push beyond its boundaries. For those getting into drum and bass today, Size advised: "Stay true to its jungle roots. Don't try to be pop or house. Or techno. You will sound too EDM."
Follow Celine Teo-Blockey at Twitter.com/CelineT_Blockey and Instagram.com/celineteoblockey.