Everything's coming up roses for Blossoms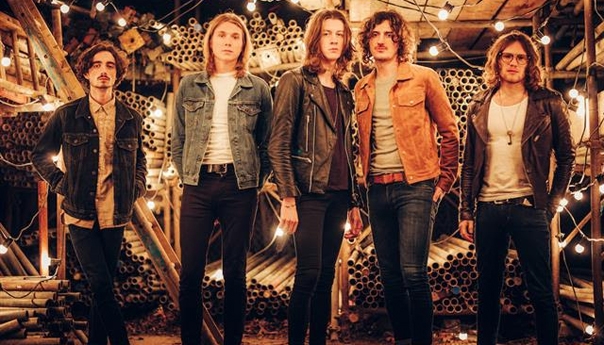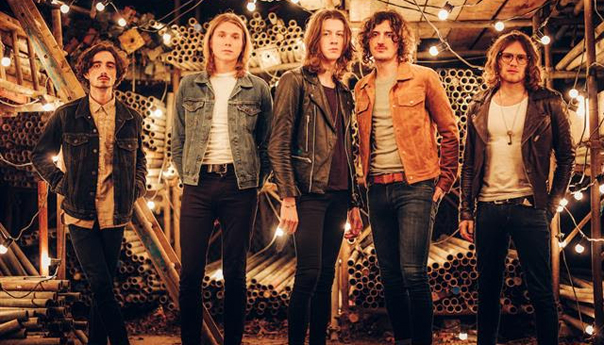 "It's been a crazy whirlwind of a year," beamed Tom Ogden, frontman of Manchester band Blossoms. "It's a nice feeling to have our album debut at No. 1 in the U.K."
Night Riots, Blossoms 
9 p.m., Friday, Sept. 14
Popscene at Rickshaw Stop
Tickets: $15.
Ogden was speaking about his quintet's self-titled album, which held on to the spot for two weeks. The only other album that has managed to achieve that feat in 2016 was Adele's colossal 25.
Currently on another sold-out U.K. headlining tour, they are also excited at the prospect of playing their album for American audiences this month.
A mere three years ago, the childhood friends—Ogden, Myles Kellock, Josh Dewhurst, Joe Donovan and Charlie Salt— were rehearsing in the scaffolding yard owned by Salt's grandfather.
They struck a chord with local audiences and were quickly selling out bigger venues, becoming Mancunian favorites with self-produced debut single "Blow." A bass-led slow-burner with shades of psychedelia that  equally summons the 13th Floor Elevators and Inspiral Carpets, it prompted rousing sing-a-longs at their live shows.
All still held day jobs at the time, but a gig opening for legendary Manchester band James in the summer of 2014 changed that. Blossoms landed a booking agent and manager after the show.
"That was the turning point," Ogden said. "We were booked on all these tours so we had to quit our day jobs."
They soon earned a major label contract, and last January, a place on the BBC Music Sound of 2016 List. Then Blossoms hit a massive setback when tragedy struck Viola Beach, whom they had handpicked to open for them on their U.K. tour.
On Feb. 13, all four members and their manager were killed when their car drove off a bridge in Sweden. Viola Beach and Blossoms had just said their goodbyes the week before, at a concert in the town of Leamington Spa.
Blossoms had the difficult task of figuring out how to cope with the loss of their friends as well as the effect on tour logistics. Should they cancel the tour? Would they book a new opening act? What is the right way forward?
"Yeah we had to deal with all those things but we couldn't cancel the show," said Ogden, his voice noticeably shaken. "And we didn't want to get another support band. We didn't want to just replace them. We had an audio recording of their set from the Leamington Spa gig and we just played that for the rest of the tour as a way to remember them, and their music.
"It wasn't a nice time. You expect the rest of the world to stop when something like that happens. But, of course, it doesn't."
As the world turned, Blossoms finished their tour and returned to Manchester.
Throughout the summer they remained hard at work, making more than 40 festival appearances and releasing an EP, At Most A Kiss. Just ahead of their debut LP, they released two new singles: Jangly guitar ballad "My Favorite Room" and the poppy-synth "Honey Sweet," each highlighting the two genres often seen at odds. The former is more indie rock and the latter their love for slick Top 40 synth-pop.
In addition to all the Britpop heroes as well as Northern bands such as The Stone Roses, Oasis and The Arctic Monkeys, Ogden cites Abba as one his favorite bands. Unlike some guitar bands, Blossoms have no qualms about being called "pop."
And it hasn't hurt their appeal one bit. Thanks to their working-class Northern roots, even their musical heroes have come out as fans. Some of them have played a key part in the band's success.
Their knack for songwriting and poppy, ear-worm melodies have endeared them to Ian Brown of The Stones Roses, Johnny Marr from The Smiths and James Skelly of The Coral. Brown personally invited Ogden to open for them at a recent Stone Roses show, nothing short of a dream come true for Blossoms.
Skelly signed them to his label, Skeleton Records, early and produced first single, "Charlemagne." The tune went to the top of the iTunes alternative charts. They have since signed to a major label but Skelly remained their producer on Blossoms and continues to be their sonic mentor. He even gifted Ogden the guitar on which the single "Blown Rose" was written.
Blossoms have lived their dream, touring with the likes of The Charlatans, playing pool with Pete Doherty of the Libertines, and finally meeting Alex Turner of the Arctic Monkeys who Ogden said has been most influential to him as a songwriter.
"(Turner) was just really sound," Ogden said, laughing. "We were all a bit star struck. We did three gigs in Dublin with [The Last Shadow Puppets] and by the end of it we were all backstage discussing Back To The Future 2 and having a right laugh. So you know it's all good."