INTERVIEW: Roxiny does music and activism her way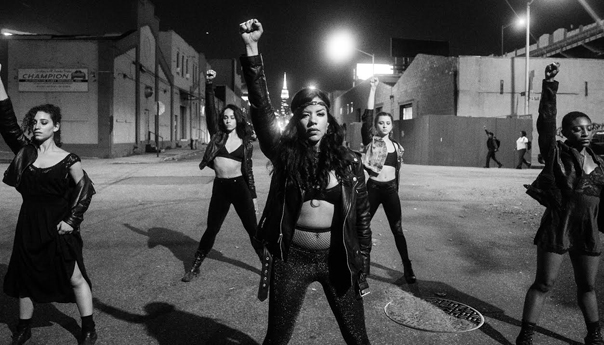 Roxiny does things her own way.
When she first arrived in the United States from the Dominican Republic to pursue a music career, she signed a deal with Sony but soon bought her way out of it.
"I think that they were looking for a Latin pop star; kind of this hypersexualized imagery and that whole bit," Roxiny said. "At the time I thought it was the worst experience of my life, but now that I look back on it I learned a lot from it—definitely about what I never wanted to do. So when I really started doing it on my own, the biggest thing that was most important to me was to be able to express myself in a way that was genuine and that I could stand by."
Now she makes the music she wants to create with influences as diverse as Dominican folkloric music and flamenco, Bauhaus, Misfits and Tina Turner. She has also worked with the likes of Sleigh Bells, Run The Jewels' Little Shalimar and TV on the Radio's Tunde Adebimpe.
"The first thing I learned how to sing was flamenco,"she said. "I hear it in my music, the way my voice goes melodically."
For her latest single, "The Lights," she even co-directed the video.
That control also lets her add her unashamedly feminist message to her music. "If I have an ability to bring attention to things that I feel are important through what I do, I want to do that," she said. "Obviously I'm very much a feminist—I want to trade that word for humanist because it's bizarre that we have to fight for equal rights for anything, but we're not there yet, so I'm a feminist.
"It's a natural evolution based on my life experiences. Most women would, I think, feel the same. I don't think there's one woman I've met that has never felt, at some point in their life, demeaned or harassed."
It's not just in the music; it's a part of who she is. In addition to spreading awareness, she walks the walk: For the past two and a half years, she's done music workshops for GEMS, an organization that helps girls and women who were exploited or affected by sex trafficking. Additionally, proceeds from her single "9 Months" go to a collection of organizations that she believes in.
While she's not new to activism, it's obviously more imperative to be involved now.
"A lot of people like this started with [Harvey] Weinstein, but I feel like this started with Trump," she said. "I think that a lot of women who saw this whole thing go down, and saw women come forward with these allegations, and still saw him become President. I think it stirred something up. It definitely did in me. I felt that, well, I guess we really aren't that important in this country."
But, though we are not even a year into the Trump administration, music doesn't seem to be taking that mantle like it did during previous periods of turmoil. Protest bands aren't popping up as fast as they did during, for example, the Vietnam era. She has a theory about that, and it goes back to her experience with a major label.
"Popular music and radio have become so diluted," Roxiny said. "I don't think stepping out of the box is encouraged much. Labels are very safe places. Meanwhile, TV has become the indie for Hollywood. I can't remember the last time I went to the movies; I watch series, I watch documentaries. All these networks have given us a gold mine of information and stories. We have access to so much because there's a platform that's quite large for independent filmmakers.
"Radio on the other hand, the popular music industry, it's very contained. It's very fear-based. They haven't figured out that you should invest in artists coming up; it's the same 10 artists over and over."
There are independent artists are making a statement, but they don't have the same, equal platform.
"There still isn't a bridge between where the major labels are and where the independent world is," Roxiny said. "TV and movies have that with cable networks and Netflix and things like that."
Even without that bridge, Roxiny's album Rituals—done her way—is due out in March.
Follow editor Daniel J. Willis at Twitter.com/BayAreaData.