INTERVIEW: Cailin Russo finds a 'House with a Pool,' home with her bandmates
SAN FRANCISCO — As the old adage goes, children end up trying to become the opposites of the parents. The father of Cailin Russo, Unwritten Law's Scott Russo, made punk music. Naturally, the daughter fell in love with soul and pop.
"He's taught me a lot [about] just being human, but that's just something that's subconsciously rubbed off or transferred through blood," said Russo, adding that her father has, for the most part, let her forge her own path. "You just have to keep moving [music] along and evolve. Watching him has taught me more so than anything him sitting me down and saying to me."
Cailin Russo, now 24, started as a model; her introduction to music was as Justin Bieber's love interest in one of his videos. When the music bug struck, she released pop and R&B songs as a solo artist before deciding last fall to start a band. That's how RUSSO was born.
Russo had already auditioned musicians for a backing band. But rather than stay a solo artist, her tastes shifted toward more aggressive power pop and indie rock music, and she'd clicked with spastic guitarist Tyler McCarthy, dynamic drummer Hayley Brownell and steady, brooding bassist Sean Ritchie. The musicians comprised the RUSSO lineup.
"I met such interesting musicians from the audition period," Russo said. "My friends are musicians, but I couldn't see us being in a band together."
The band released House with a Pool, an EP of sleek, major-chord dance pop songs over the summer.
Russo's bandmates had all previously been session musicians in the Los Angeles music scene. Ritchie, a Washingtonian, grew up in Vermont before moving to SoCal.
"Music was always the thing, so facilitating that meant moving to L.A. at a certain point," he said. "I played for-hire in bands."
Brownell is from Fresno and moved to Los Angeles for school, but she also had music on the mind. She freelanced with a few bands and artists before responding to Russo's audition call.
"I always wanted to do music; that was what was going to happen," she said.
Besides playing in bands all through school, McCarthy also has some acting credits to his name, making an appearance in Gilmore Girls and some commercials.
"There's a K-mart commercial where I'm walking to the school bus, and they're like, 'BRANDON JUST GOT A BRAND NEW BACKPACK!'" he said. "They gave me the backpack. That was pretty cool."
Cailin Russo's first job was modeling, after she got scouted when she was 16 and still in high school. She was writing songs for fun at the time, but didn't picture music as a realistic career path when she was offered an opportunity to get paid to travel the world and wear nice clothes.
"I was just really young and making money, so I thought, 'I'm just going to do this and not go to college,'" she said.
In 2013, she had a break after being cast in a lead role in the first of her two Justin Bieber videos, for "All That Matters." That seems like a lifetime ago for Russo, who still has fans asking her about the experience. It also gave her the acting bug. She hopes to act in film, with comedy being her genre of choice.
When the band was last in San Francisco, in early October, she was listening to an acting audiobook about envisioning realistic characters. Every actress wants to be a Meryl Streep, but very rarely gets those roles. Instead, her focus will be to make more common roles more interesting. She's used to getting the girl-next-door treatment.
"Blonde, light eyes, freakin', the dimples—when I walk into a room, I assume people don't think I have much of an edge," she said. "Then things kind of start to unwind. But I think, at first, glance, people will just be, like, 'She's pretty,' and that's it."
She's not bothered by the assumptions.
"I find myself really interesting, so I don't need validation from anyone else," she said.
Q&A
In what ways is modeling positive and encouraging to girls, and how much of it is negative and damaging?
Cailin Russo: The idea is so complex because of social media now. It's kind of sad because my relevance in whatever class goes up and down, and even though it shouldn't mean anything, it does have a strong connection to you. It's hard to answer how I feel about the modeling industry influencing young women. There's always going to be a battle with people thinking that it's wrong or right. Beauty standards are changing, and everything is a lot more diverse. Right now, it's really beautiful to watch because it's more so about embracing who you are rather than trying to be 6-foot and weigh 100 pounds. With social media, it's a little more complex just because there's editing and catfishing, and it's so easy to get swept up by it. … As far as that weight on the next generation, maybe they'll be like "fuck this shit." This millennial generation is very self-obsessed and self-conscious, I think, because of social media.
That determined confidence has carried over to RUSSO. Though the band didn't officially form until the beginning of 2018, you likely wouldn't be able to tell by seeing Russo and her bandmates perform. Ritchie holds the rhythm alongside Brownell, whose drum fills are never boring. McCarthy is a ball of loose electrical wires, seemingly on the fritz as he spins in circles, tilts his head back and smiles as wide as the Cheshire cat, and saunters head-first into the nearest wall—not stopping once he gets there.
And Russo plays up her confidence, singing with a jazzy tone with a voice like the texture of sand—not rough, but not your topical pop vocalist, either.
"I don't really, anymore, get nervous before we play," Ritchie said. "After you play a hundred shows, it goes away."
The band has already toured the U.S. three times in 2018. Russo is spending the rest of the year writing new songs for another EP she hopes the band can release in the first three months of 2019. She said she plans to work straight through the holidays to make that happen.
Unlike the ska- and new wave-infused songs on House with a Pool, the newer material has so far been slower and has more range between the highs and lows, she said.
Russo is not closing any doors to her other projects. The solo R&B-tinged songs she released in 2017 will still have a place and will "see the light of day in some capacity," she said. She's still interested in modeling and fashion in general. The latter lets her work in a similar creative outlet for her.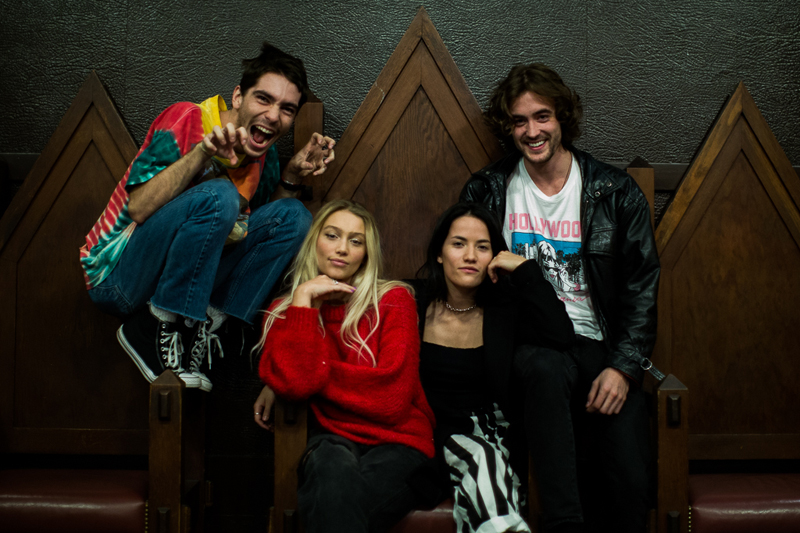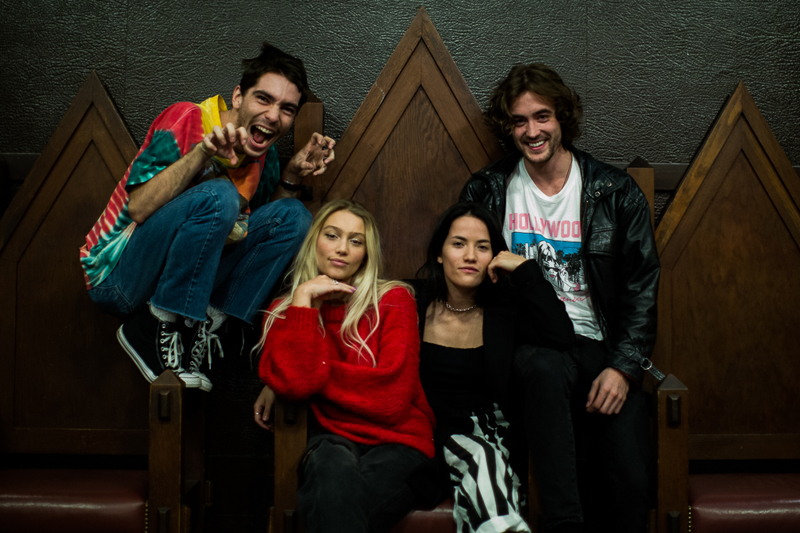 "Fashion and music go hand in hand in the sense that they both help identify feelings, and you as a person, but as far as modeling and being a singer, they're complete opposites," she said. "Being a singer you get to be yourself and address things the way you want, whereas being a model you're more like a canvas for someone else to paint."
Just don't expect her to overtly follow in the footsteps of her father. She has no urge to make or play punk, because he already did that.
"I wanted to be the complete opposite," she said. "That's how life goes, doesn't it? You don't want to be like your parents, and you're the exact same."
Follow editor Roman Gokhman at Twitter.com/RomiTheWriter. Follow photographer Joaquin Cabello at Instagram.com/joaquinxcabello.