Monique Powell and Save Ferris take care of unfinished business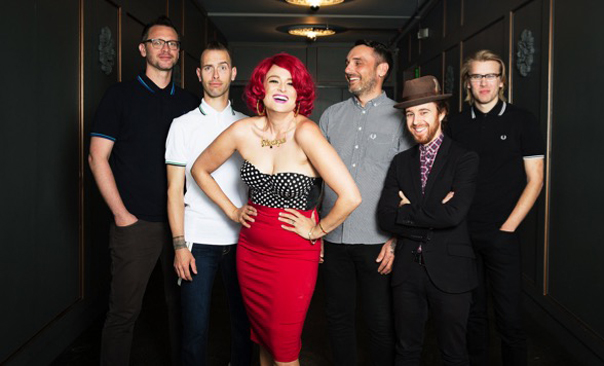 Monique Powell is back to take care of unfinished business with the release of Save Ferris' new EP, Checkered Past, and despite vitriol from naysayers and Internet trolls, the band has launched its first tour in almost two decades.
Save Ferris in concert
8:30 p.m., Wednesday,
March 22
The Catalyst in Santa Cruz
Tickets: $18-20.
9 p.m., Thursday, March 23
The Independent in San Francisco
Tickets: $20.
8:30 p.m., Thursday,
March 24
Harlow's Night Club in Sacramento
Tickets: SOLD OUT.
Save Ferris enjoyed widespread success in the late '90s with two singles from their platinum record, It Means Everything, reaching the Billboard Top 100, and an appearance in the cult classic film 10 Things I Hate About You. But their heyday came to a close with the millennium.
During a 17-year hiatus, Powell's bread and butter was largely studio work with acts like the Used, Goldfinger and Hillary Duff. But in 2012, she was diagnosed with a congenital spinal disorder that changed everything.
She had experienced chronic spinal pain from Save Ferris' early days, but she had never before been diagnosed or gotten treatment. In 2012, doctors told her that the damage was significant. The only treatment at that point, they said, was a procedure in which surgeons would make an incision through the front of her neck. There was one problem: The risks included the loss of her singing voice.
Unwilling to give up her signature voice, she sought a second opinion and ultimately found a surgeon willing to take a different approach. This was the catalyst for the reincarnation of Save Ferris.
"It gave me something to get well for," Powell said of re-launching the band.
Upon recovering from surgery in the spring of 2013, she reached out to former bandmates for a reunion show in Orange County, but Powell was met with radio silence until former members Bill Uechi, Eric Zamora, Brian Mashburn, Brian "Tbone Willy" Williams, Evan Kilbourne and Oliver Zavala collectively released a statement: "We have not authorized Monique Powell to perform under the name Save Ferris and the original and former Band members regret any confusion to our fans that may be caused as a result of any misleading statements by Ms. Powell."
Powell was hurt by the negative response, but in light of all that she'd recently been through, giving up was not an option
"I'm not a retaliatory person," she said. "I kept my side of the street clean. That was all I could do."
But as news of the Save Ferris re-launch spread, naysayers came out of the woodwork and multiplied like gremlins at a pool party. "Fake Ferris" websites were launched, and haters trolled the band's Facebook and event pages, trying to persuade people not to go to their shows or buy the new record.
"There were so many people saying I couldn't do it," she said. "They said I didn't know how to write and I never wrote any of the songs for Save Ferris, which isn't true."
When it came to sitting down and writing the new record, Powell initially felt a lot of writer's block, in part because she felt the weight of all that negativity and judgement on her shoulders.
"It was hard to start writing because I write from a place of positivity, and I was in a dark place at that time," she said. "I was taking on the role of victim, and I realized I didn't have to, I was putting myself in that role."
Ultimately it was writing "Golden Silence" that helped her break through her writer's block.
"'Golden Silence' gave me a voice and allowed me to express the anger I had inside," she said. "I've heard a saying: 'That which is repressed suppresses.' My anger was fully repressed until I wrote this song, and then a wall opened up, creatively."
The track is a manifesto aimed at her haters, and with lyrics like, "I hear the words but you're not really saying a thing … All you do is talk talk-talk-talk," and, "A woman scorned is a weapon armed," the cathartic value is readily apparent.
After "Golden Silence," the floodgates opened and Checkered Past's other four tracks soon followed. By September of 2016 Powell was in the studio recording the first Save Ferris record in 17 years.
During the recording of her favorite track, "Goodbye Brother," she was joined by one of her strongest supporters: her dad.
Powell's love of music and singing was fostered from a very young age by her father and his love of Elvis and Southern gospel. They often sang together at home, and later at karaoke bars, so it was only natural that he would lend his voice to the new record.
"It's really subtle, but I can hear it and it means a lot," she said of his voice on the track.
His contribution soon became all the more meaningful because shortly after the September recording he became seriously ill with prostate cancer. On Jan. 9, just a month before Checkered Past was released, he died.
The support of her new bandmates, family and especially her husband has buoyed her through much of the drama associated with the band's re-launch, including legal battles with former members. And with that in mind, her husband got a nod on the EP's first track "Anything," with the lyrics, "My cats think you're the shit."
She says that the line is 100-percent true, and while one cat, Ol' Blu, can be a bit jealous at times, his sister Miss Lelu Marie Tigersong, has claimed Powell's husband as her own.
Save Ferris' six-week tour finishes up at the end of March, but the band has no plans of fading back into obscurity. Powell has her sights set on a full-length release in the next year.
Follow reporter Julie Parker at Twitter.com/jpwhatsername.