Toronto's Seaway out to prove pop-punk is alive and kicking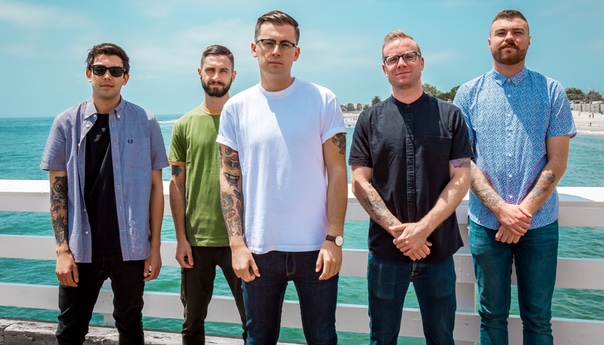 Even without taking Seaway's residence on Berkeley label Pure Noise into account, the Bay Area remains prominent to the band's history. The punk rock tradition of brazen attitude over airtight performances keep the Toronto band enthused about playing legendary San Francisco clubs.
"Playing Gillman was awesome, just because how historic that place is," Seaway guitarist Andrew Eichinger said. "It sounded terrible, but I had a smile on my face." 
Sum 41
Seaway
6:30 p.m., Friday, April. 27
The Warfield
Tickets: $27.50-$35.00
The band's return to San Francisco, playing The Warfield Friday, comes during a pivotal jump forward in the band members' careers. Still hot off the release of third full-length album Vacation in 2017, Seaway will be sharing the stage with a band who spearheaded Canadian pop-punk like no one else: Sum 41.
"Us being from Canada, Sum 41 was the band when we were kids," Eschinger said. "We know Tom [Thacker], who's also the singer and guitar player of Gob. … I'm excited to meet those guys and learn from them."
The 15-year gap between the two band's inceptions spotlights the lineage between Seaway and Sum 41, bridging the generation gap and proving the longevity of a genre both maligned and defended.
Alongside Blink-182, Sum 41 influenced a myriad of bands with a light-hearted aesthetic. Seaway, which includes guitarist Patrick Carleton, bassist Adam Shoji, singer Ryan Locke and drummer Ken Taylor, wears those influences on its collective sleeve, using punk rock energy to detail personal exploits instead of speaking truth to power. For Eschinger and friends, developing their music goes deeper than simply adding trendy bells and whistles—dialing back their production to preserve their visceral connection to their art.
"We started with a less-is-more approach, but we still ended up adding some production," said Eschinger, emphasizing the importance of making sure their songs translated naturally into a live setting. "That may not have been reflected on the last record. If you have three guitars going at the same time, you obviously can't play that live. With our current set, we only use backing tracks in our show now to cover some electronic drums and synths we can't recreate on stage."
While modern production value still manifests in its output, the band's decision to keep one foot in the basics bolsters an inclusive process of composing and recording.
"Our songs usually start with a basic chord progression, and we start making it intricate once we all know it well enough," Eschinger said about the band's songwriting method. "Everyone has their own input, and we go from there, tightening up synchronized hits."
Seaway has pushed its natural chemistry to the limit during the continent-trotting affair of putting Vacation together. The band recorded part of it in Toronto,  part in rural Massachusetts and finished in Los Angeles. The isolation of Massachusetts made it easier to hunker down and productively work in the studio, an irony the guitarist is quick to acknowledge.
"We can meet up easily when we're home, but ultimately everyone has stuff going on," he said. "It's not the same as forcing ourselves to work."
While the contrasting rigor of recording in Los Angeles presented a different challenge with its many distractions, Seaway rose to the occasion with the desire to make the best album possible. The album is full of undeniably catchy pop-punk bangers.
Vacation upholds the standards of its style, proving pop-punk's transcendence of the punk rock old guard. Its themes of falling in love and, well, vacationing, couldn't seem farther from the outrage anthems of Bad Brains, Minor Threat and Black Flag. Even so, Eichinger retains an appreciation for the bands that inadvertently paved the way for the likes of Sum 41.
"When I found out about punk, I went back and found The Sex Pistols and The Ramones," Eichinger recalls. "We grew up listening to a ton of different kinds of punk and hardcore—stuff that's actually rebellious and touches on important issues."
He respects the foundational tunes but said he would feel it would be disingenuous to present Seaway in an ultra-serious, socially conscious manner. "The group of guys we are—we just don't have a strong enough conviction about that stuff to center the band around it. We have stuff that's more serious, but I don't think we'd ever go in a political direction."
Seaway certainly isn't alone in this artistic decision. There are countless bands finding their footing in Toronto's outpost for pop-punk and emo rock. Maintaining a connection to the suburbs in which he played his first shows, Eichinger lauds post-punkers Moaning and post-hardcore venturers Boys Night Out as his favorite local bands. While he acknowledges the surface-level differences between them and his own band, he said that genre elitists can't account for the common ground they could easily unite around.
"I think there's a direct correlation between our style and theirs, which is why I always think it sucks when the emo bands don't want to play with pop-punk bands," Eichinger said. "All of the emo kids were pop-punk kids at some point."
Seaway has ridden that wave of positivity gracefully, but the band members credit their long-suffering devotion to what they love for keeping them motivated. In a genre with a reputation for skyrocketing success stories like Bayside, he values the blood, sweat and tears he and his friends have given.
Seaway's commitment to their music has certainly paid off. A slew of potential fans showing up to relive their youth may discover that pop-punk has not only survived.
"We're happy we had to work that hard to get where we are today," Eichinger said. "Nowadays, bands can immediately get signed to a label before they even release music, which is great. We came from a totally different route, which allows us to appreciate what we have."
Follow writer Max Heilman at Twitter.com/madmaxx1995.