Heartwatch members explore simplicity with Enryo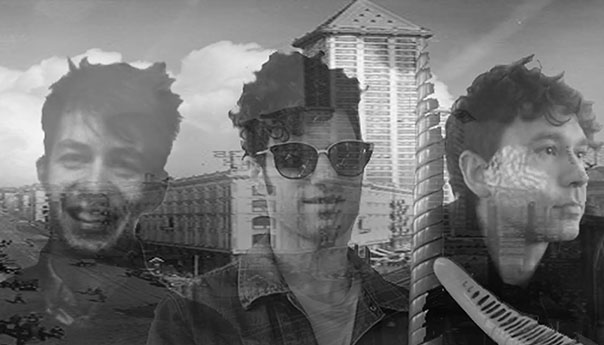 San Francisco musician Rowan Peter has had his fill of electronic music for a while.
The Heartwatch guitarist doesn't have a beef with electronica. But personally, he sees a need for more variety, less high fidelity and more simplicity in rock. That's why he has decided to start Enryo, a new musical project to fully explore that desire and get back to good songwriting.
Hungry Skinny, Enryo, the band ICE CREAM, Tango Alpha Tango
8:30, Friday
Rickshaw Stop
Tickets: $10.
Formed by Peter and fellow Heartwatch drummer Kern Sigala, Enryo–a Japanese phenomenon loosely translated to "diffidence, restraint or reserve"–began with the vision to simplify things. Peter said he is fascinated by good three-piece rock bands that sound lush and full. That's why he rounded out the group by recruiting longtime collaborator and friend Sebastian Sheldon as bassist.
"I became tired of over-complicated stage rigs and live tracks," Peter said. "I really started to feel the call to bring some spontaneity back to live performance."
But that doesn't mean Enryo is a jam band, either, Peter said. In its early stages, Enryo is exploring its identity and sound, including elements of post-punk, garage and pop into songwriting and production.
"As a band, we've been really influenced by The Strokes and The Cars," he said. "I like the postmodern nature of these bands, especially The Strokes: How do we give the impression of a guitar solo without really doing it?"
The local scene is influential to Enryo's approach and sound, as well as where the growing  '90s, alt-rock rehash is trending pretty heavily among local groups.
"I'd say that we are influenced by the music coming out of the Bay Area, especially the bands that are awesome live and don't rely on gimmicks and a million-and-one synthesizers, 'cause that's what we're going after, too."
As for Heartwatch, Peter said that the band hasn't been up to much the last half of 2016, and after the craziness of 2015, the band members decided to take a breather. This break created the opportunity for Kern and Peter to explore a new sound and for Peter to flex his skills as lead vocalist.
"The longer a band such as Heartwatch is together, the more your sound becomes 'defined' and the appropriate place for variation from that becomes an additional project," Peter said.
Enryo is going full-steam-ahead in 2017, continuing to play more local shows while the trio works to record and release a demo or EP early in the year and possibly a full-length debut later. Their plan for now is to take a much more modest approach than the one to which they're used. This means recording and mixing themselves, and seeing what they can create.
"I think that's how the magic happens, or that's my hope anyway," Peter said.
Follow writer Heather Ah San at Twitter.com/heathermalia.