INTERVIEW: Soccer Mommy finds the color in the mundane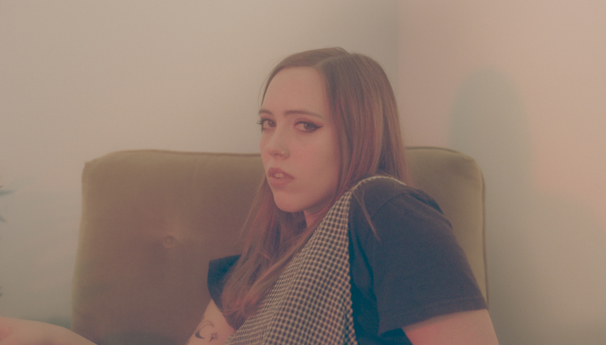 Sophie Allison has been writing songs since she was 5. Allison, who records and performs as Soccer Mommy, writes with jarring specificity about everyday life, interactions with the people around her and her own life. That level of detail comes easily to her.
Treasure Island Music Festival
Tame Impala, A$AP Rocky, more
Oct. 13 and 14
Middle Harbor Shoreline Park, Oakland
Tickets: $105-$345.
"I don't journal or anything; I think that some specific moments tend to stick in my mind more than others, and hold a nostalgia or importance to me for random reasons," the lo-fi bedroom pop singer-songwriter said. "Sometimes there's not even a reason that I remember, just one specific thing that someone said, or just one specific thing that happened on an important night. They're just pieces that hold some sort of significance, that I tend to go back to when I'm writing."
Allison's plainspoken, dry singing voice doesn't give away her emotion, which is usually lingering below the surface on Soccer Mommy's 2018 full-length debut album, Clean. And rather than writing about hyperbole or seismic events, she writes about the smaller moments that compose the whole of an experience.
"Last Girl," about the end of a long-term relationship and "Your Dog" bristle with anger and bitterness. "I am just a dying flower," she sings on the former. "I dreamt the sidewalk broke in two/ The earth was calling to me/ A vine stretched out Fifth Avenue," she sings on Clean closer "Wildflowers," about her desire to find herself.
There are no happy songs on the record, but some of them leave room for a happier ending off the page.  The album title itself points toward starting anew and leaving mistakes behind. At her most hopeful, on tracks like "Scorpio Rising," Soccer Mommy is also at her most bittersweet. But the album also drags her through the dirt on the road to self-realization.
"I want a love that lets me breathe/ I've been choking on your leash," she sings on "Your Dog."
"I think I do still have those feelings," Allison said. "Clean is an album that kind of comes to this full circle realization. It's really easy for people to think that all is better, and everything's just cleaned up nicely in the end, but no, I don't think that stuff is gone for me at all. A lot of those things still hold weight for me in my day-to-day life and affect me the same way they used to."
Nashville punk
Sophie Allison was born in Switzerland to a teacher mother and her scientist father, who was working on a study in the country at the time. Her parents moved to Nashville when she was just 1 after getting a job in the city.
Shedding labels
Soccer Mommy was consumed with making Clean for a solid year, during which time she devoted herself to a bigger sound on her songs, which she wanted to fit on radio, in movies and inside people's heads. Some of the songs come off as slacker rock, while others carry more of a punk edge.
But Sophie Allison is no one thing, neither as a person nor an artist. The detachment from labels gives her creative freedom to write about whatever she feels like, and in whatever voice.
"Branding is just annoying; it can take away from you pulling influence from different areas, which is something that can make your music and each new album different," she said. "That's something that I definitely want to be able to do; keep growing and having different influences pulled in to my music."
"Neither of them were at all involved in music," she said.
Allison is the middle of three children. Her older sister plays music and has toured as her bassist. A younger brother sings, though he's not interested in pursuing it as a career, she said. She attended an arts high school, where she got interested in punk music, studied guitar and played in some bands. But it wasn't until the end of her senior year, in 2015, that she started recording her own songs and posting them on Bandcamp. Unconfident in her soft-spoken voice, she thought of herself more as a guitar player than a singer.
Eventually she sent a demo to indie label Orchid Tapes, which released a collection of songs called For Young Hearts. This was most music fans' introduction to Soccer Mommy. Allison enrolled at New York University, where she studied music business, but was mostly depressed because of her isolation. In 2017, after she landed a label deal with Fat Possum, she dropped out and returned home.
The label had her rework many of her existing songs for a compilation, which she called Collection. Allison had no idea that record would change her life as much as it has, after connecting not only with fans having the same mundane experiences, but within the music industry.
"I thought … 'blogs will probably like it. People will probably like it,'" she said. "I think that the reason it connects with industry people is that I tend to write kind of poppy melodies that are catchy. … With listeners, I think it's just about expressing feelings that are relatable to people, and trying to do it in a poetic way."
Seeking cleanliness
This early attention set Soccer Mommy up for her first professionally made record, which Fat Possum released in March. For Clean, Allison pulled on many of the same influences as her earlier material.
Her penchant for combining feral storytelling with sweet melody—for example, on "Still Clean" she describes a lover as a wild animal that ends up eating her—comes from a lifelong appreciation for Japanese film director Hayao Miyazaki.
"I've always been very interested in darker themes in writing, and that definitely drew me to a lot of grunge music, '90s stuff like alternative and really confessional writers like Elliott Smith or Liz Phair," she said. "Then [there are] other bands like Hole, that's a very different sound, but it's got the same kind of rawness, I think. It's just something I've always liked in writing."
Over the summer, Soccer Mommy got the opportunity to tour with another of her childhood music influences, Paramore. From Haley Williams and her bandmates, Allison got to see how the touring veterans were able to deliver a consistent performance night in and night out while retaining their sanity and empathy.
Soccer Mommy has only been playing traditional shows for a little more than a year, and that lesson was an important one, she said. And she also had her first experience of working with a producer: Gabe Wax, who has worked with the likes of Fleet Foxes and The War on Drugs. Previously, she had full control over her bedroom recordings.
"I had full control before, but … I didn't really know how to do all the things that I wanted to do," she said. Wax "helped me get those things into music that I didn't know how to record. We worked extremely well together. He's a great person, a good friend and an amazing producer. I didn't give him much description of what the vibe I wanted, but he got it pretty instantly and had all these ideas that meshed so well with my ideas. It felt very much like making a record with someone, rather than someone taking over your record."
Writer Piper Westrom contributed to this story. Follow editor Roman Gokhman at Twitter.com/RomiTheWriter.