Greta Morgan makes sense of heartbreak with Springtime Carnivore record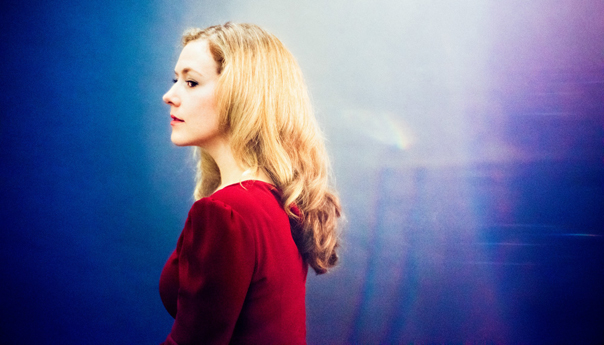 Fans of Greta Morgan and Katy Goodman have the two musicians' love of punk music to thank for the upcoming joint tour of Goodman's band La Sera and Morgan's solo work in Springtime Carnivore.
Late last fall, right before Morgan began recording her sophomore Springtime Carnivore record, Midnight Room, the two close friends spontaneously decided to come to a pal's studio to record folky, stripped-down takes of their favorite punk songs. The result was Take It, It's Yours, 10 reimagined covers of songs like Billy Idol's "Rebel Yell," The Stooges' "I Wanna Be Your Dog," The Misfits' "Where Eagles Dare," and more by The Replacements, Bad Brains, Blondie and others.
La Sera,
Springtime Carnivore
8:30 p.m., Friday, Nov. 4
Swedish American Hall
Tickets: $15.
Over the course of some days, they would meet for a few hours at a time and track two or three songs at a time. The experiment was low stakes, but turned out to have a high reward when their label, Polyvinyl, suggested they release an album of the covers. The label wanted them to play 10 shows to promote the album's release. Once Goodman and Morgan looked at their schedules, they realized that La Sera had yet to fully tour its April record Music For Listening to Music To. Take It, It's Yours, meanwhile was released at the end of August, and Morgan's Springtime Carnivore album dropped on Oct. 7. The timing was right. Springtime Carnivore and La Sera could tour three albums at the same time.
"We realized it made sense for us to tour together," said Morgan, recently, in a telephone call from Los Angeles, where she was pet-sitting a friend's pup and cooking kale and eggs for breakfast.
"I don't view a tour as, 'This is the tour where I'm going to make it big!'" she said. "I want to look at every experience as a beautiful part of the process. I think Katy has a very similar attitude. It would be the most fun thing in the world for us to do it together."
Morgan has experienced several parts of the process. Her first was as keyboardist for mid-2000s Chicago-based pop punk band The Hush Sound, which released a successful album, Like Vines, and toured arenas with Fall Out Boy and The All-American Rejects. Morgan was still in high school at the time.
When The Hush Sound went on hiatus in 2009, she pursued music in indie pop band Gold Motel. Springtime Carnivore is her third project to be recognized by music critics. Her 2014 self-titled debut blended singer-songwriter aesthetics with golden oldies shimmer on a pop base. The follow-up, Midnight Room, came to her in a turbulent time in the fall of 2015, following the end of a six-year relationship.
The extreme emotions and mood swings where the most severe she had ever experienced. She rarely slept through a full night during that time, but that allowed her time to write songs.
"I would sleep for two hours, wake up and work a little bit, go back to bed and wake up again," Morgan said. "Because of that, music kind of returned to me in the way that I treated it when I was a teenager. It was a method of self-soothing … and catharsis. This is where all the songs came from."
She didn't plan for the songs to constitute a Springtime Carnivore album. Morgan just wanted to calm herself. Many of the lyrics were written or inspired by an experimental process. Whenever she had a thought, found a unique phrasing or viewpoint in a book, or overheard pieces of conversation or dialog, the phrase would go onto a note card.
These cards went onto a hat or a pot, and when she struggled to find an idea or inspiration, she would pull out a card and force herself to follow whatever emotive response or poetic reply to trigger the next line or verse.
"In a way, it made it seem more spontaneous or like a game," she said. "I feel like that's why some of the lyrics on the record feel a little disjointed."
Think of it as "Choose Your Own Adventure" writing.
Morgan, who came up with her stage name through stream-of-consciousness songwriting after seeing a coyote walk through her mother's yard one spring, had found a way to make sense of her own feelings and state of mind using the card-based songwriting method.
Only after entering the recording studio with producer Chris Coady (Beach House, Future Islands) later last winter, did she realize that the album lacked a an opening track—a song to wrap up the themes of the entire album.
So she went home and wrote "Midnight Room." Morgan sings: "My heart became a stone/ On the night I left/ I wonder as I wake up alone/ Has it hit the bottom yet?"
Springtime Carnivore is Morgan's main project because it's where she invests most of her effort these days. Because she has complete creative control, it's also naturally different from her previous bands, which were collaborative efforts.
"But I see my career as a continuum of making stuff," she said. "I'm happiest when I'm making music, and I enjoy sharing it. I'm so grateful … people have followed me through various projects, and they will hopefully continue to do that."
Working with Goodman, previously of Vivian Girls, has also pushed Morgan's continuum forward. Particularly, it taught her some lessons about simplification, and just how difficult it is to write a song with simple lyrics but avoid cliché.
Her favorite song to cover was the Buzzcocks' "Ever Fallen In Love" and its chorus:  "Ever fallen in love with someone you shouldn't have fallen in love with."
"I find that I often try to hide meanings of songs behind abstract lyrics or metaphors," Morgan said. "I do think that in a few of these [Midnight Room] songs, I was a little bit more direct, and that was a result from having done the covers record."
Fans will get to hear a few of the punk covers on the upcoming tour. Some will come during Springtime Carnivore's set and some during La Sera's. Morgan hopes people come for an entire night of music.
Morgan has loved punk since her teens, when she published a zine and interviewed musicians at hardcore shows in church basements. Eventually, she realized the bands were having the kind of fun she wanted to have.
The closest she ever got to punk herself was with The Hush Sound, but the genre's defiance still resonates.
"I think the punk resonates with me more as an attitude of not caring about certain things that don't matter, and focusing on the things that do," she said.
Follow Roman Gokhman at Twitter.com/RomiTheWriter and RomiTheWriter.Tumblr.com.
Remaining dates on La Sera and Springtime Carnivore's tour:
10/28: Silver Dollar – Toronto, ON
10/29: El Club – Detroit, MI
10/30: Empty Bottle – Chicago, IL
11/01: Lost Lake – Denver, CO
11/02: Kilby Court – Salt Lake City, UT
11/03: Holland Project – Reno, NV
11/04: Swedish American Hall – San Francisco, CA
11/05: Bootleg Theater – Los Angeles, CA