Folk rockers Streets of Laredo find fuller sound on second album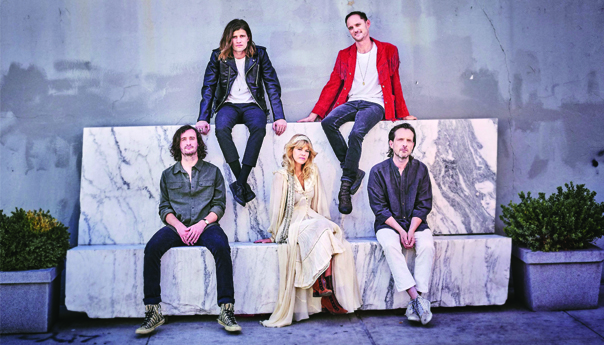 CRX, Streets of Laredo
8 p.m., Saturday
Slim's
Tickets: $16-$40.95
Traditional Thanksgiving celebrations involve families coming together around the table, expressing gratitude for their blessings. It is a thoroughly American holiday, so how does a transplant New Zealander family celebrate?
"This is the first time we've been touring over Thanksgiving, but usually a lot of us will have an orphan Thanksgiving in New York," said Sarahjane Gibson, singer and percussionist for indie-folk group Streets of Laredo. "Us, our guys in the band and some of our other New Zealand friends put on a bit of a Thanksgiving. One year we got invited to a really classic American Thanksgiving, which was amazing. We've celebrated it every year since we've been here and tried to get on board."
Gibson, along with her husband, Dave, and brother-in-law Dan, moved from Auckland to Brooklyn in 2012, after only playing a one live show and producing a handful of demos. She admitted to a considerable amount of culture shock upon arriving on U.S. shores.
"New Zealand is very small. In New York, everybody's out on the streets, so colorful and loud," Gibson said. "It's a lot different, much faster-paced, just so much more going on. Some things were less different than I thought. I found New Yorkers to be really friendly and helpful and kind, just like New Zealanders. They're kind of in a rush, but if you ever ask or need a hand, New Yorkers are a lot more helpful and friendly than they get credit for."
Within two years of the move, the band released its first full-length album, 2014's Volume I & II, on Dine Alone Records. Full of upbeat, yet sentimental charmers such as "Slow Train," the record also features folk-pop flashes in the form of "Girlfriend" and "Hey Rose."
"The first album was really stripped back, a lot more organic," Gibson said.
In October 2016, Streets of Laredo unveiled its second LP, Wild. With more complex arrangements and a captivating mix of banjos and saxophones, Gibson described Wild as "fuller," which is evident on songs including "Tunnel Visions" and "Hammer and the Nail."
"It feels like there's a lot more to it. There are quite a bit more layers," she said. "There's a slightly different sound as we've progressed and gotten into different music."
She attributed much of that to producer John Agnello, who's worked with Kurt Vile, Sonic Youth and Dinosaur Jr.
"The first one, we self-produced, so I feel like we had a lot more resources available to us this time around," said Gibson.
Post-Thanksgiving, the band is back on the road performing those songs as an opener for CRX, the rock outfit started by The Strokes' Nick Valensi. The West Coast leg of the tour wraps up in late December, with European and Southern Hemisphere visits, hopefully including some shows back home in new Zealand, next year.
"You make this thing and then you get an opportunity to actually play it before people and get their reaction. That connection and that experience of a band doing that with an audience is special," Gibson said. "My favorite song to play live is 'Silly Bones.' It's just really fun. Sometimes, you're up on stage and you're performing a song. That song, I don't feel like I'm performing—I feel like I just genuinely enjoy playing it. I feel like it's quite infectious. I just want to dance around to it."
Follow journalist Brandi Smith at Twitter.com/BrandNewSmith, Facebook.com/BrandiSmithTV and BrandiSmith.me.