Interview: Sunflower Bean out to prove youth isn't wasted on the young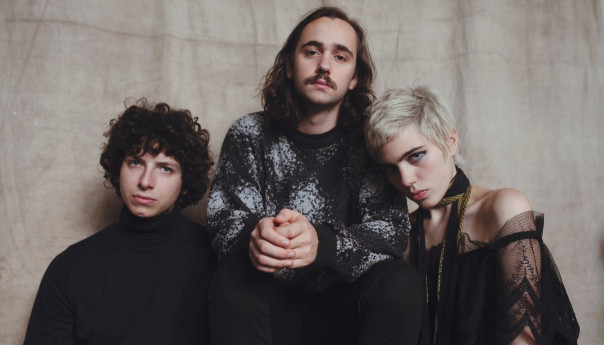 Though the members of jangle pop and neo-psychedelic rock band Sunflower Bean hail from Brooklyn, they understand the challenges to which those in the Bay Area can relate.
Sunflower Bean, The Lemon Twigs, Ganglians
7:30 p.m., Monday, Oct. 31
Rickshaw Stop
Tickets: $13-$15.
Coming of age in a vibrant scene that boosted acts such as The Strokes, The National, LCD Soundsystem, Yeah Yeah Yeahs, TV on the Radio, Grizzly Bear, Vampire Weekend and more to national prominence, Sunflower Bean singer and bassist Julia Cumming said the financial hardships are weakening Brooklyn's arts community.
"NYC has reached that point where it is literally too expensive for people to move there and make music and art without having some sort of special financial situation that makes it possible," she said. "That is why the venues have closed and keep being pushed back, farther and farther out into communities that have been established for years and years.
"NYC is an incredibly important and influential music city, and if it wants to stay that way, we need to approach housing and supporting creativity and the arts differently. If we want [the city] to remain special, we can't sell every bit of it to the bad guys."
That's a sentiment that will resonate with those in the Bay Area who struggle to find a foothold in a place where the Economic Policy Institute estimates a single adult with no children must make $3,632 each month for an adequate standard of living. It's a cost of living that has seen musicians flee San Francisco for either the East Bay or, in the case of some, Southern California.
Sunflower Bean will bring the two cities together Oct. 31 during a gig at Rickshaw Stop. The band's members say their fright night show is "gonna be spooky!" The performance will come just more than a month after the release of From the Basement, an EP of cover songs Sunflower Bean cut in Long Island.
Basement includes covers of tracks by Neil Young, The Modern Lovers, Spiritualized and T. Rex. Sunflower Bean pulls from a variety of influences, from Pink Floyd to metal bands. They also have a song named "Tame Impala" after the Australian psych rock group. Drummer Jacob Faber said inspiration comes from many places.
"Writing music is one of the strangest things because sometimes songs will come out of what seems like thin air, or they will come directly from what we've been listening to," he said. "Sometimes a combination. I think being aware of and understanding your influences is extremely important in songwriting."
Cumming said the group also enjoys the likes of Unknown Mortal Orchestra and DIIV.
"We listen to music together in the car constantly, so we go through phases together," she said. "We'll usually be inspired by the same stuff and take that inspiration to our basement practice space."
It was Faber's family's basement in Brooklyn where the group got its start in 2013 as its members—Cumming, Faber and guitarist and vocalist Nick Kivlen—wrapped up high school, rising from the ashes of another group named Turnip King.
"During our senior year, Nick started writing some stuff on his own and we started playing together just for fun," Faber said. "That progressed and we played a few shows under the name Sunflower Bean as a two-piece. The summer after we graduated is when Julia joined the band. Me and Nick knew we loved playing together, but during that first practice with Julia, we realized we had something."
That's a history that includes a prolific live performance record, including hundreds of shows in 2014 and 2015 throughout their native New York City and, eventually, the globe.
"We know each other very well musically and sometimes on stage it feels like we are having a conversation through our instruments," Cumming said. "We know how to anticipate each other's moves and that gave us a fluidity when we were recording the record. We trust each other a lot musically."
That trust built to the group's first LP, Human Ceremony, which dropped earlier this year on Fat Possum. Though the group's members were born in the 1990s, the sounds of Human Ceremony seem to draw from a time that predates them.
"A lot of our influence from the late '80s and '90s shoe gaze [and] jangle pop comes second-hand from contemporary bands I was really obsessed with in high school," Kivlen said. "A lot of the captured tracks bands were really influenced by them and in turn passed it onto me without ever hearing the originals. It's like a third-degree source, which is kind of funny and interesting."
The constant mentions to the youth of the band members don't faze Kivlen.
"Rock and roll is one of the few art forms where it's generally thought that you are better younger," he said. "It's not like being a great author or something. The late works are not usually that appreciated. But creatively we are always growing and we are really excited about the next record."