Interview: Oakland's SWMRS ready for their close-up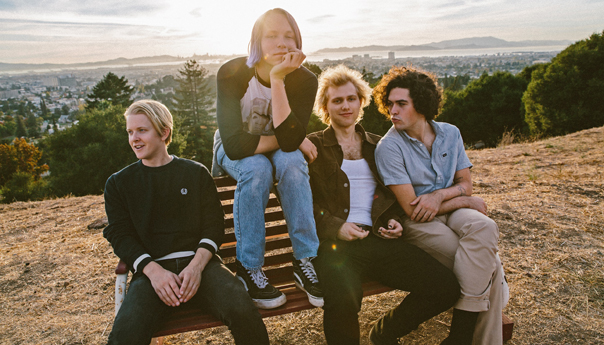 Not many bands would pass up multiple opportunities to open for Green Day, but Oakland's SWMRS had a reason: nepotism. Because the pop-punk band's drummer, Joey Armstrong, is the son of Green Day's Billie Joe Armstrong, SWMRS had felt that others were judging them as getting a hand up in the business.
All Time Low, SWMRS, Waterparks, The Wrecks
7 p.m., Saturday, July 8
Fox Theater
Tickets: $29.50.
The elder Armstrong did guide the band through its infancy—SWMRS started as pre-teens, and most parents would want to be involved in the lives of their young children—but then Green Day stepped away more than two albums ago.
"We've been avoiding playing with Green Day for a long time because so many people make that connection, and we wanted to make sure that we had our feet solidly on the ground and had our own thing going before we played with them," singer-guitarist Cole Becker said.
Now that the band, which also includes Becker's brother Max, Armstrong and bassist Sebastian "Seb" Mueller, is firmly planted as one of the East Bay's up-and-coming rambunctious bands, the members are ready to break that seal, and will share, with Green Day, one of the biggest stages in the world: London's Hyde Park.
"We're really excited because this is our first time where we finally feel like it's time to do it," Cole Becker said. "It's always fun to play with family, that's why we do it. It's fun to do it with our friends."
Cole Becker and Joey Armstrong first formed the band in 2004, and Max Becker joined soon after. The three had been friends since they were 4 years old. The band went under a couple of different names for their first two releases, Don't Be a Dick (2011) and Lost at Seventeen (2013). Mueller, with whom the others went to high school and who happened to be in Cole's math class, joined in 2014.
It was not Armstrong's father's storied pedigree that prompted the creation of SWMRS, but rather a Jack Black movie.
"We started playing in bands together when we were 9, 10 and 11," Max Becker said. "It was right when School of Rock came out. Thirteen or 14 years we've been playing together."
Billie Joe Armstrong took the band under his wing at first, producing the first two records, which were released on local indie label Adeline Records. Even then, he produced in what Cole Becker described as the Steve Albini sense: hands-off. The first record took only three days; the second just two weeks.
"It was like any dad who has recording equipment would do," he said. "It just happened to be Billie Joe."
And at first, critics tried to place some hefty expectations and pressures on SWMRS because of the band's big connection to Green Day. The band ignored them, instead focusing on their craft and on having fun, Max Becker said.
"When we were young, I think there were a lot more eyes on it than we were ready for," Cole Becker added. "People found [the band] way before we were ready for people to find it, and it definitely made us evolve in a different way than most bands. It made us grow stronger and better as musicians."
Joey Armstrong's younger brother, Jakob Armstrong, now also has his own music project, and has for the most part been able to avoid the close scrutiny SWMRS previously received, which Cole Becker attributes to people being tired of drawing comparisons.
"I'm really happy that he has his own lane, and his music is even more different than Green Day," he said. "He's got his own lane to be free and creatively expressive."
Max Becker
The Food Blogger             
While all four band members spend their free time playing basketball, tennis and surfing, Max Becker, who previously wanted to be a journalist, now runs his own foodie blog, Between Stations. Get the scoop on fancy cheeses and more.
For their third album, 2016's Drive North, SWMRS went in their own direction. The elder Armstrong dropped them from the next and they had to learn to fly quickly.
"We were really young and he just wanted to guide us," Max Becker said. "But then he was like, 'You guys are young adults now.'"
Like Green Day, SWMRS strongly identifies as an East Bay band. Their favorite artists include Crimpshrine, Operation Ivy, Sweet Baby Jesus, AFI, Rancid, E40, Hieroglyphics, Del the Funky Homosapien and Souls of Mischief  and yes, Green Day. All of those are artists who wore the East Bay on their sleeves. They played a show earlier this year with all proceeds going to the victim's of Oakland's Ghost Ship Fire.
The loyalty was instilled in the band members by playing and being a part of the Gilman Street collective. They won't stand for a San Francisco connection, which has done nothing to inspire SWMRS, Cole Becker said.
Carrying on in that tradition—even though the band is the first to say they no longer play pure punk in the long-time fan definition of the genre—is something the band doesn't take lightly. But at the same, the four members don't feel any pressure carrying the punk torch. SWMRS relish bringing a less-composed, more volatile punk rock show to people used to seeing artists who rely on the assistance of computers, pre-programmed beats and synthesized bass.
"When you hear music on a computer … it's all perfect all the time," Cole Becker said. "We try to sound perfect, but there's always a live tension and energy between the musicians as we play. …You can't feel that through your computer. You have to feel it live. That's the problem when others put computers on stage. They are denying that tension."
On stage, the band is purposefully not composed. Armstrong and Mueller lay down a solid rhythm while the Beckers run left and right, shouting and revving up the crowd. Cole Becker, particularly, is a burgeoning punk rock star at a time when the world's rock star population is dwindling. To him, his performance is a way to bring an audience a different concert perspective and invite people to think differently.
"People thinking in specific ways is why so many terrible things are going on," he said. "If you can get people to reevaluate how they see the world every time they see a new band, that's important."
SWMRS came from a community of basement shows where that type of connection was the norm. Rather than a stagnant audience appreciating pretty music, this band wants a more personal connection.
"When you watch us, it's like you're getting invited into our living room," Max Becker said.
With their third record, Drive North, SWMRS wanted to send a message that artists don't have to leave the Bay Area to be successful. Even if San Francisco or Oakland become too expensive, there is still Benecia or Richmond, which are awaiting their own music scene to begin, the Beckers said. That's what the title track is about. The album was produced by Fidlar vocalist Zac Carper and initially self-released. It was re-released after the band signed with hip label Fueled by Ramen.
"You don't have to wait for something else to happen in your life, you don't have to wait 'til you move to L.A," Cole Becker said. "Play in your backyard and you're a rock star."
Follow Roman Gokhman at Twitter.com/RomiTheWriter and RomiTheWriter.Tumblr.com. Follow photo editor Alessio Neri at Instagram.com/windowofcolor and Windowofcolor.com.