Introducing Talay: Folk singer finds inner rock star, moves in with parents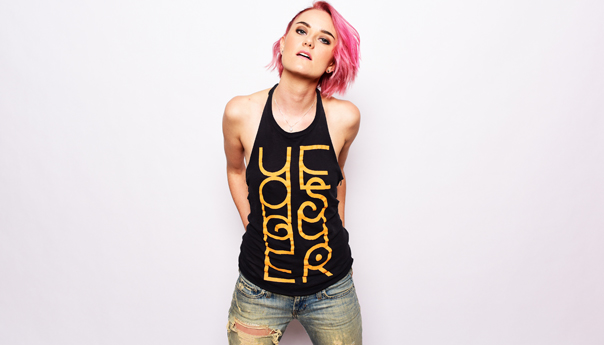 A Guns N' Roses cover band helped Megan Talay find her inner-frontwoman. Beginning in college as a solo singer-songwriter, Megan Talay, who goes by her last name, released an EP of honest folky songs in 2015.
Her newest, self-titled EP was anything but. It's filled with snarky, funny lyrics and subject matter, as well as pop-punk guitar riffs reminiscent of '90s No Doubt, Save Ferris or even Blink-182. In college, all she could do was lug her acoustic guitar to various coffee shops. To add spice to the acoustic sets, she'd throw in rootsy and rockabilly versions of pop tracks by Katy Perry, Gnarls Barkley and the Red Hot Chili Peppers. After returning home to Westchester County, New York after graduating, she ran into her high school music instructors and classmates.
"They're just, like, 'Where is your Strat?'" Talay said recently. "I definitely got encouragement from some people in the way of like, 'You can play lead electric guitar as a female.'"
That's when she fell in with an all-female cover band called Guns N' Hoses, first as a bassist and then a fill-in guitarist. Talay realized she had what it takes to play Slash's roaring solos. On the side, she picked up a side job teaching guitar at a School of Rock music program, and decided to learn the songs many of her students wanted to learn themselves. She expanded to Blink-182, No Doubt and other covers.
"It really inspired me to teach electric guitar to young teenage chicks," she said. "I was learning a lot of pop-punk songs to teach them and [realized], 'Wait a second. This is my favorite stuff back in the day! Why don't I do this?'"
Nearly all of the album's five tracks were written while she was teaching at School of Rock. The tongue-in-cheek "I Hope Your Band Goes Nowhere" begins with slow, modulated Stone Temple Pilots-esque strumming before turning into a full-on '80s power ballad. The song was inspired by Nirvana, Talay said.
"CITY" could have been a Pat Benatar or Rick Springfield track until the Weezer-like guitar solo, with cowbell. In fact, she had been cranking "Hit Me With Your Best Shot" while writing it. "Miami Take Me Home" recalls classic mid-tempo Soul Asylum. But it's the EP's first two tracks that stand above the rest. "Drummer of the Band" is a ska-rock anthem in the vein of Reel Big Fish and Save Ferris and "Parents' House" is a hilarious poppy outlook on millennial housing: "So come on over to my parents' house/ You can sleep over if we're not too loud/ But if my mom happens to call me down while you're going down/ Then you'll have to get out."
"Weezer was in my head when I was writing 'Parents House,'" she said, scatting the riff to "El Scorcho."
Needless to say, Talay's parents were not too sure how to react when they first heard the song. 
"I mean, they thought that it was funny, I think, and that it was catchy song and stuff," she said. "They were just, like, 'Do you have to talk about sex? … They didn't like that part of it at all. They suggested alternate lyrics."
Since then, they have come around and are in on the joke. They even played small cameo roles in the video for the song.
When it came time to record the EP, Talay turned to old high school music instructors, who just so happened to be Greg Mayo (Delta Rae) and Zach Jones (Sting). It was mixed by Ducky Carlisle (Demi Lovato, Rooney). Talay released the record in June, but already has her next collection of songs in the can, which she will release as soon as this winter.
Talay didn't previously envision a future as a musician. At the University of Miami, she studied the business side of the industry, such as concert promotion. A lot of that was directly related to the belief that she wouldn't be able to cut it or wasn't talented enough. That's no longer the case, and she also realized immediately, as she sat at a music licensing company, writing lyrics on legal pads, that working close to musicians doesn't make one an artist.
"I would [rather] end up playing music and teaching music, even if it's not my own music," she said.
Follow Roman Gokhman at Twitter.com/RomiTheWriter and RomiTheWriter.Tumblr.com.