Tove Styrke goes digging on 'Sway,' tours with Lorde
Nearly a decade has passed since Tove Styrke finished third on Swedish Idol, without a trophy but with a record contract launching her to pop stardom in her home country. At that time, in 2009, Styrke had not released a single song of her own. But rather than fast-track her career with original material, she decided to hone her music-making skills first.
Lorde, Run the Jewels, Tove Styrke
7 p.m., Tuesday, March 13
Oracle Arena
Tickets: $60-$80.
"I've never been quick about anything, to be quite honest," Styrke said in a recent call from London. Swedish Idol "was a fun experience; I learned a lot. I became very good at live television without getting too nervous. That's one of my secret skills today. … Since then, I've just been working really hard on my own music and writing. I've grown a lot as a person and as an artist and it's been a fun journey."
Styrke took a year to release her self-titled debut LP, which spent 35 weeks on the Swedish album charts and was later certified platinum in Sweden. Then she waited another five years to release Kiddo, the album that saw her make a successful crossover to the U.S. Inspired by Kill Bill heroine Beatrix Kiddo and full of powerful political statements about feminism and patriarchy, the album made several prominent best-of lists in 2015, and Time called it a "feminist pop triumph."
Rather than follow Kiddo up with more of the same, the 25-year-old decided to scale both the music and themes down considerably for her third album, Sway, which will be released May 4 on RCA Records.
"I view it as a collection of little love stories, or the pros and cons of being in love and when [love] doesn't work out," she said. "My previous album was very 'outrospective,' with big expressions and bursts of emotion—very big and colorful and even fictional, sometimes. This time I wanted to make songs that can represent this inner dialogue that you have with yourself. … Like, when you talk to yourself in the shower, or have an argument with yourself; that kind of voice. I always write for myself, but especially with this album, it's been very much for me. I want to make music that makes me feel things."
Listeners have already gotten several tastes of Tove Styrke's new direction. On "Changed My Mind," the singer who previously stayed away from love and passion in her own songs sings about attraction to the wrong kind of person. Set against woody synths and electronic percussion, Styrke speeds up and slows down her vocal delivery, crisply delivering the chorus.
On the breathy dance-pop tune "Mistakes," the production of which recalls Mika's Life in Cartoon Motion, she sings about accepting romantic missteps, and even leaning in to making the wrong decision. And on "Say My Name," a sugary extroverted come-on, she sings, "Say my name!/ Wear it out like a sweater that you love/ 'Cause I can't get enough when you/ Say my name."
Styrke said Sway is her most collaborate album, which she made in Stockholm, her home, with producer Elof Loelv, with touches in Los Angeles with producer Joe Janiak—"He's a great little British cowboy in L.A. You would understand that if you saw him.
"I really wanted to make an album … and songs that were as minimal as possible, and I wanted to give as much room for the song itself, and the voice," Styrke said. "I think I succeeded in that. For instance, I have one song, 'On The Low,' that's almost just one sound and that builds the whole thing. It's got a tiny little beat. The songs, the lyrics and the feeling [get] the most focus. Every sound on there has been very thought through. Last time I was very much, 'More is more, there are no boundaries, and we could do everything,' and it was so much fun. This is the complete opposite."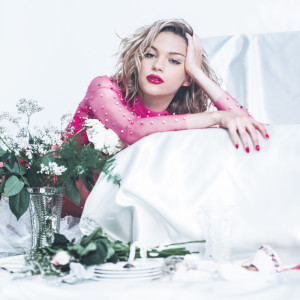 While the new songs are more personal in scale, they're not necessarily more personal to Tove Styrke, who said she is often inspired by the experiences and stories of the people in her life and her musical collaborators. Sometimes she ends up interviewing the people that she writes with because she finds their differences fascinating.
She asks about their relationships, whether they succeeded or crashed and burned.
"I like digging," she said. "I always want to try and figure people out, and that's what I often do when I write."
Perhaps that's why her biggest hobby these days, outside of music, is learning about the various personality types of the people around her. She recently finished a book called Surrounded by Idiots, by a Swedish writer, which categorizes all people as a combination of up to four colors. Most arguments between people, or misunderstandings or assumptions that the other is an idiot, are simply due to different thought processes, she asserts.
She's constantly writing, and she's now trying to focus specifically on the heartbreak of relationships. Styrke hinted that there may be a second volume of Sway songs in the near future.
"I feel there's going to be another side to this album," she said. "Sway is mostly [about] the good vibes. But sometimes you can glimpse the heartbreak and some sadness for a brief moment. I would like to explore that further and see what else I can find."
Tove Styrke has three favorite songwriters: Bob Dylan, SZA and Lorde. All three are terrific at writing on topics that everyone can relate to, touching many key emotions but doing it in their own ways, she said. Last fall, as a tribute to Lorde, she recorded and released a cover of "Liability."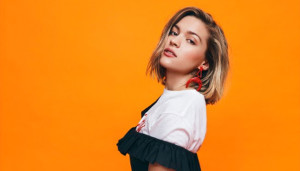 "I love that song so much because when I listen to it, it feels like it's my song. It feels like it's about me and my life," she said. "A lot of people feel that way about that song. There's something magical about it."
Styrke has worked with two frequent Lorde collaborators: Jack Antonoff and Joel Little. She presumes that one of them introduced the New Zealand pop star to her music. The two artists have since exchanged a few Tweets, and Lorde invited Styrke to open for her on her spring tour, which hits Oracle Arena on March 13.
"I still can't believe I'm getting to do it," she said. "When I got the question … I said yes in one second. It was a no-brainer."
Follow Roman Gokhman at Twitter.com/RomiTheWriter and RomiTheWriter.Tumblr.com.